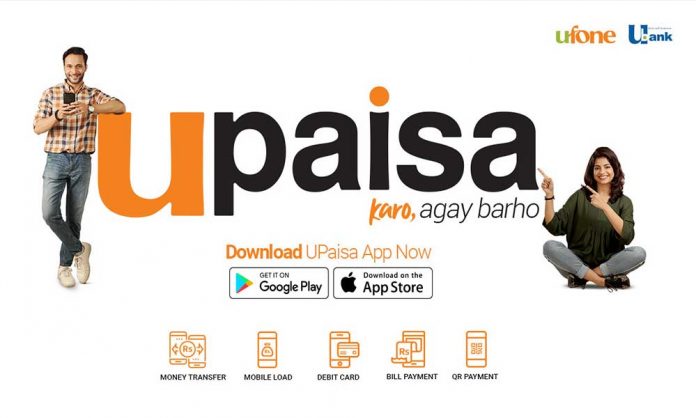 These days the core focus of all leading brands is to empower customers and build a loyal relationship with them. In order to win the trust of customers, brands need to offer unique and simple services which can add value to people's lives. UPaisa has aimed to do so by launching a new mobile application that allows users to make cashless transactions with ease.
UPaisa's transformation is a breath of fresh air for its users. The UPaisa mobile application instantly grabs your attention with its compelling colour scheme. The orange, white and black colours of the interface give a very clean and fresh outlook. The transition from the dull blue to vibrant orange has made the brand refreshing for the user. The fonts are simple and pleasing thus nothing appears overwhelming.
The app comes with a new logo as well which is much more striking than the previous one. The same orange and black combination is followed in the logo and that gives a comfortably consistent feel.
Overall, when users log into the app, they will find everything to be clean and efficient. Unlike other financial apps, there isn't clutter on the home page. Few and relevant options are present on the home screen for users and it is very convenient to navigate through them. Instead of going through infinite icons, offers and deals, customers can simply enjoy important services with a single tap.
"Life mein UPaisa karo, agay barho" which is the central idea of the app, reaffirms the brand's commitment towards customer empowerment. The idea actually resonates through the app because it so easy to use and carry out your day to day financial activities.
The app offers digital and financial empowerment to millions of people who can now make transactions from the comfort of their home.
Owing to its remarkable scale of network throughout the nation, UPaisa provides financial inclusion by bringing access to financial services for even the remotest locations in Pakistan UPaisa offers a reliable and quick way of going completely cashless, while it allows you to make all your necessary transactions on the go, wherever you are.
By using this app, customers can pay their bills, get balance recharge or even transfer money just with a few tap.
These days sending money virtually between friends and family is easier than ever. If you need to send money to a friend, relative, roommate, these payment apps have you covered. UPaisa's clear focus and strong execution make it one of the best overall mobile-payment platforms and is definitely a great addition for the users.
UPaisa televised its brand and the product in a TVC that entails "convenience before anything else" at the heart of its message living to the jingle "Youn Nahi U". The earworm quality brings freshness and vibrancy with much needed recall value for an entrant brand that needs to resonate afar.  They show how different aspects of life get significantly improved when one switches to UPaisa app.
Written By: Ambar Ahmed
Stay tuned to Synergyzer!