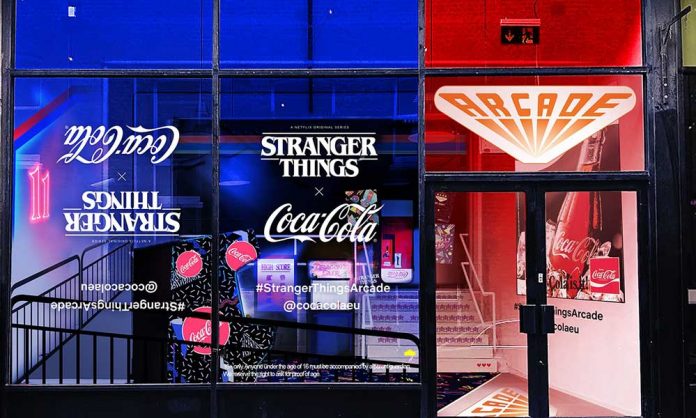 With Stranger Things Season 3 around the corner, Coca Cola has attempted to pull a Central Perk for fans. When Friends themed cafes emerged around the world, care was given to ensure that the cafes mirrored Central Perk from the show. Now Friends has been long gone and although it will live forever in our hearts, the current sensation 'Stranger Things' is the talk of the town.
To celebrate season 3 of the show, Coca Cola has announced an arcade that will enable visitors to have an 80's experience, right around the time 'New Coke' was launched. The connection of Coca Cola and Stranger Things is very apt since 'New Coke' was launched in 1985 and Season 3 of Stranger Things is also set in the same year. The arcade that will act as a time capsule for stranger things fans will only span for a day i.e. July 11th, 2019. The guests will be able to play video games that used to be the mainstream activity in the '80s but have completely disappeared now, with games being available on handsets and tablets. The first 800 visitors will also get to have the limited edition CocaCola-StrangerThings can. The logo would be flipped on these cans to depict the creepiness of Stranger Things storyline.
Let's see if the one-day arcade is as popular as Friends' Central Perk!
Compiled by Mehak Zehra
Stay Tuned to Synergyzer!