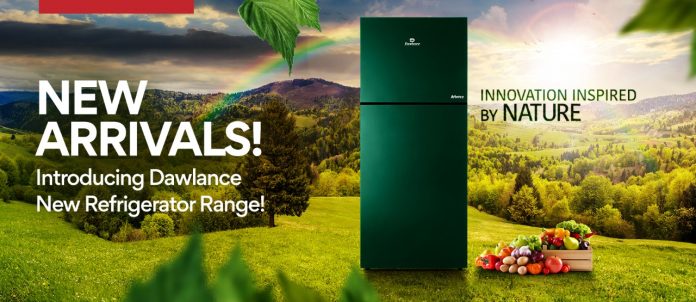 Karachi: 6th July, 2020 – The leading manufacturer of innovative home-appliances – Dawlance has enriched its range of refrigerators by introducing the latest refrigerator series. These new products reflect; "Innovation Inspired by nature". Carrying forward the European quality, Dawlance is the first brand in Pakistan to introduce this surreal technology that promises revolutionary features for extended preservation of food, along with numerous other sophisticated functions. As the lifestyles in every household are becoming busier, food-preservation, daily nutrition and food wastage are becoming growing concerns in the society. 
This series of refrigerators has various key features among which "Nature-Lock Technology" is the hero feature which guarantees to keep food-fresh for up to 20 days. The innovative crisper cover is the key element which helps to maintain the ideal level of moisture in the crisper compartment hence reducing food wastage. These refrigerators are also enriched with IOT Connectivity, WIFI control and the SYNC app feature, so the consumers can operate it on-the-go, from anywhere in the world. Due to significant conservation of energy while ensuring more sustainability and a safer environment, these new products have A++ Energy Rating which helps in up to 55% annual energy saving. Low-voltage operation has also eliminated the need for a Voltage-Stabilizer.
Moreover, another key feature of this series is "Vitamin fresh technology" which is a unique feature inside the crisper that has been inspired from the natural sun cycle. This technology preserves the optimum level of Vitamin A and C in fruits and vegetables which eventually prolongs the nutrition of food. Vitamin Fresh technology thus not only helps in boosting immunity but also keeps fruits and vegetables as fresh as the day they were picked. By utilizing the power of varying light combinations, fruits and vegetables are exposed to a natural way of preserving the vitamins, encouraging a healthier diet. This development within the market is just one step towards achieving Dawlance's mission of empowering the new generations to live healthier and providing accessible wellbeing for all their consumers.
The Director Sales and Marketing at Dawlance – Syed Hasan Jameel stated that: Our innovations are based on research and our insights indicate that the masses are now becoming more aware of the concept of food-security, hence many of our consumers are taking conscious measures to reduce food-wastage. Hence, Dawlance has developed a specialized range of products that can maintain the nutritional value of the fruits stored in refrigerators, for weeks."
Apart from above, these refrigerators have an optimized fan which eliminates any unpleasant smell inside the refrigerator, while maintaining ideal temperature, along with odorless air. Dawlance's new 5-Way Cooling System enables 30% faster cooling. Even when powered-off, these refrigerators maintain optimal cooling for longer hours. Dawlance also provides the longest 12 years' compressor warranty which further strengthens the claim of reliability.
Dawlance is a wholly-owned subsidiary of Arçelik – the largest enterprise in Turkey and the 3rd largest manufacturer of home appliances in Europe. Arcelik has invested over 50 Million Euros in Dawlance for innovation and expansion, while improving standards of quality, Customer-Care and safety.
Stay tuned to Synergyzer.