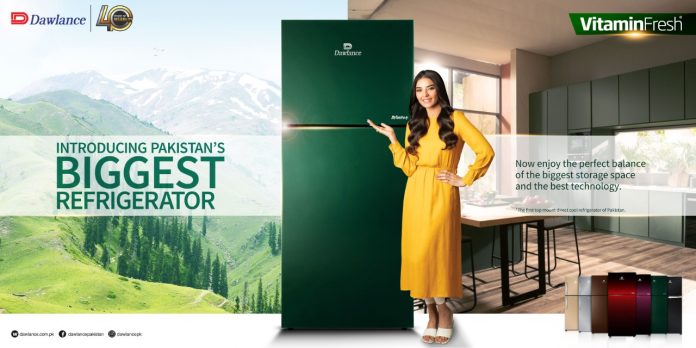 Dawlance has launched its Biggest Top-Mount Direct Cool Refrigerator in Pakistan. By introducing this technologically advanced and innovative refrigerator, Dawlance has further reinforced its position of being the No. 1 brand of home appliances in Pakistan. This new variant, comprises of 76 cm width and 177 cm length, to contain the biggest volume of 569 Liters. It is an extension of Dawlance's innovative 'Vitamin-Fresh Technology refrigerators which were recently launched. A vibrant unveiling ceremony was recently held at the company's URIL factory in Hyderabad to celebrate the launch.

Dawlance's revolutionary refrigeration technologies ensure that food-storage is safer for weeks, while the essential vitamins and high nutritional value are also retained. Other prominent features of this new refrigerator variant include; the biggest capacity with deepest Size, Optimized Fan with an Odour-Filter, Vitamin-Fresh Technology in Crisper – to preserve Vitamin A & C, Side Illuminated LED, 5-Way Evaporator with 30% faster cooling, and it promises 55% less electricity consumption due to its Inverter Compressor.
The CEO of Dawlance – Umar Ahsan Khan appreciated the overwhelming response from the Pakistani consumers and said: "It is a moment of pride for Dawlance, as we enrich our product line with the 'Biggest Top Mount Direct Cool Refrigerator. A large segment of consumers in the country were eagerly waiting for this state-of-the-art, feature-rich model and will be delighted to have it available in the domestic markets. Recent consumer insights have shown that this was the right time to launch this bigger capacity model, considering that the current socio-economic conditions are influencing the consumers' behavior to buy groceries in bigger quantities and store food-items at home.
The spectacular event was attended by Dawlance's operational teams, led by its Chief Executive Officer – Mr. Umar Ahsan Khan, Chief Marketing Officer – Hasan Jameel, Director Operations – Ameen Ahmed, Group Marketing Manager – Raheel Hashmi and the Category Head – Cooling & Export Division – Ali Wahid. The Director of Technologies at Arcelik Turkey – Mr. Harun Bingol also graced the occasion.
Dawlance is a wholly-owned subsidiary of Arçelik – the largest enterprise in Turkey and the 2nd largest manufacturer of home appliances in Europe. It is renowned for extensive research and highly-responsive customer-care based on multinational standards and a global vision to produce the highest level of quality and compliance with the global standards of safety and environmental sustainability.
Being the No: 1 home appliances brand in the country for several decades now – Dawlance has proved to be the most prolific innovator, creating products that exceed the customers' expectations in performance and reliability. Through extensive research, it ensures that each new product meets the evolving needs of the modern-day consumers. This reflects Dawlance's commitment to continue raising its service standards in future, while its largest network of dealers promises easy accessibility for customers all over Pakistan.