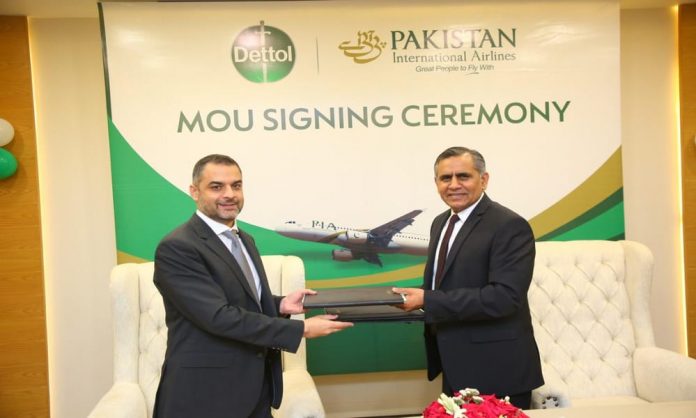 August 2021: Reckitt Pakistan, the multinational producer of health, hygiene and home products including Dettol, has announced that it is partnering with Pakistan International Airlines (PIA) in order to create a safer travel experience for all passengers. The idea of the collaboration came about due to the growing need for stricter protocols and precautions while travelling during the COVID-19 pandemic.
Post the pandemic, frequent and occasional travellers alike stopped taking flights in fear of the virus. This led to a visible drastic decline for the airline industry. Dettol, being an effective disinfectant against Coronavirus, and a trusted brand in the matter, made the ideal partner for Pakistan's leading airline.
The collaboration of Dettol and PIA is a unique opportunity to excite & protect customers, while Dettol continues to educate them about the high standards of hygiene and reassure them that they can now travel with their favorite airline with utmost trust and protection.
The collaboration is underway, with Dettol providing sanitization and educational touch-points of safety throughout the travel experience with PIA. Dettol will provide sanitising stations, educational material and instructional standees in the PIA lounge, and provide passengers with sanitizer bottles in-flight.  
Dettol has always stayed at the forefront of consumer hygiene by developing innovative ways to protect people against germs. With this collaboration, Dettol Pakistan continues to work towards creating a healthier and safer country for all.
ABOUT DETTOL
First used in hospitals in the 1930s, Dettol soon found a place in the home. Dettol is now the world's No.1 Antiseptic brand, with 2 billion uses per day and present in 124 countries.
Dettol's purpose is to help protect against illness causing germs and has been doing so for the past 80 years. Dettol takes pride in providing products that are simple, safe and effective. Its products are made from ingredients that are transparent to all, and used by millions around the globe. Today, Dettol is used by families around the world for cleanliness. Our products can be used to cleanse skin, disinfect surfaces, remove mould and even be used for laundry. We're a part of the furniture – and proud of this responsibility. Dettol's mission is to always look for opportunities to educate families on healthy habits to practice and the best methods of doing so.
ABOUT PIA
Pakistan International is a Pakistani-International Airline and the national flag carrier of Pakistan under the administrative control of the Secretary to the Government of Pakistan for Aviation. Pakistan International Airlines' (PK) origins date back to 1946. The airline began operations as Orient Airways with Douglas DC-3 service. International operations, starting with a route to London, began in 1955.
Today, the airline's route network extends from Pakistan to Canada, China, Denmark, France, India, Italy, Japan, Malaysia, Norway, Oman, Qatar, Saudi Arabia, Spain, Thailand, U.A.E., and the United Kingdom. The airline's headquarters are in Karachi with its main base of operations being at Benazir Bhutto International Airport (ISB) in Islamabad, Jinnah International Airport (KHI) in Karachi, and Allama Iqbal International Airport (LHE) in Lahore.
PIA's fleet includes versions of ATR 42-500's, ATR 72-212's, Airbus A320's, Boeing 777-200's, Boeing 777-240's and Boeing 777-300's.
For more information, please visit:
Instagram: @dettol.pakistan @pakistanintairlines
Facebook: @DettolPK @pakistanintairlines
Official Hashtags: #DettolxPIA #FlySafeWithDettol
Stay tuned to Synergyzer for more updates!