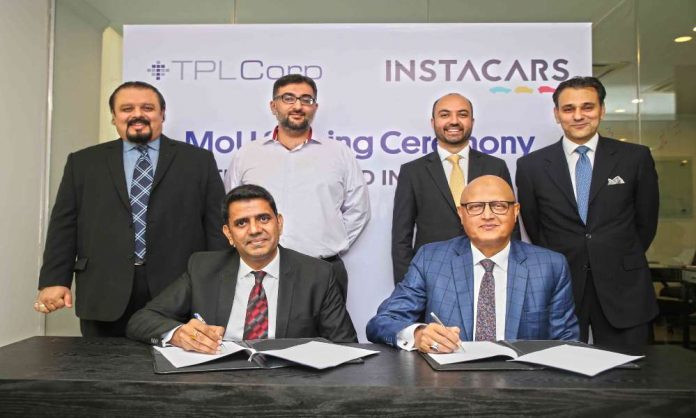 Pakistan, 14 October 2019: InstaCars, Pakistan's leading used-car retailer, and TPL Corp, a technology driven conglomerate, have come together to help simplify the process of buying auto insurance coverage and vehicle tracking devices for used cars. With this collaboration, the two companies aim to alleviate the risks consumers take in buying used cars.
InstaCars has integrated its online buying platform with TPL Corp to facilitate buyers who, while looking at a used car profile, will be able to get a quotation for insurance coverage and a tracking device with advanced telematics for that car. Customers will also be able to shop for TPL's auto insurance and tracking products at various InstaCars branches across Pakistan.
Naeem Abbas Waraich, Head of Sales and Franchises of InstaCars, commenting on this partnership said:
"We at InstaCars understand that buying a used car can be a difficult process given how unregulated the used car market in Pakistan is. Our aim, to simplify the process for buyers, fits perfectly with our partnership with TPL Corp.  Saving the buyer's time, reducing the hassle and mitigating the risk of buying a used car is at the forefront of this partnership."
Muntaqa Peracha, Chief Commercial Officer of TPL Corp, commenting on this partnership said:
"This partnership is in line with our vision of disrupting the auto segment in Pakistan by extending our services to InstaCars. I am confident that this venture will create strategic synergies in the insurance and asset tracking industries, with our promise to provide security and safety to the growing used car market."
TPL Corp is a technology driven conglomerate with investments across Life and General Insurance, Real Estate, Security, Asset Tracking, Navigation and Mapping and several technology startups. With innovation and disruption at the core of its operations, TPL is steered by a digital mindset to create sustainable value for their stakeholders. A critical component of its business strategy is their diversified sustainability portfolio that spans health, education and environment.
InstaCars has branches in Karachi, Lahore and Islamabad, with the largest variety of pre-checked used cars at affordable prices. InstaCars helps customers to choose from hundreds of cars nationwide, ensures hassle-free paperwork and a secure transaction. InstaCars aspires to keep adding value to make a customer's journey memorable, by improving efficiency and transparency.