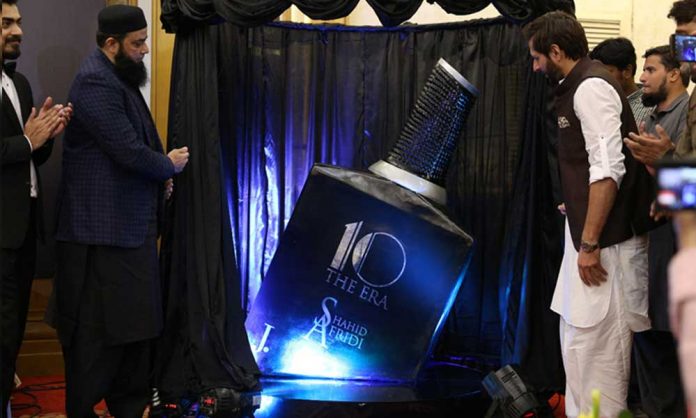 24th May 2019
J. was established in 2002 with a unique philosophy to revive the country's cultural heritage in terms of apparel and soon became one of the most recognizable clothing brands in South East Asia, having won Brand of the Year Award in the fashion retail category for 3 consecutive years.
Today, its network has expanded to 100+ outlets nationwide, with 20 international outlets as well in countries such as the US, UK, Australia, Canada, New Zealand, South Africa, Saudi Arabia, UAE, and Qatar. Ever since venturing into the fragrance category, J. has yet again proven its versatility, now as the premier perfumer in Pakistan. With exquisite scents ranging from Oriental to French, for both men and women, J. has also made a reputation of collaborating with treasured, influential personalities and opening the doors to the concept of signature fragrances in the country.
And now, the unparalleled perfume range of J. Fragrances has expanded yet again. The Era, fragrance of Shahid Afridi, is the latest sensation to enter the roster and the buzz around it has already started taking over the country by storm now that it has been officially launched.
"J. Fragrances has lived up to its name by introducing yet another exquisite perfume in collaboration with a beloved superstar," said Ahmed Ali, Brand Manager at J. Fragrances & Cosmetics. "We have and will continue to increasingly enrich the lifestyle market with one exclusive product after another. Here's to many more of our signature fragrances to come!"
Denoting a new era in Shahid Afridi's momentous life, as well as a new journey for the lifestyle brand, this latest sensation is composed of citrus, wood and amber as the main notes. The fragrance is housed in a stylish bottle aptly shaped like a cricket bat, with Afridi's iconic celebratory "starman" pose cut in a shiny, silver plate in the front.
Stay tuned to Synergyzer.com