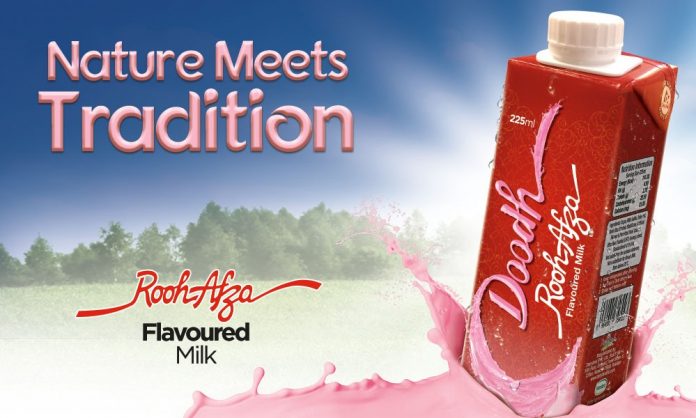 It all started in 1907, when a red squash was introduced by a Dawakhana in India. In 1948, after partition, this tasty syrup with a refreshing aroma was introduced by Shaheed Hakim Mohammad Said in Pakistan. 'Rooh Afza', the pioneer in Pakistani red syrup drinks soon became the national drink of the country.
Rooh Afza – not just a ceremonial elixir, is a beverage for every season. The red elixir has become an integral part in the lifestyles of Pakistanis, considered as a must-have at Iftar, amid Ramazan. As Rooh Afza is the forerunner elixir that not only possesses a unique taste with a captivating aroma, it is also full of natural ingredients. It is a beverage that can be enjoyed anytime, anywhere and in any season and to position the syrup as a branded healthy beverage, perfect for every season, will be quite on point.
Over the years, Rooh Afza has remained committed in bringing new products to the masses. After all, the nation's beloved drink must evolve and keep up with the changing times. In the Ramazan of 2019, came Rooh Afza GO, with its ultimate promise of refreshment with fizz in a can. It was launched high in the sky in PIA's flights for the first time during Iftar. People were refreshed to the core and appreciated the new fizzy taste of their favorite drink.
The holy month Ramazan stays incomplete without the togetherness Rooh Afza has to offer. Every house and every dining table has Rooh Afza in some form or the other. This year, with its promise to refresh people, Rooh Afza yet again launches a new product by the name of Doodh Rooh Afza in the market.
It's a ready-to-drink Rooh Afza syrup mixed with Doodh and has been consumed in every household for decades in Pakistan as well as globally, and is perfect for everyone who seeks an instant burst of flavors and energy with the first sip. The main idea of launching this product in the month of Ramazan is to offer our beloved consumers a modified version of their favorite drink in a new flavor!
Doodh Rooh Afza with one sip, does a lot more than refreshing you with nourishment… it takes you down the memory lane. Memories of those sweet carefree days when you would enjoy simple moments of life: your childhood. Every kid, in every house, has at some point drank Doodh Rooh Afza and has felt associated. For time and again, it has been the ultimate solution to every time you'd say: "doodh nahi pasand" because with it, Doodh suddenly became so flavorsome that you couldn't resist. A favorite for everyone in the house, the drink never fails nourish you with the right health benefits.

A favorite all over Pakistan, it is a combination of the goodness of Rooh Afza and its natural fruit and vegetable essences, which is quite filling and keeps you energized for a long time. Doodh Rooh Afza also provides a good dose of energy, making it an outstanding source of health and nutrition at the same time. No matter how old you are, you are highly likely to be a consumer of Doodh Rooh Afza. Extremely popular amongst the kids of different ages, mothers have been trusting Doodh Rooh Afza for it worked as a great solution for kids who neglected the consumption of milk.
The communication for Doodh Rooh Afza is "nature meets tradition", which revolves around an old tradition that now has a new face with the same great taste. The idea behind following up on the tradition exhibits the commitment Rooh Afza as a brand towards the masses.
It is currently available in all major retail shops of Karachi, Lahore and Peshawar and with its due time and acceptance of the consumers, will be present throughout the country so that it can be enjoyed by everyone. So if you haven't tried yet, don't forget to look for it on your next visit to the stores. Get yourself your own Doodh Rooh Afza and enjoy the sip full of nourishment, refreshment and of course going down the memory lane.