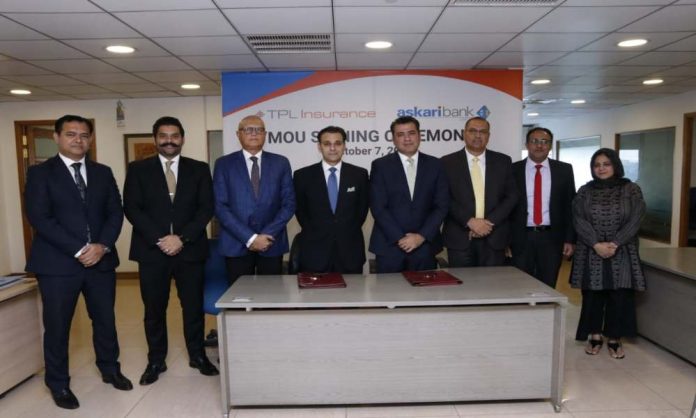 KARACHI – October 15, 2019: TPL Insurance, Pakistan's first direct insurance company, is pleased to announce its strategic partnership with Pakistan's leading commercial and retail banking institution Askari Bank Ltd. An MoU was signed between the two organizations on the 8th of October, 2019 at Askari Bank's office in Islamabad.
The partnership aims to explore new business opportunities in the Auto Finance sector and provide customers of Askari Bank with Auto Insurance solutions.
Present at the occasion from TPL Insurance were Muhammad Aminuddin – CEO, Muhammad Zubair Butt – Regional Head FIG, Aurangzeb J. Siddiqui – Head of FIG, and Syed Ather Abbas – Deputy Managing Director. Representing Askari Bank were Syed Taha Afzal – Head of Consumer Banking, Muhammad Ali Shahbaz – Head of Secured Products, Fawad Ilyas –Business Planning Manager, and Fauzia Mehmood – Head of cards and Merchant Alliances.
This new venture will enable TPL Insurance to offer customized coverage to Askari Bank customers at the most competitive rates in the industry. The agreement provides the additional facility of free tracking and accidental coverage for their cars, backed by the fastest claim settlement offered in Pakistan.
The partnership is in line with TPL Insurance's pursuit of providing seamless insurance services to customers through its 24/7 call center and digitally integrated insurance systems.