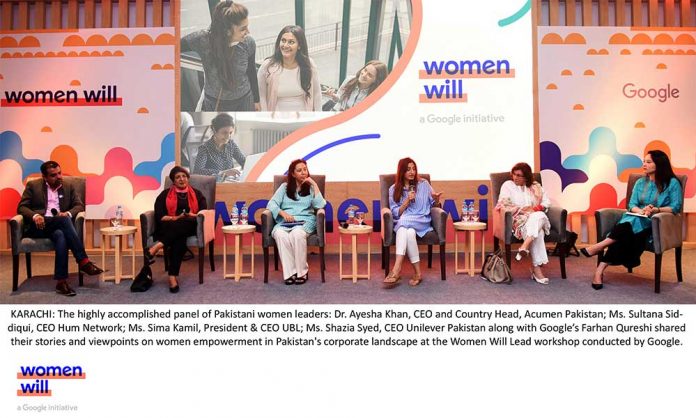 5th July 2019, at Avari Towers Karachi, when Google Partners Team conducted the workshop 'Women Will Lead 2019' led by Sarah Liu, Founder & Managing Director of The Dream Collective, a panel discussion was held during lunch.
The panelists of the day were:
Sima Kamil – President & CEO, UBL
Sultana Siddiqui – Director, HUM Network Limited
Shazia Syed – CEO, Unilever Pakistan
Dr. Ayesha Khan – CEO, Acumen Pakistan
Farhan Qureshi – Country Manager, South Asian Frontier Market, Google
Farhan Qureshi got the ball rolling at the discussion by stating:
"EVERY DAY MORE AND MORE PAKISTANI WOMEN ARE BECOMING PART OF OUR CORPORATE LANDSCAPE."
This discussion was moderated by Sarah Liu. Starting with a light-hearted conversation where the five panelists shared a little about themselves, the conversation was efficiently steered towards the stereotypes against women that not only males but also their female counterparts in the workforce hold. The lesson of it was not to show that these leaders were free of bias rather embrace the fact that they too had inherent, unconscious biases and stereotypes. But the first step towards getting rid of the misguided beliefs was to embrace the fact that they were prejudiced.
Sultana Siddiqui, director at one of Pakistan's biggest television networks mentioned the moment she realized she had a bias against women. She reminisced to the point when she was on a plane and upon finding out that the pilot was a woman she felt scared. Upon noticing her bias she worked on it, and the next time the pilot was a woman she had no concerns regarding her flight.
The CEO of Unilever was next to endorse that a healthy work environment for women ensures greater work efficiency. Shazia mentioned a work decision she took for one of her female employees who found work being an obstacle in spending time with her son. The
CEO allowed flexible work hours by taking her on board on project basis.
The panelists received a question from the floor about how did the power figures of today strive for work-life balance. In a light-hearted response, president and CEO of UBL, Sima Kamil stated that one is usually guilt-ridden because there cannot be equality in the two spheres. When you work you will be concerned about what may be going on at home and when at home, office related matters will occupy your mind. At each instant, you may be sacrificing one for the other but the trick is to give your best to whatever you choose at that point in time.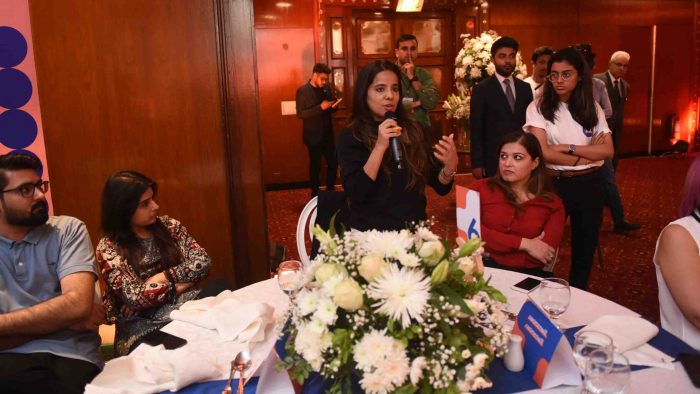 The take-home message of the entire session was that we need to actively learn what unconscious biases we hold. Once we figure them out, we should actively employ effort in dealing with them.
If all 70 participants of the workshop internalize this message, not one but 70 ripple effects will ensue creating a positive work environment for women across Pakistan.
The Women Will Lead Workshop is a training program organised for the first time in Pakistan by Google Partners, exclusively for Google clients and its partner agencies in Karachi. The course primarily focuses on career development and cultivating leadership skills within the digital and marketing landscape, and has received an overwhelming response from participants all over the world.#womenwill

Posted by Brandsynario on Friday, July 5, 2019
Stay Tuned to Synergyzer!