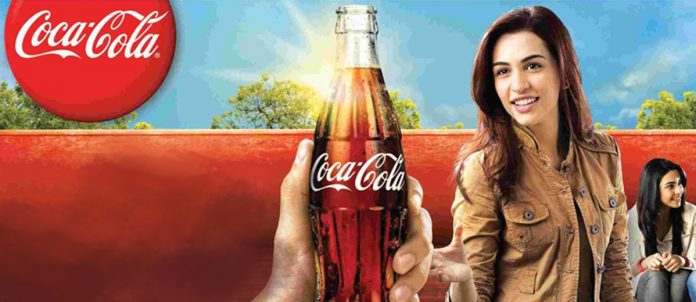 Coca-Cola launched the local adaptation of its global "open happiness" and "reasons to believe" campaign by combining the two to give a patriotic appeal and came up with a new campaign, taglined in Urdu, "Ho yaqeen tou khulein khushiyan".
As a firm believer of positive change, I was pleasantly surprised to see the ad campaign on TV that was launched at the start of this year. According to Mr. Fahad Qadir – Director Public Affairs & Communications, The Coca-Cola Export Corporation, Pakistan & Afghanistan Region, "Coca-Cola realized there was a need to address the prevailing negativity and disappointment amongst masses, and the beginning of 2012 was chosen to unveil our campaign. A new year is associated with new beginnings, new goals and identifying areas of self-improvement which serves to compliment the overall message of the campaign; of taking ownership, believing in yourself as an individual and a collective entity, but most importantly believing in a better Pakistan." Charged with emotions and patriotism, the ad campaign carries the 'feel good' factor and successfully breaks through the negativity that surrounds all of us every day and invites the audience to keep the faith alive and look at the positive side of things. Personally, I found the campaign deeply moving and really apt to the times we live in where we mostly hear one bad news after another that in turn breeds many insecurities and negative thoughts within almost every Pakistani citizen. Through inspiring Urdu poetry, the "Hai Yaqeen" song in the TVC draws a positive example with every negative one that we face as Pakistanis in our everyday lives; leading to higher spirits and a renewed commitment to take ownership of our country and many reasons to believe in a better tomorrow.
Shedding some light on why the campaign was launched and what purpose it fulfilled for the brand, Coca Cola Pakistan, Mr. Qadir said, "Unwillingly and increasingly so, Pakistan is rapidly falling into a culture of negativity and despondency. Such undesirable attributions have severely impacted the mindset of the citizens of Pakistan, making it extremely difficult for them to look beyond this misconstrued world view. At Coca-Cola, we realized there was a pressing need to address this issue, and launched a campaign to shift the focus on all that's right and the reason to believe in a better/positive Pakistan."
He also added, "Globally, Coca-Cola stands as a beacon of happiness and optimism and has always provided a strong point of view which addresses current societal trends and ignites a new set of beliefs. Through the campaign we intend to project a culture of positivity, refresh optimism and define 'Yaqeen' as the catch-phrase which stands for optimism and looking at things positively, i.e. yaqeen in a better Pakistan."
Lately, Coca-Cola Pakistan has employed a local prism to its campaigns. It was a general observation that majority of Coca-Cola ads in the past were global campaigns, in some cases only slightly tweaked for this region. However, recently more local initiatives, such as Coke Studio and even the "Reasons to believe" campaign that was completely localized to stir a new sense of optimism and positivity in Pakistani audience, is exactly what Coca-Cola needed to strengthen its footprint in Pakistan. These are the kind of extraordinarily creative campaigns that would let more Pakistanis associate with Coca-Cola on a deeper and more emotional level and would certainly help Coca-Cola to climb the brand ladder a few notches up. Talking about several original campaigns tailor-made for Pakistani market, Mr. Qadir informed, "If you look at the major campaigns throughout the year, they are locally developed e.g. Coke Studio, Sprite Cricket Next, Minute Maid etc. However, The Coca-Cola Company provides its country branches with a campaign framework which is then localized to suit the dynamics of the country the campaign is running for."
Talking about the advertising strategy behind the "Hai Yaqeen" campaign, Mr. Qadir commented, "Our overall advertising strategy is to inculcate a sense of optimism through  various channels of communications."
The campaign was executed using multiple media vehicles. While the TVC formed the centre stage for the campaign and communicated the key message effectively, the rest of the media vehicles such as print, radio and outdoor were used with equal efficacy to sustain the brand message.
As digital, and particularly social media continues to grow in Pakistan, digital activation was the second most important marketing communications tool for this campaign that further amplified the communications message and engaged a wider audience across a variety of vehicles such as Facebook, Twitter, YouTube and blogs. Coca-Cola introduced a campaign-centric website by the name of WorldofYaqeen.net which redirected the visitors to the campaign's Facebook app on the international Coca-Cola page. With interesting creative depicting a globe with different activities and signs of happiness, the app provided access to Yaqeen gallery, Yaqeen blog and the booklet '101 Reasons to Believe in a Better Pakistan'. The Yaqeen gallery depicted photos and videos by Facebook users to showcase a positive aspect of Pakistan. The blog, on the other hand, encouraged Facebook users to enter into a dialogue and suggest what can be done for a brighter future of Pakistan. Similarly, the reasons to believe survey asked participants to answer questions about how often they perform small acts of kindness in their daily lives. The booklet narrated true stories of inspiring people from Pakistan who have made a positive difference in society. The Facebook app was further integrated with other social media platforms like Twitter and YouTube. The 'Ho Yaqeen' series produced by SOC Films owned by none other than Sharmeen Obaid Chinoy also gained a huge fan following on YouTube. The result was phenomenal as at the conclusion of the campaign, Coca-Cola achieved more than 16 million impressions on the digital media.
Commenting on the digital activation, Mr. Qadir said, "We engaged opinion leaders from various sectors of our society to help us spread this message. As the interest grew, more and more people (mostly on social media) started writing about the campaign."
Ho Yaqeen – a series of documentary films produced and directed by the Oscar-winning film maker, Sharmeen Obaid Chinoy, in collaboration with Coca Cola, lent an air of authenticity to the entire campaign and made the audience feel that Coca-Cola Pakistan was taking active steps to make a real difference in the way people think instead of just , lip servicing. Talking about the Ho Yaqeen documentary project, Mr. Qadir said, "The Ho Yaqeen series celebrates Pakistan's unsung heroes by documenting their stories, with each of the six documentaries related to one six different individuals from a different region of the country. The Ho Yaqeen series complements the ongoing campaign by spreading moments of inspiration and reasons to believe in a better Pakistan."
About Coke Studio which has been a huge success story for Pakistan, he said, "We are very proud of Coke Studio's paramount success, it has become a global phenomenon and a platform asset for the Company. Coke Studio YouTube Channel is the number 1 Channel by any brand in Pakistan, which  has achieved 75.3 + million hits. Coke Studio Pakistan has a global viewer base; more than 47% visits come from outside Pakistan. Subsequently it has an immense following on Facebook- there are more than 1.5 million likes on the Coke Studio page. The success of Coke Studio can be measured by the fact that other countries have adopted it with their local versions."
Ogilvy is the official Coca-Cola's creative agency globally and its office in Pakistan has the credits of executing the "Hai Yaqeen" campaign in the country. As far as the digital media is concerned, the scope of digital has grown enormously in Pakistan and hence a separate digital media agency, Symmetry, was given the responsibilities of executing the digital aspect of the campaign. One must commemorate them for doing a brilliant job with online content, promoting the campaign across the digital media vehicles and engaging a younger audience that is active online.
Currently enjoying a clear 2nd position in Pakistan's market, the Coca-Cola brand gained new momentum at the conclusion of "Hai Yaqeen" campaign. The campaign was targeted towards the masses; the notion of being Pakistani concerns every citizen of Pakistan and through this campaign, Coca-Cola aimed to target everyone to project a culture of positivity and optimism.  One of the most impactful 360 degree campaigns of the year, "Hai Yaqeen" nailed it by successfully communicating a beautiful message with great finesse and uniformity on traditional as well as non-traditional media. One of the loudest lessons to learn from the success of this campaign is how the strength and potential of digital media can be utilized to successfully connect and interact with a large audience and make your campaign become talk of the town.  It managed to inspire millions of Pakistanis through concerted communication efforts leaving the brand in the spotlight that it truly deserves and will continue to do so with the kind of creative flair they are showing of late. Hats off to Coca-Cola's creative, media and digital team for this one!