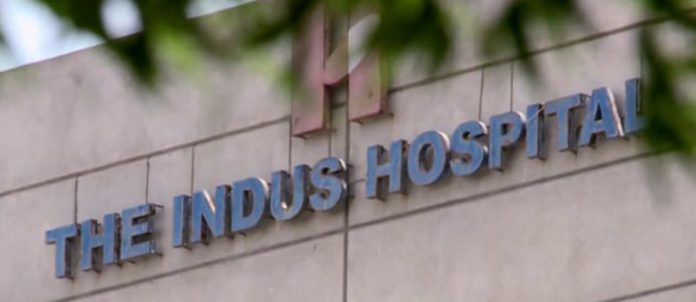 By Abdul Rehman
In Pakistan; there is one doctor for every 1,206 people, 1 nurse for every 2,360 people, 1 bed for every 1,665 patients and the government spends a total of PKR 1,861 on a person's health, which includes development charges. Although the situation seems bleak, hope is still there in the form of different organizations that work for the welfare of people in their time of need.
The Indus Hospital is one such organization working with the sole motive of pleasing the Divine power by serving His creations. It is the first state-of-the-art multi-specialty hospital, treating patients absolutely free of cost since the hospital was established in 2007.  The Indus Hospital is unique: It has a paperless and entirely computerized environment and all medical facilities are carried out entirely free of cost. Supporting the most vulnerable and affected segments of the society, and keeping in mind that it is these people who are most prone to diseases because of the unsanitary conditions and lack of health awareness, the institution represents faith, security, confidence, reliance and most of all, achievement.
Located in the heart of Korangi, the hospital is successfully able to cater to the needs of the impoverished segment of society. It provides quality healthcare of the highest caliber which lives up to the expectations of the patients. People from different religions, regions, communities, languages and socio-economic backgrounds are welcomed with open arms and treated without any bias or prejudice.
All of this could be traced back to 1986, when Karachi was hit by a bomb blast and the injured were rushed to the Civil Hospital for treatment. At that time, not everyone was able to get proper attention and the doctors felt helpless for not being able to do much. It was then that a group of doctors thought of building a hospital that would cater to the needs of the lesser privileged without having to worry about healthcare expenses. Back then, these doctors were medical trainees who went abroad for further studies and to follow their career paths, then returned to take their mission ahead. A group of philanthropists and businessmen joined hands with them to provide support in every way possible. In 2005, these individuals acquired the building of Islamic Mission Hospital with the condition of treating people free of cost. In 2007, The Indus Hospital took form as Pakistan's first free general and paperless hospital.
The main building of The Indus Hospital currently contains facilities catering to patients needing specialized attention in the form of Cardiothoracic to any sort of General Surgery or Trauma; including Urology, Orthopedics, Ophthalmology, ENT, Plastic Surgery, Peadiatric Surgery, Dialysis and Emergency. The hospital has its own research department known as the Indus Hospital Research Center (IHRC) that not just works day in and day out researching on making lives better but is also working hard on its Community Outreach Program, going from house to house, informing people about various diseases surrounding them.
The Indus Hospital is proud to have Pakistan's first purpose built building in the form of Ghori Infectious Control Disease Clinic, where the Tuberculosis patients are given the best treatment available in the region. Keeping in mind the disease's contagious nature, the building is designed and constructed in a way to shield other individuals.
The best way to describe The Indus Hospital would be innovation and sophistication. The hospital captures all the important facilities to meet the needs of people in desperate need for support, ensuring utmost efficiency. Like any other proper institute, The Indus Hospital has all its departments intact and functioning. It has an Operations Department, Finance Department, Communications Department, Human Resource Department, Medical Record Department etc. The hospital recognizes the need of ensuring continuity of the Indus mission and vision and is not only developing endowments to ensure financial self-sustainability in the future, but also ensuring that the Indus Model is scalable and replicable, making it relatively easy for anyone who wishes to develop a similar hospital anywhere in the world.
The very foundations of the hospital and the ideology behind it serve to instill hope; a sense of unity and even to a large extent make us aware of our own roles in serving society for its betterment. In a short span of six years, The Indus Hospital has treated more than 1.4 million patients, with an average of 1500 patients per day and 40,000 patients per month. Around 40,000 surgeries and more than 36,000 Dialysis sessions have taken place within the hospital providing much needed relief to millions of families.
Currently running at a monthly operational cost of PKR 70 million, the hospital functions completely on Zakat and donations from its supporters who share the Indus vision of serving humanity at large.  To manage its quality healthcare system, the hospital needs our constant support whether monetary or through kind deeds. Our help is crucial and essential, and can bring about momentous and everlasting changes in an otherwise uncertain and sometimes even cruel society.
Due to growing need of such a hospital in our country, the hospital is on the path of expansion from its current 150 bed potential occupancy to 1500+ beds in the coming years. And, this needs complete support of its well-wishers. By laying down its foundations based on a strong value system and by following a sophisticated approach based on intricate and unique ideas, The Indus Hospital can now only grow and expand further.