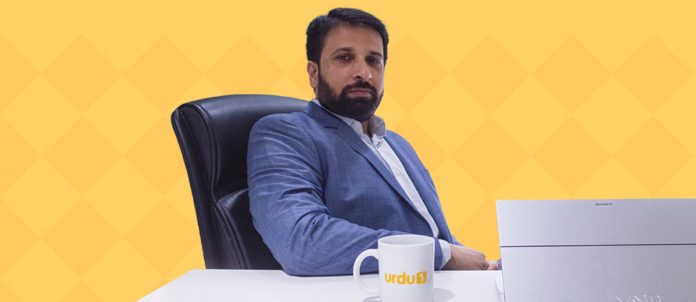 Fawad Iqbal Qureshi, Head of Marketing Sales and Research – Horizon Media talks about Urdu1 and the channel's plan for the industry.
Synergyzer: What ventures are a part of Alliance Media FZ-LLC?
Fawad Qureshi: Our current ventures include Urdu1, a general entertainment channel broadcasting from Pakistan, Middle East, United Kingdom and North America.
Also, we have ventured into the movie distribution business with the launch of Urdu1 Pictures. "Actor in Law" was our first release becoming the Box Office hit of the year for 2016.
Synergyzer: Which countries is Urdu1 broadcasting from?
Fawad: Urdu1 is broadcasting from Pakistan since June 2012, Middle East, United Kingdom and North America respectively.
Synergyzer: What challenges did Urdu1 faced due to PEMRA's restriction on Indian content, allowing only a maximum of 6% of airtime in 24 hours?
Fawad: There are restrictions on even the 6% that we are permitted!
Due to this, the price of local content has gone up resulting in a shortage of quality content to broadcast.
Synergyzer: Urdu1 brought the MasterChef franchise to Pakistan. What challenges did you face with that?
Fawad: Firstly, any international franchise has a high cost attached to it. Secondly, although brand integrations within the content are demanded by advertisers, they should realize that internationally, integrations are subtle. Even though the price for content integration is generally kept high to maintain good quality content delivery, brands need to understand that in-your-face integrations are not always the solution.
Synergyzer: What is the market response to Turkish content in general?
Fawad: Urdu1 brought in an ingenious blend of foreign and local content to the Pakistani market. We introduced our audience to Turkish soaps and their tremendous production value and unique story lines.
Starting with Ishq-e-Mamnoon, we are still providing our viewers with premium quality content through Kosem Sultan, Ek Haseena Ek Deewana and many more. Due to the mesmerizing quality of Turkish dramas, we have even noticed a surge in production quality of Pakistan dramas.
Synergyzer: What are the future plans for Urdu1 Pictures?
Fawad: Actor in Law was a successful first cinematic venture for us. The audience should expect great movie releases this Eid and after.
Synergyzer: A sizeable niche of our population consists of urban youth between the ages of 18 to 35, who are avid consumers of foreign English content, which they access over digital media. How do you plan to cater to this particular niche especially since the numbers are expected to grow in the future?
Fawad: The youth is currently hooked on to scripted foreign shows and we do have a lot of such content in the pipeline.
Synergyzer: Why did Aag TV, which was youth oriented, did not survive?
Fawad: Aag TV was a few years ahead of time and was not focusing on scripted youth content.
Synergyzer:  of-home) ban in Karachi, what percentage shift has incurred in ad spend towards television?
Fawad: A very small portion of OOH spends have been transferred to ATL (above–the-line) after the ban. Clients decided to save from the Karachi media scene, while focusing on Punjab, especially Lahore at the moment, where high quality Digital Signage has been installed.
Synergyzer: What will be the impact of the DTH (Direct to home) system on TV channels' ad sales that PEMRA plans to introduce as it will increase viewer's choice?
Fawad: Definitely, DTH, will bring in a huge change for viewers in terms of choice, quality content, and access to entertainment. Also, it is expected to create a lot of new jobs in the media industry.
In the beginning, DTH will be tough to sell in comparison to cable because of the cost of installation as well as monthly charge, but it will surely be the next big thing.