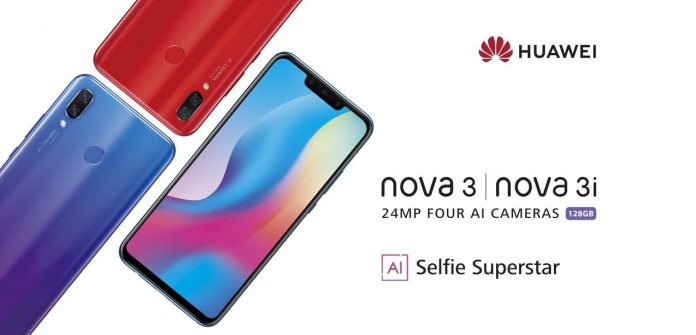 Huawei launched two new smartphones in a grand event held at the Avari Hotel in Lahore. The nova 3 and nova 3i are both equipped with Artificial Intelligence (AI) quad cameras that allow for great selfies and AI photo detection as well as Huawei's EMUI, making them one of a kind.
 Nova Series Launch Party
The Huawei party was a glitzy affair hosted by Ayesha Omer and attended by socialites, celebrities and bloggers including Aiman Khan, Muneeb Butt, Yasir Hussain, Saheefa Jabbar Khattak, Sarwat Gillani, Zara Pirzada, Sumbul Iqbal, Fatima Ali Butt, Sabeeka Imam and Nimra Khan. The guests enjoyed a first look of the Huawei nova 3 and nova 3i at the experience zone and posed for AI-powered selfies.
Aima Baig – The Face of Nova
Huawei unveiled Aima Baig as the face of Nova with a spectacular performance of The Nova Song. Aima encapsulates the nova persona through her passion and confidence – and the youth can experience the most advanced technology of the Huawei nova 3 Series with her.
Nova – Birth of a New Star
The Nova 3 Series
While launching the nova Series for the first time in Pakistan, Mr. Blueking Wang, Manager, Huawei CBG said: "Nova is synonymous with the birth of a new star – and our Huawei Nova 3 and Nova 3i are the real AI Selfie Superstars. These devices are for the youth of today who love to take selfies and save their beloved moments. It's got 128 GB memory – a first for a phone at this price point."
The Huawei nova 3 series comes equipped with a range of features that makes it the ideal phone for its target audience which is young and trendy consumers, for whom a smartphone is not just part of their lifestyle but also represents their personal style.
Trendy & Cutting-edge Design
Huawei Nova 3 
Both phones offer cutting-edge design and striking colors that cater to a younger audience. The Huawei nova 3 has four colorful hues: Iris Purple, Airy Blue, Red and Black, while Huawei nova 3i offer Iris Purple, Pearl White and Black.
The crowning feature of both phones is their AI powered dual front and back cameras which have dubbed them the #AISelfieSuperstar. The phones have also promised to provide top-notch performance with their Kirin chipsets and are enable to recognize over 200 difference scenarios through their AI power.