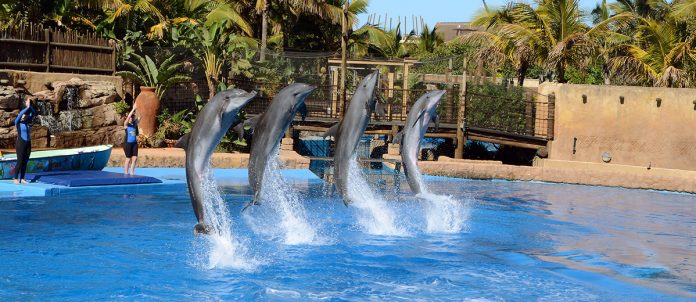 By Umair Mohsin
Pakistan is a country perceived more for its ability to maintain the status quo, decline, corruption and decay rather than innovation and world class events or institutions. Statistics reveal a similar story: The Happy Planet Index ranked the country 112 out of 178 countries, Corruption Perceptions Index ranked it 143 out of 182 countries; whilst in the Failed States Index Pakistan is present in the top 10 countries at 10 out of 177 countries of the world.
Add in the murky picture of a lackluster economy, a declining currency, growing poverty, a non-existent legal and political infrastructure and no surprise that investors and local entrepreneurs are wary of bringing in their capital and ideas into the country. Hence, the expensive proposition of a Dolphin Show may appear to be dubious in such a scenario.
According to one of the core philosophies of Media Idee (MI), "We are a company that thrives on hiring individuals who want to change the world and we are willing to take risks and do what no company has done before." Thus, when Moon Builders, our partners for the Dolphin Show, approached us with the idea we decided to give this magnanimous risk a shot.
Initially, we did not carry out any proper risk assessment, project assessment or feasibility analysis. Based on a few projections, we took a leap of faith and started the project. The idea was to prove that MI could handle a global event of this magnitude. It also served us a base to counter the growing skepticism in the country and to build up some awareness regarding our marine life which had been in decline for decades. It purports that people in Pakistan are talented and their strong self belief shows they are no less than any other great nations.
The show's success can be gauged from pictures and videos on social networks, while news media outlets from Dawn to Tribune mentioned the show in their bulletins. We served full houses for over 45 days, where over 421 schools with 80,000 kids attended our morning shows. Most of our shows went houseful and people from all walks of life and ages came to witness live entertainment of international scale.
Putting up a show of this magnitude was not an easy task and we faced many challenges. The infrastructure for the makeshift dolphinarium did not exist in the beginning. We had to hire a special Russian team trained in installing such infrastructures to set up one here according to international benchmarks as well as educate our engineers in the process. The dolphins were imported from Russia and due to the nature of these superstars; agreements had to be made between countries and government institutions for flight, transfers, import of exotic animals, disease preventions and more before we were granted permission of holding the event. These procedures took months. Marketing and sales were also a challenge. The usual 20 to 80 US Dollar ticket price charged by the dolphinarium internationally would have crippled the project in our country. Thus, we decided to keep it affordable at 3.5 to 5 USD. To ensure breakeven, we added more seats to the stadium. To lower the advertising cost, we found our primary sponsor in Hilal Confectionaries. Even though there were numerous expenditures the investment retained due to the fact that a show like this had never came to Pakistan before and the lack of entertainment options here. The increased expenses were covered by charging slightly higher prices for tickets; we revised the prices upwards at show's start – partly to counter the 30% decline in the currency we incurred over the period of a year.
I believe that the MI structure consisting of different partner companies looking after different business perspectives helped us succeed. Hiring a similar team by Dolphin International, the company behind the project and our partner, would have cost the project a lot more in terms of time and finances and the teams would have struggled to work together from the outset. Our structure allowed us to work as a cross-functional team across digital, event management, design, customer service, sales, media management, vendor relations, technology and more, enabling unprecedented flexibility during the design, marketing and management of the show and with each company bringing its unique expertise and perspective. This also allowed lower costs and faster execution.
We took lessons from the 'Fail Faster' philosophy of Silicon Valley and started the marketing of the show way before the pool had been completely built. This allowed us to gauge and map audiance interests, figure out pricing and discover excitement factors, based on which our marketing communication was later designed, helping us create real models and projections. Despite the challenges due to which the show could have been derailed, the marketing was sustained using basic digital channels i.e. social media and the web.
Pakistan, a land of opportunities, requires investment in every vertical; from infrastructure to education to entertainment. A global event like this has enlivened the spirit of our people, while providing them an avenue of entertainment. However, a few things are always needed to ensure that the investment keeps paying off. Firstly, there needs to be consistent efforts and investment to make something happen. This also requires a heart of steel to sustain setbacks and challenges which may occur ranging from bureaucratic intervention to shoddy work. Secondly, the issue of corresponding to international benchmarks and standards may refrain us from indulging in large scale activities which I believe can be dealt with by putting together or partnering with teams that can work on world class projects and by willing to stick by the project through thick and thin.
Repairing the damage done to the image of Pakistan is a herculean task, but with our vigor and passion to make it happen along with putting the right people in place, we can carry out efforts to change our country's perception. In rebuilding the image of our country, international projects that attract large audiences can go a long way and play a pivotal role. We hope that such events continue to take place in Pakistan to raise the repute and image of our beloved country internationally.
Umair Mohsin is the Director Digital of MI Digital. From digital commerce to brand building experiences through gamification and omni-channel marketing, he ensures the company keeps pace with the changing digital landscape. He can be reached at umair.mohsin@mediaidee.com.