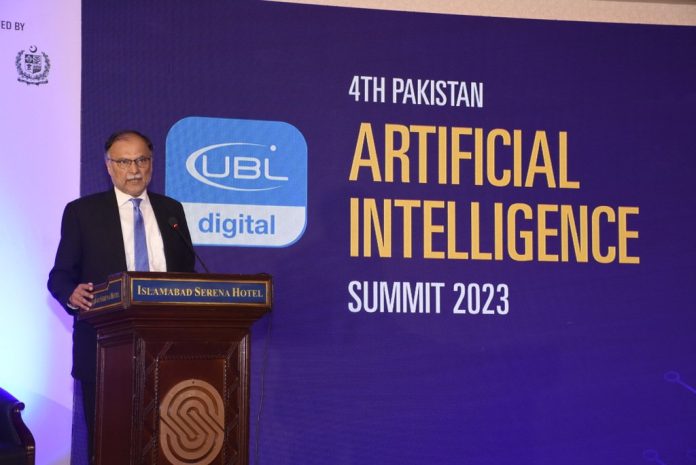 Although Pakistan has been sluggish in adopting the latest trends and technology and being receptive to any change happening across the globe, for that matter, the recent boom in the Pakistani IT industry has brought the country to the face of the international map. Many local organizations have taken the leap in incorporating data analytics and artificial intelligence (AI) in their business operations, which made the 4th Pakistan Artificial Intelligence Summit 2023 all the more sense.
Held in Islamabad in March at a local hotel, the conference saw AI in full action, hosting numerous delegates and bringing together forward-thinking enterprise brands, subject matter experts, market leaders, strategic thinkers, AI & Big Data evangelists, start-ups, and government officials to explore and debate the advancements in Artificial Intelligence & Big Data. The summit featured engaging talks, insightful workshops & panel discussions, and several interactive showcases of trailblazing work in AI. The chief guests were Dr. Arif Alvi, Hon. President of Pakistan, and Ahsan Iqbal, Hon. Federal Minister for Planning Development and Special Initiatives.
The summit emphasized the need for proactive adoption of change and the importance of an export-based economy for Pakistan's stability. It kicked off with Khurram Rahat, Senior Country Director, Unifonic, who gave a welcome address focused on the continually evolving universe of AI that provides endless opportunities for Pakistan to capitalize in terms of efficiency, education, healthcare, business operations, and governance. His talk also highlighted areas for growth other than traditional manufacturing businesses and commercial enterprises. "While we talk about opportunities that every advent of technology disruption brings with itself, it is also important to address the challenges that accompany the chaos and change surrounding it," he explained.
Finding the right talent to harness the strength and potential of the technology is important. Utilizing AI also brings forth concerns surrounding cyber threats, individual privacy, and digital security. And more importantly, AI will surely eat away the human jobs until the latter begins to upskill themselves in a more reconfigured way. "This is not new. Every change brings in additional anxiety and qualms. The 80s and 90s witnessed the same sort of apprehension where everyone thought that they would be replaced by machines. ERP systems will replace accountants. With automation, many jobs in sales and production will be rendered redundant. Yet here we are. As we have adapted accordingly, we have only managed to create more jobs."
Next to follow was Sahiqa Bennett, Founder and CEO of Metaverse University, Saudi Arabia, who joined the summit virtually from London. Her talk focused on how AI plays a critical role in successfully creating an inclusive society featured by constant change. She believed that there had been a huge talent gap for a couple of years. What has really been missing is work readiness on people's part in adopting technology. "Saudi Arabia has been truly leading the way where huge projects are concerned, setting an exemplary case for how jobs can be created for a more robust and resilient country driven by economic growth and development."
Ahsan Iqbal, Ministry of Planning Development and Special Initiatives, highlighted the need for Pakistan to transition to an export-based economy, which has been neglected for the last seventy-five years. He emphasized that Pakistan possesses immense potential in the IT and tech industry, with opportunities to become an information hub, helping it to establish the country as a trailblazer in the field. Talking about the importance of the private sector leading the way in driving growth and exports, he said, "The government is willing to facilitate and provide the necessary support.
We have successfully managed to establish several innovation centers and artificial intelligence departments in engineering universities. We need to continue this effort, as there is a need to form strong academia-industry partnerships to drive the future of Pakistan's economy." She explains that the right tools, accelerated learning, skills-based initiative, and continuous development are not important but critical to prepare the talent for achieving success and doing well for themselves. She added that most countries are suffering from either a young or aging population. Therefore, preparing the youth to take care of the future is all the more important. It is important to develop soft skills in them "because no one will tell you what it is like to work in an organization until you do".
Ajmal Awan, Chief of International Cooperation, Total Communications, was also a part of the speaker panel. With a thorough research-based talk, he mentioned that according to an estimate by Mckinsey, artificial intelligence would add approximately US$ 13 trillion (or 16%) to the world's Gross Domestic Product (GDP) by the end of 2030. This will mean that the role of AI will contribute about 1.2% to the annual productivity growth every year until 2030. Extrapolating the case for AI, he added that after the China-Pakistan Economic Corridor (CPEC), we would soon witness China-Pakistan Digital Corridor (CPDC) as the AI mania takes over. Working with the US, Azerbaijan, and Japan, Pakistan is making consistent efforts to stay abreast of global standards. His talk revolved around why building partnerships with international organizations is extremely important to excel in the IT and telecom industry.
Undoubtedly, the conference highlighted the fact that AI and Data Analytics will be bigger than fire, electricity, and the internet. Whatever it is bigger than, it is definitely an opportunity for Pakistan. And the nation doesn't seem to be taking this opportunity as seriously as it should be. The academia, the industry, and the state need to stay aligned for fruitful results in the near future.
With insightful panel discussions and key thought leaders raising the right questions and providing relevant solutions, the summit was nothing short of an enlightening course with a high-impact interactive dialogue. Conclusively, technology solution providers need to identify opportunities and how to navigate a business environment underscored by ever-growing complexity. Not for higher profit margins. but for a larger purpose – to create a culture of trust, learning, and collaboration based on the science of collective intelligence & business dynamics.