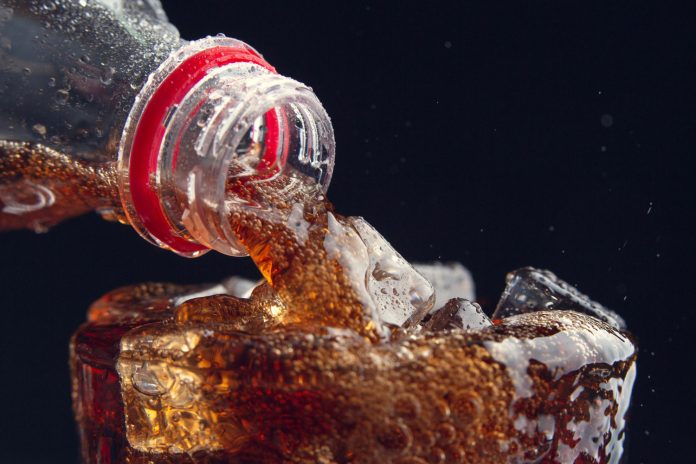 Pakistan has emerged as a large consumer of Coca-Cola, even outselling the United Kingdom in terms of sales. This fascinating information is brought to light by Sabik Berjees, CEO of SB Global REIT Management Company Limited, who reports that Coca-Cola authorities have claimed sales of $3.6 billion in Pakistan, which is more than the $3.5 billion reported for sales in the UK. This statistic holds great significance when considering the vast disparities in GDP and population between the two countries.
Sakib further points out that the GDP of Pakistan is just around $1,500, which is quite inadequate compared to the astonishing GDP of over $50,000 that the UK has. In addition, whereas the population of the UK is around 60 million, Pakistan's population is an astounding 220 million people. These findings shed light on the immense potential of the Pakistani market, even in the face of several obstacles, such as political unrest, concerns with the balance of payment, financial crises, and a depreciation of the currency.
Coca-Cola's success in Pakistan can be attributed to its keen understanding and adaptation to the local culture. By incorporating elements of Pakistani traditions and preferences into its marketing campaigns and product offerings, Coca-Cola has resonated with consumers on a deeper level. This cultural adaptation has helped foster a strong emotional connection between the brand and the people of Pakistan.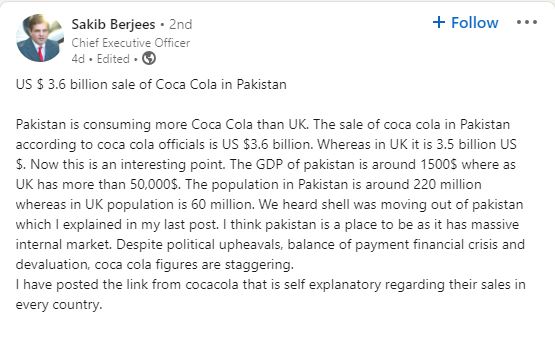 The news that Shell is leaving Pakistan made news in the previous week and has caused some people to be concerned about the investment environment in Pakistan. The consumption numbers of Coca-Cola, on the other hand, show a quite different image. Despite the challenges and unpredictability, there is great demand for Coca-Cola in Pakistan.
The statistics draw attention to the enormous business prospects available in the Pakistani market. In spite of the country's difficult economic and political circumstances, Pakistan has a sizable population of consumers who are eager to buy imported and domestic products. It is a testimonial to the potential profitability and strength of companies operating in the nation that Coca-Cola, a worldwide brand, is consumed to such an extent by its consumers.
One key aspect of Coca-Cola's success lies in its diversified product portfolio. By offering a wide range of beverages tailored to different tastes and dietary preferences, Coca-Cola has been able to capture the attention and loyalty of a diverse consumer base in Pakistan. Whether someone is looking for a sugar-free option like Diet Coke or a refreshing fruit-flavored drink like Fanta, Coca-Cola has a product to satisfy every craving.
Coca-Cola's consumption demonstrates Pakistan's unrealized potential at a time when the nation is still working its way through many economic and political problems. It illustrates how vital it is to acknowledge Pakistan's enormous domestic market and make the most of the opportunities it affords.