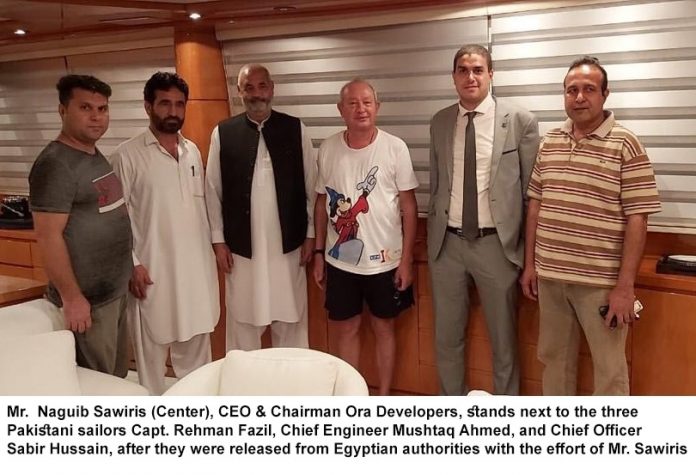 The story that follows talks of three Pakistani sailors stranded on the Egyptian coast, served with jailed time and how they were supported in a time of dire need, by an Egyptian Billionaire. The story goes back two years, when in May 2018, a group of Pakistani sailors set to sail to Dubai in a ship named Sea Horse II and were left abandoned, in an unfortunate twist of fate, on foreign waters.
The dilemma at hand was that of finances. The ship owed a large sum of money to the Egyptian authorities and until that sum was paid, the sailors would not be let off the ship. To resolve the issue, the ship crew under the supervision of Capt Rehman Fazil (Master Navy Sailor), Chief Engineer Mushtaq Ahmed, and Chief Officer Sabir Hussain got in touch with the Pakistani Embassy in Egypt and port authorities for help, however the matter remained unsolved and landed them in jail on charge of failure to pay the dues to Egyptian port authorities. A year passed bringing with it a novel virus that brought all human activities to a standstill. In the midst of it all, Sea Horse II stood deserted in the blue waters of the Red Sea.
The sailors went through an ordeal of serving 24 months of jail time in Egypt, engulfed by a sense of helplessness and hopelessness as they waited for the day, they would reunite with their loved ones back home.
But miracles do happen, they say. And happen they did, in this particular instance, when an Egyptian billionaire businessman named Naguib Sawiris came to the support of the stranded Pakistani sailors. Naguib, the Chairman and CEO of Orascom Telecom Holding, has invested in Pakistan on multiple fronts and prides on his long association with and love for the country. Orascom Telecom formerly founder of Mobilink and is one of Egypt's largest and most diversified conglomerates and the country's largest private sector employer.
Aware of his philanthropist nature and his strong association with Pakistan, a local journalist Ms. Noreen Haider, who has exerted admirable effort for many months to resole the case, contacted Naguib Sawiris and brought to his attention the dilemma of Sea Horse II. Upon hearing the details of the case, he promised to extend support towards the cause.
Mr. Naguib proved to be the only ray of hope for the group of sailors.
After a series of negotiations with government authorities and fee payment, the sailors were informed on the 19th of May 2020, that their case has been settled, they would be handed over their travel documents and they are free men.
Naguib's kindness did not end here. An individual known for generously donating his time, money and resources to communities that matter to him, Naguib went far and beyond the support he promised. He arranged for a chartered plane to get the three men along with fifty other Pakistanis stranded in Egypt to fly back to Pakistan just two days before Eid.
Naguib Sawiris is also the CEO of Ora Developers, the name behind a luxury housing project located 10 minutes from the New Islamabad International Airport, entitled 'Eighteen'. Inarguably, philanthropy has been Sawiris' strong point. He has, previously, supported efforts towards education and healthcare and refugees. A few years ago, Naguib Sawiris gained international fame by offering to buy an entire island for the Syrian refugees.'
A good deed is never lost. But when wealth and influence is leveraged towards a good deed, it is all the more remarkable. The expression of humanity by an Egyptian billionaire towards his Pakistani brothers is nothing less than heartening at a time when the world is tackling a health crisis. Naguib's support stands testament for his unprecedented love for Pakistan and its people and at the same time serves as an example for others in positions of power and wealth to extend support to those in need, regardless of national boundaries or race.