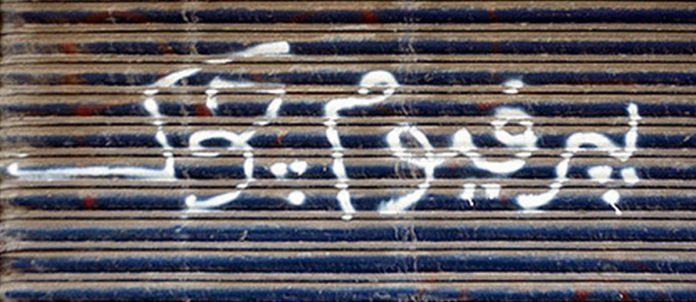 Perfume Chowk is a cart selling perfumes at the intersection of Gulistan-e-Johar, Karachi.
If you've traveled through Pakistan you may have seen their chalking across the country, some done by them, some by their followers; inspired by the movement initiated. While people may confuse them with a political or religious party, they are just selling perfumes and even been robbed a few times for their popularity.
This comes as a surprise to people like us who are savvy marketers, to see the enormous reach such a small establishment has. Perfume Chowk, as a metaphor, inspires us to think beyond our capacity and explore markets that we may consider beyond our reach. In this piece, I will lay forward ways that may help build startups and established businesses to explore territories beyond Pakistan.
'NOW ARRIVING'
Uber, one of the fastest growing unicorns in Silicon Valley, explores cities by hiring only a handful of people who are responsible for activating the service in the city by collaborating with local players, publicizing to drivers and eventually getting the word out for riders. On the contrary, the base is responsible for supporting the extended arm, i.e. the team deployed to activate a city, with implementing technology and marketing.
In this well-connected and digital savvy world, we can extend our products to other markets by simply promoting them to those markets and managing logistics from the base country. The key is to be visible on the platforms that are accessible to those markets.
GETTING THERE STEP-BY-STEP
STRIPE, a payment services company, out of Silicon Valley, offers a service called Atlas through which one can start an internet business from anywhere in the world. It lets techpreneurs register a company, setup a bank account and takes care of all the legal and accounting needs. Their community of entrepreneurs, comprising from people across the world, is also available to give first hand advice to anyone anywhere in the world.
Amazon provides a 'fulfillment' service for businesses that don't want to deal with logistics and shipping needs, called FULFILLMENT BY AMAZON (FBA). If yours is a product based company, they would pick, pack, ship and provide customer service for your products for you. You will be charged for the storage space and the orders fulfilled.
SHOPIFY is an ecommerce platform, for establishing an online presence and enables businesses to sell products online through social media – Facebook for now and Pinterest can be used for gaining traction, Shopify mobile app or even Amazon.com. You can even link courier services i.e. UPS, FedEx and others to your online store and they will take care of the pricing and delivery.
How can this information be helpful? Businesses from Pakistan can open an account through Stripe's Atlas to register their company in the USA, which allows them to sign up on Fulfillment by Amazon for requirements related to consignments as well as Shopify to make their business offerings available in the USA.
While a product or service may have a strong impact and traction in the local market, it is always surprising to know the potential with which it can stand out in the global market, even if it has a local flavor. Just make sure you avoid making shortcuts or cut corners on quality and service. While a rewarding one, the global market has high standards when it comes to the clients' expectations.
SELLING PREMIUM PAKISTAN
Markhor, a YCombinator incubated company, makes handmade shoes in the villages of Okara and Lahore. The company marketed itself in international markets like the USA highlighting its unique flavor of 'local craftsmanship', which was very well received. Seth Godin, the famous marketer even blogged about them. I was personally amazed to see how much our local craftsman and their work is appreciated globally.
In Pakistan, we are taught (and even brought up) with the perception that to market ourselves as 'global players', we should hide our 'local roots' for exploring international markets in order to come across as a reputable company. This is completely untrue. Those Pakistani companies that do not opt for the jugar mentality of using shortcuts and instead deliver quality and excellence find themselves being equally appreciated as any other company.
The following is what such companies in Pakistan who are planning to sell abroad need to keep in mind:
Rely on global marketplaces i.e. Ebay, Amazon and the likes.
Read through terms and conditions of sellers in industries similar to yours to match expectations of your target segment.
Do not compete on pricing and pricing alone but emphasize on how your product is unique. The cheapest deal isn't always the best deal.
Craft your brand story for global audiences.
Focus on one market to understand the market better, reach out local players there to collaborate and engage with influencers in your category like fashion bloggers, YouTubers etc.
Don't be afraid to flaunt where you hail from.
Be visual-oriented to portray your product in a better way.
Don't feel constrained by the local ecosystem but account for the international ecosystem in developed markets.
I hope to see more brands and products from Pakistan shining light on our local craft; whether they are designers, entrepreneurs, developers, handicraftsmen etc. by innovating and competing with talent and companies in the global marketplace.