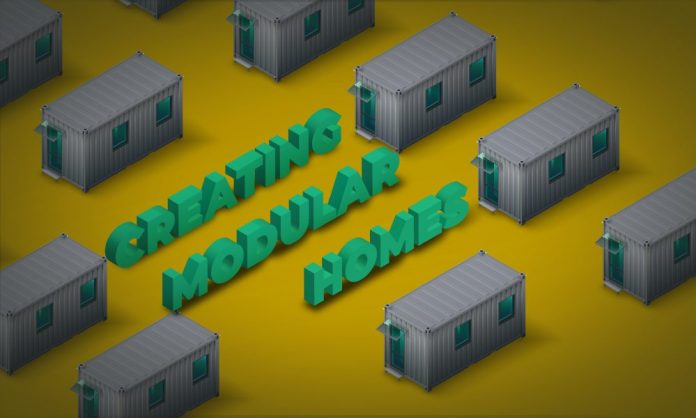 As originally published in Synergyzer Issue 3|2019
Modulus Tech Team
Three students studying Civil Engineering and Project Management at NED University Karachi decided to create pre-fabricated modular houses as a part of their final year project. Realizing the opportunity that such housing solutions presented, co-founders Nabeel Siddiqui (CEO), Mohammed Saquib (CTO) and Yaseen Khalid (COO) went on to incorporate their creation as ModulusTech (Pvt.) Ltd. in September 2017, and were selected for incubation at The Nest I/O. Two years down the lane, theirs is a mature startup that has gotten recognition across the startup space globally and the founders are working on export options.
How did you guys come up with the idea of creating mobile homes?
Back in 2015, the Syrian refugee crisis was at its peak, which spurred my interest in finding a way to help such affected populaces. In most such crises, there is a huge influx of people becoming homeless in a very short span of time, leading to housing shortage. The situation has also been a similar one in Pakistan, be it due to earthquakes in Northern Pakistan or flooding in Interior Sindh. Currently, the country is experiencing a shortage of 10 million homes; which has been exacerbated by the fact that over 45% of the urban population lives in slums or shanty towns. Yet such problems are not limited to Syria or Pakistan. From emerging economies to some of the most developed countries, there are over 65 million people displaced around the world today, and more than 1.6 billion people lack adequate housing.
To me, the problem clearly stood out: Our ways of construction were extremely inefficient as they took too long, and were not cost effective at the same time. Hence, the solution we came up with was a smart, modular, pre-fabricated house with a life span of 30 years, which could be transported and relocated as required. We started off our campaign with a social cause aimed at helping IDP's (internally displaced people) and refugees, although the solution has more wide-scale applicability now. We now work with corporations as well as end consumers. Since we are creating a multi-purpose structure, these modular homes can be used for school, health clinics etc. in rural or such areas where there is a lack of proper building infrastructure. In fact, the potential of these homes can be extended to the tourism industry also.
What was your journey like from idea to fruition?
Like most civil engineers, I expected myself to be employed in the construction sector after graduation and had no idea that I will be embarking on this career path. What began as a technical project and a fun problem to solve went on to become a project I have been working on full time since the past couple of years, and is a commercialized solution.
I had not thought of creating a full-fledged revenue generating company through making and selling modular homes, but  when we did some R&D and market surveys after graduation, it was apparent that the technology has huge potential and can be applied across various sectors. Luckily we got selected for the startup incubation program at The Nest I/O where we learned about creating a running business from a raw idea, the legal issues we might face, patenting our technology, pitching our idea in front of investors and corporate client etc.; basically stuff that you do not usually learn in an engineering university or a 9-to-5 job.
Although we came across a number of investors during our time at The Nest who became quite interested in our product, our quest was someone who was well-connected to the industry, could help us in generating sales, and would consider this as his own startup and with whom we could make the company a successful one and a brand in itself. Hence after a long search and struggling at positioning our product just right, we were able to attract the right investors.
How was your experience initially with Pakistani investors?
We had heard stories from previous startup founders at The Nest I/O, which were horrifying not only due to the financial terms they would set out, but also how the investor-founder relationship changes from good to worse during the journey. As far as our experience is concerned, we came across all kinds of investors; some provided us with valuable feedback while there were some we could not disagree more with. Seeing this mix made us very cautious when we were raising the seed round. Here I would like to say that generally, there are very few venture funds in Pakistan due to which there are very few investors who understand how startups work.
What did it take to make your project finally founder-friendly and idea-centric?
We were fortunate enough to have attracted the attention of foreign as well as local investors, and as I just said, we gained a lot of experience in dealing with investors during negotiations, which helped us in closing a profitable deal.
To clarify, dilution of equity does not go against the founders, rather what goes against us is when investors try to acquire maximum stake in any startup during its early stages to exert control. While this strategy is appealing for investors, since this way they can keep a close watch over the finances of the startup; it kills the essence of the project as this may lead to power struggles within the company, demotivating the founders and may also hinder future fundraising. Since the scenario has been seen often times in Pakistan, both investors and founders will have to change their mentality and focus. Instead of focusing on getting larger equity share or high amount of capital, both should focus on the future growth of the company in question and the best deal that can help achieve that.
How did you promote your project?
We mostly promoted ModulusTech through our website and Facebook page since SEO (search engine optimization) is one of the most effective ways of promoting businesses nowadays. Being a young startup, we relied more on press releases to get the word out, which went viral on social media a number of times and we got multiple queries a day. Lately we have also started investing in offline marketing. We recently put up a display at the 'School of Tomorrow' event, held at Beach Luxury, to give the event audience an experience of how it feels like to be in a ModulusTech house.
You guys have been in the tech startup limelight globally. How were you able to get there?
We were very persistent with our vision and we kept marketing our technology accordingly as we knew it is one of its kind and very innovative. Yet, it's not easy to compete with global companies with all the cutting-edge technology and resources they have at their disposal. Hence, we simply kept spreading the word as much as we could – we shared our story, why we started, where we are coming from and what we wish to achieve – and people really valued that all around the world. We were soon participating in tech conferences in different countries and once we gained more traction we were able to win funding grants and other prizes at startup competitions globally.
What appreciations did ModulusTech get internationally?
So far, we have won seven local and international awards including Winner of Momentum Pakistan 2018, Pakistan's biggest startup competition; Winner of 1st Hashoo Foundation Entrepreneurship Award 2018; National Winner of Global Cleantech Pakistan (2017), Winners of the Transformer's Award 2018 by IsDB in Cambridge (2018); New Energy Leaders 2018 awardee for innovation in Low Carbon Technology – Hunan, China; Winners of United Nations Low Carbon Lifestyle Challenge (2018); and Special Commendation Award in Global Cleantech Innovation Awards in Los Angeles (2018). We were also selected to represent Pakistan at the GMI Summit at Hanover Messe in 2018.
What are your future plans with ModulusTech?
Currently, we have a facility in Karachi where we manufacture modular houses and then deploy them at project sites. We plan on scaling up; hence we are working on expanding our capacity. Also we are looking into exporting ModulusTech houses, which we hope will help the economy of Pakistan. Moreover, we are designing and manufacturing different types of houses for different markets, including autonomous and net-zero energy houses etc. as well as tapping into different market segments with different business models such as making modular houses that can be used in the tourism sector, as I had mentioned earlier.
What do you feel is missing from Pakistan's tech startup environment?
I actually have quite a bone to pick with the founders who don't always take their startups seriously; rather they keep the fallback option of working in the corporate sector if their project fails. Due to this, they don't always own the product, don't always work at researching what they can do with their product, don't know their customer segments, and they hardly ever have a vision. They do not even take their six months of incubation as seriously as they should; if they don't find an investor on the demonstration day, they start searching for jobs in the seventh month.
What such founders need to realize is that investors are looking for smart founders who can pivot their ideas according to current norms and trends. Being too persistent, without realizing how it may be limiting the idea from growing can kill the project. Founders really need to learn to adapt to the mindset of the audience and work accordingly. Also, the only way any startup can attract investors is through sales; if the project is generating revenue – profit being not at all necessary at this stage – means that the founders have been able to create traction and people are willing to buy the product. Having said this, founders need to work on strategies to create effective trials as well as gain their target audience's trust, who are obviously shy of trying something new and spending their hard earned money since the country's economic conditions have shrunk their buying power.