A review of Google Search Trends of people searching for products in Pakistan during the months of January 2022 and April 2023 uncovered some fascinating fashion-related tendencies. The term 'summer collection' experiences its highest search frequency in April, indicating a surge in interest in summer fashion during that time. On the other hand, the 'winter collection' garners the most attention in November, suggesting a significant demand for winter-themed clothing and accessories during that month.
Furthermore, the search trend for the term 'lawn' closely mirrors that of 'summer collection'. However, 'lawn' exhibits a significantly higher search frequency overall. 'Lawn' is a popular fabric used for summer clothing in Pakistan, because of its lightweight and breathable nature. The parallel trend between 'lawn' and 'summer collection' suggests that individuals seeking summer fashion in Pakistan often specifically search for clothing items made from this fabric.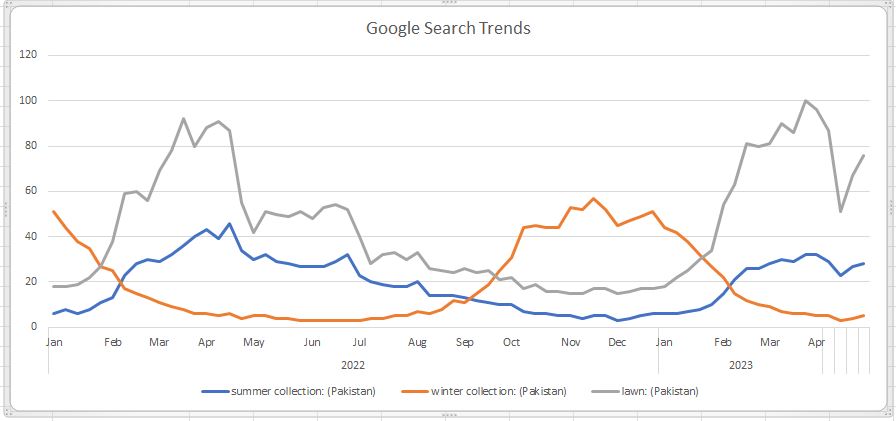 These search behaviour patterns point to a significant interest in seasonal fashion as well as a penchant for using the internet to seek the most recent collections. Retailers and fashion companies in Pakistan have the opportunity to capitalize on these trends by timing the introduction of their summer collections in April and their winter collections in November to coincide with the busiest times of the year for online fashion searches. In addition, putting an emphasis on the promotion of apparel that is manufactured from lawn fabric may attract a bigger audience and appeal to the preferences that are now prevalent among Pakistani customers.