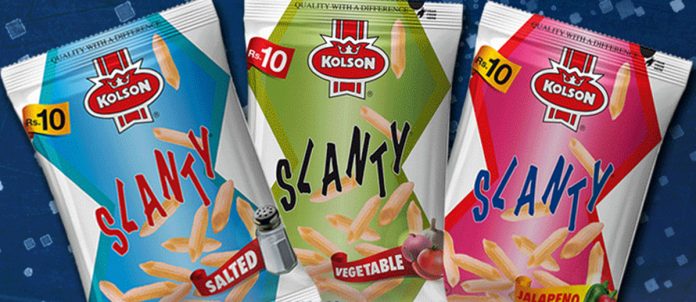 A recent news report on the coloured slanty has resulted in a case of "mistaken identity" between the nation's much-loved brand "Slanty" produced by Kolson and the unregulated imitation coloured snacks (paapar) sold in the market. We stand behind the Punjab Food Authority's (PFA) commitment to combat unhealthy and unregulated snacks
Lotte Kolson is a licensed manufacturer of food products by the Punjab Food Authority (PFA) and we fully abide by the rules & regulations of the authority, while manufacturing our food products. We have been producing good quality food products in snacks, biscuits, cakes, pasta, vermicelli and instant noodles since 1942 with a vision to maintain quality standards at par with the industry. Our flagship brand, Kolson Slanty is a favourite among children of all ages across Pakistan, and is prepared with utmost care, quality and safe ingredients under a clean and hygienic environment.
With reference to the published notice by Punjab Food Authority (PFA) below, the general public is advised about the clarification of Kolson Slanty vs coloured snacks (paapar). So to all our Slanty fans, rest assured, keep enjoying your favourite Kolson Slanty because it's perfect in every way.