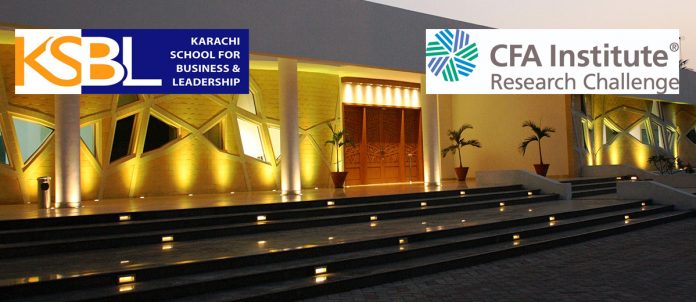 The CFA Society Pakistan has been organizing a research challenge for university students each year for a decade now. The Research Challenge is a competition which consists of financial modeling and valuation exercises, and points are awarded for report submission and presentation at the finale. The winning team is given a Winner's Trophy and this year the CFA Society introduced a new award as well for the 'Best Presenter'.
The 10th CFA Research Challenge (2017-18) took place on 8th March 2018 in which 17 universities from across the country participated. Mr. Richard Morin, CEO of Pakistan Stock Exchange (PSX), was invited as the Chief Guest for the event along with a jury of four notable individuals, all chartered members of the CFA Society, to judge the teams and review their presentations.
The challenge for all teams this year was to complete Equity Market Research Analytics' work for Hascol Petroleum Ltd., and to come up with an Investment Call (Buy/Sell Shares), based on their findings. Five teams were selected to present at the finale based on their original reports, namely IBA, IoBM, KSBL, LSE and NUST Business School.
The KSBL team was represented by Abdullah Bin Zia, Aman Khan, Basit Naeem, M. Daniyal Aleem and Mushk Aijaz (senior and junior-year MBA students) and mentored by Ms. Sana Abdullah (Alfalah Investments). The team initiated a 'sell' call for the company's shares; this bold move and their excellent presentation skills guaranteed them the winning position as well as the best presenter award making them the ultimate winners. This was the second consecutive win for the prominent business school; they had previously won the CFA Research Challenge Winner's Trophy in 2017 as well as in 2014.
KSBL will now proceed to the Asia-Pacific Regional Finals in Malaysia which will be held in mid-April. We wish the team best of luck!