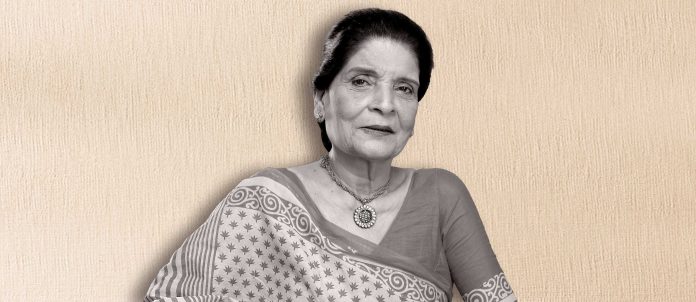 As originally published in Synergyzer Annual 2018
Mrs. Zubaida Tariq, the lady known to Pakistanis all over the world for her totkas, passed away at the age of 72 on January 4, 2018, in Karachi after a brief illness. She was born on April 4, 1945, in Hyderabad Deccan into the Maqsood Hamidi clan as 1 of 9 siblings, all of whom migrated to Karachi soon after Independence in 1947. The influence of traditions, etiquettes and the culture of refinement and reformation played a major role in shaping the personality of her siblings and herself, going on to produce a number of intellectuals and multi-talented writers and artists, including the multi-decorated playwright and novelist (late) Fatima Suraiyya Bajia as her eldest sister; Mrs. (Sughra) Kazmi, the pioneer of the bridal couture label 'Kazmi'; renowned and also decorated playwright and celebrated writer, lyricist, and satirist Anwar Maqsood; and the Pride of Performance winning Urdu poetess Zehra Nigah. Yet, for Mrs. Zubaida Tariq, it would not be before the age of 50 that she would became a celebrity and will be recognized for the expertise that she inculcated in herself over the years.
In 1966, she was married to her cousin Tariq. Before her marriage, the insistence was that she focus on education only. Hence, Mrs. Zubaida Tariq spent a number of years perfecting her cooking, as her husband used to hold dinner parties frequently. It was one such gathering that led to her joining the food advisory service of a company for 7 years. After that, she worked with a spice company, sharing varied recipes of Pakistani cuisine. The combination of her mastery over culinary as well as homemaking skills, which she credits to living in a joint household, led to her rather interesting rise to fame.
She came, she saw, she conquered
In 2003, the FM radio channel, Apna Karachi FM 107 used to air the show 'Mukammal Ghar'. Hosted by Azra Manzoor, it was one of the channel's signature shows and as Azra Apa had decided to depart from it, the team found Mrs. Zubaida Tariq to replace her. The show's concept was to present the host as a mature, sensible woman who would guide other women as if they were her own younger sisters, in a bid to polish their homemaking skills so that they can lead better personal lives.
Hence, the character of Zubaida Apa was born, through which she made her way into the hearts of millions of fans across the world. Dressed in her immaculate Banarsi Saris, accessorized with color-coordinated sets of bangles and coiffured hair, Zubaida Apa spread her wealth of knowledge as an expert through culinary TV shows, and helped people out through household tips and even homemade medicinal remedies that she knew could be relied upon, making sure to advise the person asking, to seek professional medical help rather than depending upon her word only. She also authored a number of cookbooks, books having culinary tips, had her recipes featured alongside other celebrity chefs in other books and magazines, and started a restaurant with her son.
A culinary powerhouse in the developing part of the world, she was parodied and jokes and memes on her instant tips got viral and spread around social as well as cellular platforms. Yet it is an undeniable fact that spoofs are made about personalities who gain prominence.
There is no contradicting that the trust she earned over her two-decade-long career is no easy feat to achieve. It was her belief in the mantra that whatever one does should be done wholeheartedly so that other people can learn and benefit from it as well, which led her to achieve such great heights in what she did best: Handy cooking and household-keeping advice.
Her warm presence and 'jeeti raho beta' will forever remain entrenched in our memories.