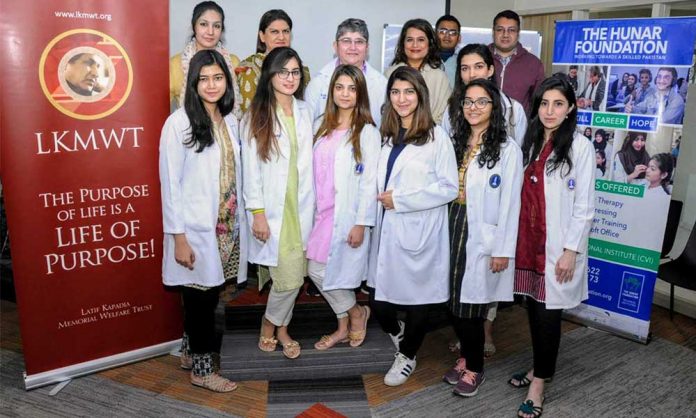 Latif Kapadia Memorial Welfare Trust (LKMWT) keeping their effort to create an awareness for various basic health issues and the particular effects of consuming gutka, chalia and other tobacco related substances in our society have continued their collaboration with the Hunar Foundation (THF) to safeguard the common ailments within the society by adapting precautionary measures and spreading awareness.
Following their alliance, an event 'Hazards of tobacco related substances and Oral Hygiene' was held at the Karachi Women's Institute of The Hunar Foundation, with the core purpose of educating the students about the harmful effects of consuming gutka and chalia by educating the students toward the necessary precautionary steps that need to be ensure to overcome this addiction and menace.
The awareness session and Oral Health screening camp was conducted by Dr. Dinaz Ghandhi, Honorary Board Member LKMWT who is also a Professor at the Altamash Institute and Consultant Oral and Maxillofacial surgeon at the Aga Khan University Hospital. Ms Naeema Kapadia, Executive Director, LKMWT along with      Mr Arsalan Khan, and Mr Ghulam Haider of LKMWT.
The junior doctors of Altamash Institute of Dental Medicine carried out an Oral Health screening camp for around a 100 students and staff members of THF.
Commenting on the occasion, Ms Naeema Kapadia of LKMWT said, "We are extremely happy to continue our collaboration with THF and be given this platform where are able to provide health awareness. Not only with the students be sound vocationally but will also be healthy and a healthy mind is a progressive mind. We are also thankful to the Altamash Institute of Dental Medicine for being a part of this event and cause."
Dr Dinaz Ghandhi while commenting on the occasion said, "This event is a follow up to the awareness sessions conducted earlier on the hazards of gutka, paan, chalia etc usage and oral health awareness. Conducting Oral Health Screening camps for the students is very crucial to see how many of them indulge in use of the above hazardous substances and show signs of precancerous lesions like Oral Submucous Fibrosis (OSF). It will help identify individuals who require further medical assistance," she concluded.