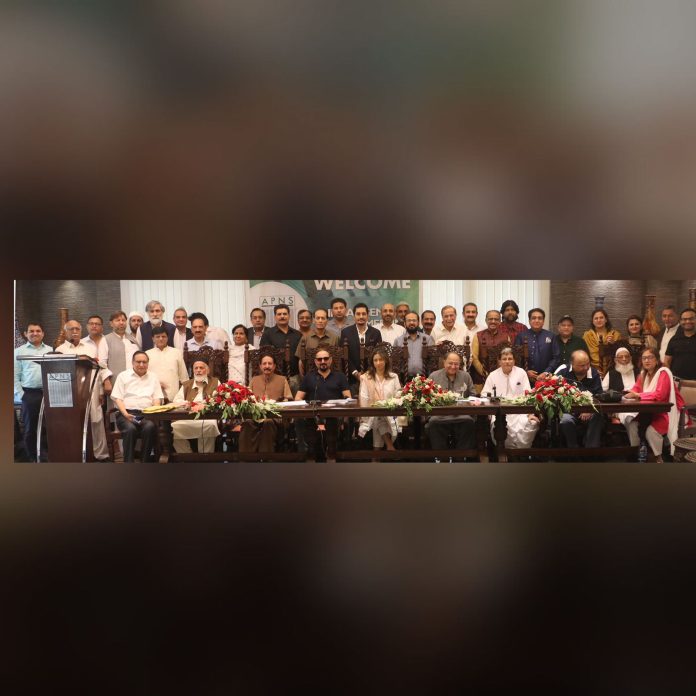 At the APNS General Council's Annual Meeting, which took place on March 20, 2023, at the APNS House in Karachi, Nazafreen Saigol Lakhani was unequivocally elected as President of the Society. Imtinan Shahid was elected Senior Vice President, Muhammad Aslam Kazi was named Vice President, Sarmad Ali was appointed Secretary General, S.M. Munir Jilani was elected Joint Secretary, and Shahab Zuberi was voted for Finance Secretary.
Mr. Sarmad Ali, the current President of the Society, presided over the Annual General Meeting that was conducted. The Annual Accounts of the Society for the year 2022 were unanimously accepted by the Council, as was the report of the Executive Committee for the year 2022-2023, which was also approved by the Council.
At a meeting that was attended by 128 members representing every part of the country, the General Council decided to establish an Election Commission. Dr. Waqar Yousuf Azeemi will serve as the commission's chairman, while Nasir Daad Baloch and Mumtaz Ahmed Phulpoto will be among its members. The election of members to serve on the Executive Committee for the year 2023-24 was overseen by the Election Commission.
The following publications were elected to serve on the Executive Committee of the APNS for the next term without facing any opposition:
Daily Aghaz, Daily Business Recorder, Daily Deyanat, Daily Dawn, Daily Jasarat, Daily Jiddat (Khi), Daily Abtak, Daily Dunya, Daily Jang, Daily Khabrain, Daily Pakistan, Daily Tijarat, Daily Ausaf, Daily Sahafat, Daily Awam (Quetta), Daily Mashriq (Quetta), Daily Mashriq (Peshawar), Daily Wahdat, Daily Kaw On the periodical seats, Monthly Centerline, Monthly Naya Rukh, Monthly Centerline, Monthly Dastak, Nawa-i-Waqt, and Monthly Naey Ufaq were elected, together with Fortnightly Ibrat Magazine and Weekly Nikhar.
Mrs. Zahida Abbasi of Daily Nau Sijj in Karachi was chosen to fill the seat reserved for female publishers on the current Executive Committee.
The newly elected members of the Executive Committee felt that the work of the Election Commission was commendable.
The Annual General Meeting (AGM) expressed its deep suspicion about the state of print media in a resolution. This is because the current economic climate has caused severe severe financial crises for newspapers, and many of them are on the verge of collapsing. In this scenario, the media anticipated receiving assistance from the government in order to endure the severe financial strain. In order for the publishing industry to be able to endure the current climate, the AGM pleaded with the Federal Government to settle the industry's long-overdue debts, which amounted to more than Rs. 2 billion, increase the number of advertisements, and set aside a specific portion of the advertising budget for print media. Despite several pledges to the contrary, the Annual General Meeting reaffirmed that the Federal Government still has not executed the suggestion of the 8th Wage Board to raise the government ad rates in accordance to the growth in wages.