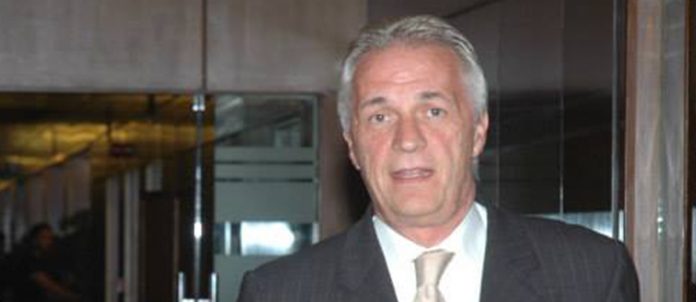 Jan Verduyn, GM – Karachi Marriott Hotel, emphasizes the importance of a well-developed  tourism infrastructure for the survival of hospitality and travel businesses in Pakistan.
Synergyzer: Give us some details about yourself and your career.
Jan Verduyn: I was born in Ghent, Belgium during the post war era. My friend owned a restaurant there, which developed my interest towards the field of hospitality and hotel management. Hence, I got my qualification in the field, then worked in Brussels – the capital of Belgium – for a while, which I left in the late seventies and joined a major American hotel chain. So far I have worked with numerous hotels and resorts, both large and small, in fourteen countries around the world and Pakistan is currently fifteenth where I am working with the Hashoo Group.
Synergyzer: Give us some details about the Hashoo Group.
Mr. Verduyn: Hashoo Group was formed in 1960 by Mr. Sadruddin Hashwani and it diversified into the field of cotton trading, oil and gas production, IT, minerals, ceramics, pharmaceuticals, travel and tourism, real estate, commodity trading businesses and hospitality.
The group started services in the hospitality sector in the late '70s and early '80s with the Holiday Inn franchise, which was later changed to Marriott, and built hotels in Islamabad, Karachi and later in Bhurban and other areas of Pakistan. Currently, Hashoo Group operates the Marriot Hotels and Pearl Continental Hotels franchises in various cities of Pakistan along with Hotels Limited, Hashoo Motels, and Hotel One by Pearl Continental. Having more than nine properties with three new ventures lined up, Hashoo Group is the largest hotel group and investor in this sector in Pakistan.
Synergyzer: How was the American hotel industry different from the hotelier business in Europe back when you joined your first American hotel chain?
Mr. Verduyn: The Americans have refined the hospitality industry by introducing methodical management systems and control procedures that allows any hotel business to run at the large scale. On the other hand, hospitality was more of a family business in Europe where hoteliers would turn their personal estates and palaces into hotels and although were keen on the personal touch that would provide to hospitality, it would limit the business from expanding, in turn. Hence, I left Brussels and moved to an American hotel chain.
Synergyzer: You have been with Marriott Pakistan since January 2013 when you joined as GM – Marriott Islamabad. What are some of the measures that you have taken to standardize the Marriott chain in Pakistan?
Mr. Verduyn: I introduced international benchmarks for revenue management and marketing as well as hotel services to bring Marriott Pakistan at par with international standards. I want our patrons, especially investors, coming from abroad to experience service innovations and facilities such as Wi-Fi, LED televisions in rooms, HDMI connections; i.e. every facility that is present in standardized hotel chains internationally. We have worked on creating seamless interaction with guests and have made ourselves available on mobile apps through which check-ins can be carried out from elsewhere to save the guests' waiting time. We will also be launching ourselves on the Red Coat Direct mobile app which will allow guests to place real-time orders like ordering for room service, asking for an additional laptop if in a meeting at our premises etc.; through their smartphones.
Synergyzer: What is the occupancy goal of Marriott?
Mr. Verduyn: The aim for yearly occupancy at Marriot is set at 78% however the percentage varies throughout the year; it is high during winter and spring and low during Ramadan and summer.
Synergyzer: Who are the main occupants?
Mr. Verduyn: Most of the occupants are from the corporate sector, specifically Karachi, Lahore, and Islamabad. These are 'domestic corporate travelers' who reside in Pakistan and travel across these corporate hubs, like NGO's and pharmaceutical employees. Meetings, conferences, and other corporate events also play important roles in hotel occupancy. Other occupants include expatriates living abroad who are here to visit families.
Because of a comparatively higher amount of corporate travel, room occupancy is higher during weekdays and lesser during weekends.
Synergyzer: What about international travelers?
Mr. Verduyn: There are at most 25% international travelers at the moment due to the security and law and order issues, which I believe is the case with most hotels. These 25% are mostly from the Middle East or neighboring countries. In the past few years, travelling has reduced to the Northern areas of Pakistan, affecting our overall business. Currently, we have to rely on domestic travelers who do not really contribute towards the growth of this industry.
A stable and secure environment is necessary to attract more investors and make way for new organizations as well as realize the actual potential of the tourism sector of Pakistan.
Synergyzer: How is tourism and hospitality management different for local and international tourists in Pakistan?
Mr. Verduyn: The local traveler in Pakistan works on the relationship mechanism i.e. if someone regularly stays at a particular hotel or knows someone who works at the hotel, they will ask for discounts. Also, they want to pay the same rates as they paid earlier, which may have increased.
International travelers, on the other hand, look for online bookings and getting different rates in different seasons i.e. higher rates in a busy season or when an international exhibition like IDEAS Pakistan is going on and lower rates when there are lesser occupancies.
Synergyzer: Labor wages and commodity prices are comparatively less in Pakistan. Why do you want to bring the prices at par with the international market?
Mr. Verduyn: Although labor is less expensive, their efficiency and productivity is not at the same level as labour worldwide neither are there tools available to deliver the same services. Also the guest dependency on service staff in Pakistan is higher hence I need to hire more staff to deliver services effectively. Also, energy costs are high here too.
Synergyzer: Why do you think we have the same hotels in Karachi since a very long time?
Mr. Verduyn: Building a hotel requires sufficient funds. At present, it is difficult to turn a business into a profitable enterprise as the Return on Investments (ROI) is low and comes in very slow, basically due to the instability in Pakistan. When you invest in a hotel then you usually have to wait 3 to 4 years for that project to start generating revenue, but if the demand is not there then it is difficult to pay back bank loans. Hence, investors are more interested in other options that can earn them profits easily versus building hotels.
Synergyzer: Does the government provide the hotel industry any support?
Mr. Verduyn: Hotels like Marriot are institutions through which the government earns taxes. Yet, I wish there were some tax holidays or incentives given to us, which will eventually result in growth and more investment in this industry, which will in turn create opportunities for employment and improve infrastructure.
Synergyzer: Considering that Pakistan has a number of destinations with scenic, historical and cultural significance; how should tourism be developed in the country?
Mr. Verduyn: Firstly, there needs to be security measures taken and an infrastructure for tourism through which places for lodging as well as visiting should be developed on international standards that are accessible through a sound transportation system.
For instance, an industrial and financial hub like Karachi should have places for more weekend tourism. Weekend tourism is city or regional tourism in which travelers carry out city trips over the weekend and visit places of specific interest like museums; art fairs etc.; take guided tours to places of historical or cultural importance; or simply carry out recreational activities like boating, hiking, scuba diving, other beach activities; shop and dine.
There should be more cultural islands developed and promoted for tourism like the Taxila or Gandhara civilization areas, the Makli necropolis or the ancient forts.
Synergyzer: What is your opinion on training and development opportunities for the hospitality sector in Pakistan?
Mr. Verduyn: What people in Pakistan need to realize is that the hotel industry is much more complex than just preparing and serving food. It's a complete industry and requires all such technical skills for functions like production, marketing, finance, public relations etc. to be in place, if it has to succeed.
Hence, the government should work to get more hotel management schools established in the country as there will be a greater requirement for skilled talent in the coming years, especially if international franchises are to be maintained or brought in. I also encourage individuals interested in this field to visit the Middle East, particularly Dubai, and if possible, Europe to see how standardized work is carried out, gather more vision and increase their exposure.
Having said that, it is our duty to teach and train young individuals who want to be a part of this industry and encourage them to use new ideas, take lead and learn from circumstances to face challenges.
Synergyzer: How well regulated do you believe is the tour operations business in Pakistan?
Mr. Verduyn: Again, since the country does not have much tourism, there is a lack of competition. A competitive environment raises the bar automatically. More importantly, standards need to be appointed in the industry with checks and balances carried out on operating businesses.
Also, travel agency and tour operations businesses have to be licensed to be in operation, which makes them more authentic.
In the current circumstances, unlicensed operators have been known to under-deliver, due to which tourists and travelers avoid them, which will eventually make it difficult for them to survive in the long run.
Synergyzer: What do you think is the utmost requirement of the hospitality industry at the moment?
Mr. Verduyn: Dynamic sales and educating local customers to utilize online bookings more. Currently, only 5% bookings are carried out online, which delays procedures. Also, accommodation pricing needs to be upgraded according to international methods, whereby hotels can change pricing throughout the day, week or month based on when the bookings are higher and subsequently, provide lower rates during slow seasons. Lastly, the banking sector should localize the concept of plastic money, i.e. online use of credit and debit cards, which will in turn make hotel procedures much swifter.