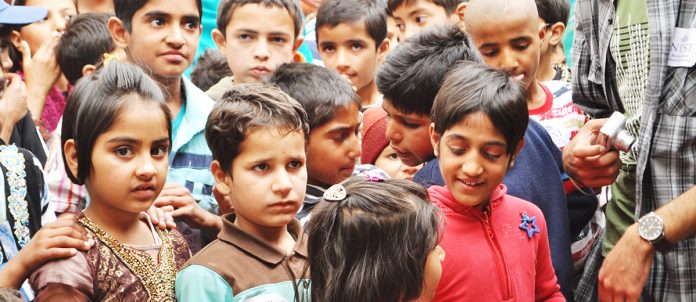 By Merzia Naeem Adamjee
"It is easer to build strong children than to repair broken men." –  Frederick Douglass
Children are the future of our nation. In fact, they are the future of any nation for that matter but what is it that makes the progress of the children in Pakistan all the more important? Almost 37% of our population comprises of children between the ages, 0 – 14 years old, which is a total of 64 million kids bursting with energy and life, those who believe in the possibility of seemingly impossible, those with the iron will to make their dreams come true. They are a 64 million dreams waiting to see the light of day. If our soul is not as dead as the world believes it is, if we don't want Pakistan to remain synonymous with a country that's plagued with political instability, terrorism and ethnic intolerance then it is the moral and social obligation of every educated and able Pakistani citizen to step forward to play their role in providing every child in Pakistan the opportunity to get quality education and save the future of Pakistan in the process. That remains the only meaningful way to give back to our country and the only step towards a peaceful revolution.
What is more alarming is that Pakistan has almost 5.5 million out-of-school children (UNESCO Report), which is the second highest number in the world after Nigeria. If this is not enough to underscore the severity of the current educational crisis, many of the children in Pakistan who are actually enrolled in school don't have access to quality education, let alone basic text books and academic infrastructure.
We can blame all and no one at the same time but at the end of the day, it is every Pakistani's responsibility to help shape a prosperous Pakistan, it is our responsibility to make sure that our children receive basic education as their birth right. It is only through education that our children escape poverty and the future generation can have a chance for a better, secure and stable future.
What is Save Our Future?
Save Our Future welfare organization (SOF) was established in 2010 by like-minded individuals of Karachi with a simple goal in mind: extending help and resources to provide equal healthcare and education to the under-privileged, and improving and protecting the environment we live in. For the past four years, SOF has been able to organize medical camps and provide free medication in the lower segments of Karachi to those in dire need of these services. In addition, they have also organized beach cleaning drives, efforts that are aimed at helping our oceans become clean and to sustain marine life. Currently, the NGO is focusing on improving education and aims to inculcate good hygiene and healthcare habits among students.
In a nutshell, SOF believes in the potential of every Pakistani child and works tirelessly day in and day out upon the consideration that "All kids are smart, they just need proper guidance and that no child must be left behind".
How is SOF contributing towards Education?
It is a tragic reality in Pakistan that women remain largely marginalized in our society, are encouraged to stay at home rather than getting education or taking up a career of their choice. By providing adequate and standardized education to the 500 girls of an adopted government school, SOF hopes to empower these girls enough so that they are able to make a livelihood for themselves and improve the living standards of their family in due course.
Queen Rania al-Abdullah of Jordan rightly stresses upon the need to educate women, "Educate a woman and you educate her family. Educate a girl and you change the future." Following this positive thought, it was in July 2013 that SOF took a huge leap and adopted a government school for girls, situated in Karachi's Cantt Area. Currently, the school is successfully providing education to over 500 girls enrolled in Prep, Junior and Senior schooling levels. Half of the students attend classes in the morning and the other half in the evening. Through endeavors such as these, SOF's aim is to bridge the education gap in our country one school at a time, so that students at any government institution shall have access to the same facilities and quality of education as the student at a private institution in Karachi.
Speaking about the aspirations of his NGO, Fahd Kemal, President, SOF said, "Every day we are working towards the improvement of our nation. These children that we are helping are sure to make a difference and this is the only solution to the problems we are facing as a nation."
SOF's Journey to Build the School.
When it came to building the Girls' school at Karachi Cantt. Area, SOF developed a well-guided strategy that concentrated on incorporating these six necessary components:
1) Quality education
2) Proper infrastructure and facilities
3) Basic healthcare
4) Clean, safe drinking water
5) Food security
6) Child protection
SOF has been working towards improving their adopted school for over a year now and has met tremendous amount of progress. For the past one year, they have been working on three areas of their school in particular which included fixing the classroom interiors, corridors, and putting in water filters and coolers for clean drinking water.
They started out by reconstructing and refurbishing the interiors of the school. The walls needed an immediate paint job and the classroom doors' had to be repaired and replaced. Additionally, the classroom desks were to be repaired and polished while the staff bathrooms needed renovating too. At the same time, they worked on rebuilding the corridors of the school that were completely inundated with sewage water at the time the school was taken up. This required the placement of suction pumps that would not only keep the corridors free from water but also prevent the area from further flooding. They also had water coolers placed at different corners of the school to ensure that students had easy access to clean and safe drinking water throughout their stay at school. With only limited resources at their disposal, accomplishing this amount of progress has been a great achievement for SOF.
But this is just the beginning of SOF's journey to address our country's ongoing educational crisis. At the moment, SOF is putting all its efforts in accumulating funds to provide books, stationary and uniforms to the students after their summer break in August 2014. Their next goal is also to provide the students with a proper library. They are currently in the process of collecting donations so that students are able to develop the habit of reading.
A major contribution to this NGO is made by its volunteers who are mainly high school and college students. Their program allows students to work with the organization in their IT, administration or marketing departments during the summer break or for the entire year. Throughout the summer of 2014, interns from IBA like myself, have been working towards helping SOF grow and increase its recognition as an NGO that is making a genuine difference in our society.
Like any other NGO, SOF relies heavily on donations from its investors. At the same time, individual donors have also contributed greatly to the organization's efforts in enhancing the quality and reach of education in Sindh, Pakistan. Recently, they initiated the Adopt a Student Program where individuals or organizations can take the responsibility of a student or students' education and offer to pay for her education for the entire year. The donors get a chance to regularly track and monitor the adopted students' progress and see for themselves the positive outcome of their generous commitments.
Emphasizing upon the importance of education, Fahd further added, "Education is the only way to eradicate problems of a growing nation. Educate them all and you'll see the difference in the next ten years because it grows on a nation slowly like a need."
IBM Computer Lab:
A recent addition to the school was a computer lab for the kids where around fifteen IBM computers were provided with the support of PHILIPS lighting Pakistan. The computer lab gave the students an incentive to enhance their learning with the help of technology and become more technology forward as well.
What's next?
This is the first school that SOF has adopted but it is certainly not the last one. They plan to continue working towards building a better education system and focus on future projects that will involve building their own schools for the children of Pakistan.
As of now, SOF has the support and patronage of family, friends, and corporates such as Hascol, Phillips lighting, Lego, and Official.Sports (online sports magazine).
However, to continue their journey and their dream of a better Pakistan where the children of the country can lead us into a bright future, they need support from all such Pakistanis who believe they have a duty towards this country. An NGO that is so highly committed towards a cause with such limited resources; it is certainly a cause worth supporting. It is the need of the hour for the enlightened individuals of Pakistan to take the fate of our country in our own hands and to leave a better country for our future generations.
For more information, please visit:
www.sofpk.org
https://www.facebook.com/sofpk.org
Merzia Naeem Adamjee is an SOF volunteer supporting the good cause of education. SOF is connected with the Community Welfare Society of IBA – one of the most prestigious business schools of Pakistan and regularly involves students to enhance educational opportunities for the under-privileged. Connect with us at help@sofpk.org or info@sofpk.org