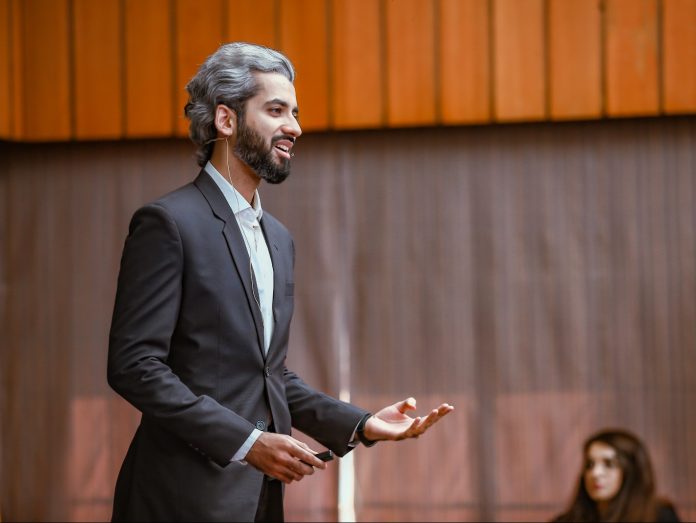 Synergyzer: Walk us through your journey to Social Champ.
Sameer: Previously, my co-founders & I ran three startups: GameOChat, Educating Dreams, and RemindZapp. And bootstrapped by running "OuzelSystems" – a software consultancy firm.
Social Champ Inc. was not meant to be a startup initially. We never thought the users would love a weekend project we made for personal use to market our 3rd startup, RemindZap. We tried implementing a concept called "The Art of Repeating" by Guy Kawasaki. It made all the difference. It started as a tool that I wanted to create to solve my problems, but as it turned out, many other people shared the same issues and were interested in our solution!
The story is this: I was focused on our startup, OuzelSystems, and wasn't much involved in social media. I didn't exist on Twitter. Most of my tweets were published after midnight and didn't have any visibility. However, with time my strategy changed, and I started checking out my timeline to see who was tweeting on Twitter. Next, I deleted my previous posts manually and tweeted again so a specific person could see my tweet. And it worked!
But I also wanted to learn, so I started reading.
On the top of my list was "The Art of Social Media" by Guy Kawasaki & Peg Fitzpatrick, which convinced me that "The Art of Repeating" is a proven strategy. I quickly Googled platforms that allow republishing a post in a quicker way – and found none that did.
My search results were disappointing, and that's when the idea of a small web app, which would allow me to repeat my tweets, came to my mind. I shared the idea with one of my close friends – Zohaib Ahmed Shakir – who promised to make such an app before my birthday and present it as a gift. So, we spent many weekends together, working on my idea, and finished it before my birthday! Once it was ready, I shared it with an e-magazine, TechJuice, which later gave feedback recommending using my app forever.
All this was very promising, so guess what I did next? I contacted Guy Kawasaki, asked for his feedback, and received his suggestions for my tweets and emails (actually, many of them). Eventually, we added more features that users requested, and thus "Social Champ" came into full swing.
Now that I think of it, we never did have an official launch day – it was launched when I started using it for the first time, and since then, it has been growing and evolving based on user feedback. I am also very proud to say that Social Champ was lucky enough to be mentioned by Guy Kawasaki in his presentation titled "How to Audit Your Personal Marketing".
Synergyzer: What is Social Champ? What are the services it provides? How is it different from others in the industry?
Sameer: Social Champ is a social media management tool that provides a befitting solution to businesses of all sizes. The tool makes it more accessible for companies to connect with their audience and grow their online persona. Social Champ supports all the major platforms, including Facebook, LinkedIn, Twitter, Google Business Profile, TikTok, YouTube, Pinterest, Instagram, and Mastodon (yes, this, too!).
This essentially means that you can manage all your social media profiles from ONE centralized dashboard without switching through tabs all the time. Furthermore, using Social Champ, our premium features allow you to fully automate the posts, along with tracking and engagement. Here is a quick run-down of our four major functions:
Publish: Schedule and manage all your social media profiles using automation features, such as Bulk Upload, Auto RSS, Queue, Champ AI Suite, and more. You can also fully customize your posts while posting on multiple accounts at once.
Calendar: The calendar feature is a powerhouse that lets you view all your published/ scheduled posts in a grid format filtered on the basis of weeks and months. You can also edit/ delete or create new ones using the calendar.
Engage: Bring all your conversations under one roof using the Social Inbox of your dreams. The Social Inbox manages all your conversations, including reviews, DM/ PM, comments, and mentions.
Analytics: The power-packed analytics provides detailed and presentation-ready reports with charts/graphs to show your progress on social media!
Social Champ has a four-tier pricing plan with one free and three paid plans. This makes our tool pretty much inclusive for all. Social Champ can be a solopreneur's right hand, an SMB's helper, and an agency's driving force. In short, Social Champ is for everyone with social media who wants to create a solid online persona.
Keeping up with the trends is also one of the differentiators when it comes to standing out.
Lastly, we have always applied a customer-first approach in our functions. Social Champ can easily be differentiated from others in the market, based on its modern and on-demand feature set. Apart from this, our next-level customer support makes us stand out from competitors worldwide. What's more, we also take feedback seriously and try to implement features that our customers need.
Synergyzer: What were the challenges while you were struggling with Social Champ? How did you overcome them?
Sameer: In the initial days, the biggest challenge was to penetrate a market that industry giants already dominated. This means that we need to go through the tedious process of making ourselves seem worthy of shifting the business. To overcome this challenge, we focused on launching and providing features unavailable on any platform. User Experience and User Interface are also one of the core focuses of Social Champ; we know adding many features makes UX complicated, but we focused on iterating our design as we moved forward.
We also ensured empathy in our customer dealing. We embarked on the journey from customer support to customer success and turned our customers into alpha audiences! An alpha audience is a set of customers who share our product with their audiences and evangelize Social Champ.
Apart from that, when we launched a social media management tool was still a new concept for people in our country. So it's safe to say that it did take us a while to raise awareness in Pakistan. Also, the payment options where our customers from Pakistan wanted to pay for our services were a challenge too. Thankfully, due to new fintech solutions, this challenge has been overcome.
Synergyzer: Did technology always fascinate you?
Sameer: Yes, it always does. It's impressive just looking at the last few years, where "Facebook Live Videos" was everything, and then came an age of Blockchain; even CRM tools were implementing Blockchain. Then came "Live Audio" from Clubhouse, which people believed to be the future. Today, we just passed the year of NFTs and entered into the ChatGPT year.
It is exciting to see and watch continuous innovation. The fact that I have a bachelor's degree in Computer Science, where I somehow scored the 2nd position, says a lot. So yes, technology has always been a massive part of my identity.
Synergyzer: Please tell us about how you use AI and algorithms in your startup.
Sameer: AI has been a massive part of Social Champ. Before ChatGPT, we had an AI feature called Sentiment Analysis. The feature analyzed if the post was positive, negative, or neutral; this enabled the user to have a uniform voice across all channels.
Recently, we integrated ChatGPT into the tool for a suite of premium features, including AI Content Wizard and AI Imaginator. Using a string of text, you can create marketing content and images right within the dashboard.
Synergyzer: How has it impacted the business in terms of measurable output?
Sameer: We have always embraced new and innovative developments when it comes to technology; therefore, we adapted to AI earlier on. Our very first AI feature – Sentiment Analysis, has been used thousands of times since the beginning, which has led to better reports for the companies. They were able to note the voice of their message before publishing the content over social media.
If we talk about the newly launched "Champ AI Suite", it has affected our signup-to-purchase ratio and increased it by 8% on average since we launched it two months ago. More than 50% of our users have tried the AI Champ Suite, and we have received a positive response for the AI feature during our demo calls too. Customers love generating images from text prompts, and since the concept is new and only a couple of tools offer this feature, users are still adapting to use it fully.
Synergyzer: How do you think AI will change the industrial and services landscape?
Sameer: AI is going to help immensely in working through tedious work. Almost all departments in our company, such as SEO, Design, Development, Content Writing, etc., use AI to enhance their tasks and complement their creative thinking. The general perception is that AI will replace humans; however, we see it as an innovation that compliments the teams' work and help them with quicker completion of tasks. The MarTech and AdTech industry will see a huge shift where creative ideas will matter more than work, as AI will turn most of them into realities. It's quite a fascinating time we are in at the moment.
Synergyzer: Please share some nuggets of wisdom for young, aspiring entrepreneurs.
Sameer: Follow your passion. One of the most important factors in building a successful business is passion. Find something that you love to do and make it your business. When you're passionate about your work, you'll be more motivated and more likely to succeed. Don't run a startup because it's a cool thing to do, or being called a CEO is fascinating.
Also, have a great team around you, don't try running a startup solo. It's a tough journey with lots of ups and downs. So ensure you have the right team and co-founders to support you in this journey. If you need help, you'll have to go and get it. The world doesn't revolve around you, so don't expect mentors and coaches to come to you. Instead, you should be the one looking and seeking help from them. Keep growing and learning, and good luck!