In Pakistan TV is still considered the top platform in terms of investment done by advertisers.
Yet industry experts are of the opinion that this may not be the case in a couple of years. Linear TV has already evolved towards the digital medium as top-ranking TV channels upload their content onto digital platforms, especially YouTube. This strategy allows TV channel owners to benefit dually. One, they get additional advertisements over the digital platforms; and two, they generate a good amount of revenue on their subscriber base.
TV ADEX  for Fiscal Year (FY) 20-21 i.e. July 2020 to June 2021 is PKR 33.89 billion; with 23% growth versus FY 19-20.
In FY 20-21 there were 1,287 TV advertisers with a 15% increase over last year.
Apart from traditional advertisers including FMCGs, telcos, and the financial sector; there have been an increasing number of advertisers from digital businesses as well. In FY 20-21 there were 34 advertisers from digitally-driven products that advertised on TV. Most of these were apps and online marketplaces.
When analyzing TV advertising, we have used two major factors including;
Advertising expenditure (ADEX) and
2. Commercial airtime minutes (CAT).
To look at the picture more holistically, we have considered the following factors:
Advertising Categories
2. Advertisers (Companies)
3. Brands
4. TV Channels
TV ADEX  for FY 20-21 is PKR 33.89 billion; with 23% growth versus FY 19-20.

In FY 20-21 there were 1,287 TV advertisers with a 15% increase over last year.
TOP ADVERTISING CATEGORIES 
There were 1,287 advertisers during FY 20-21 as compared to 1,122 in FY 19-20, which shows a growth of 15%.
Overall FMCGs dominated TV ADEX, with 83 active brands. Within FMCGs, the Beverage category, including both hot & cold beverages, remained at the top with 15% share.
The FMCG category was followed by the Personal Products category, which includes products related to skin-care and hair-care.

TOP ADVERTISERS:
The top 10 advertisers accounted for 53% of total ADEX.
All top advertisers were from the FMCG sector except for Pakistan Mobile Communications.
Unilever was on top of the list with a 14% share, way ahead of other top advertisers. During FY 19-20, Unilever's ADEX share was 15%.
P&G advertised the second most, yet its spend was exactly half of Unilever's at 7%.
TOP ADVERTISERS ON TV (FY 20-21)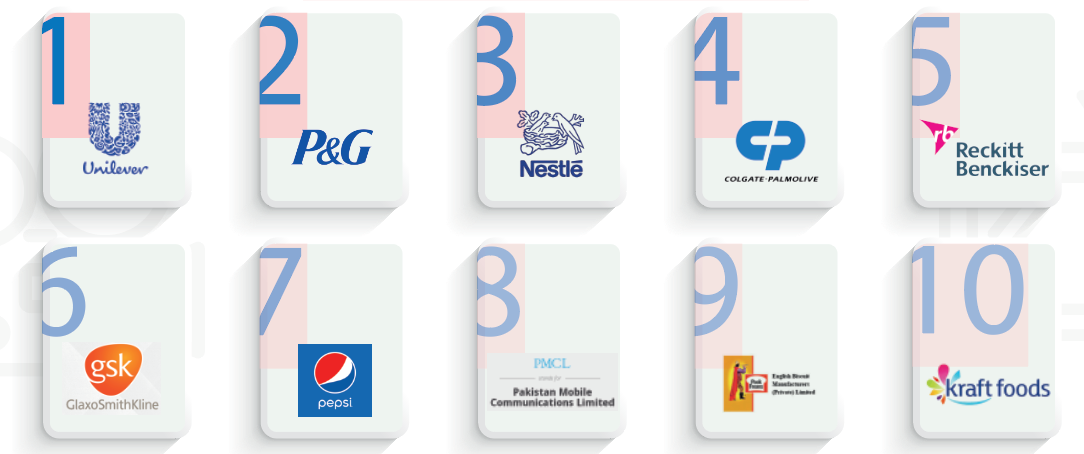 Most advertisers placed ads in the news genre followed by entertainment.
P&G is the only exception which utilized 74% of ADEX in the entertainment genre.
SHARE OF TV AIRTIME (FY 20-21)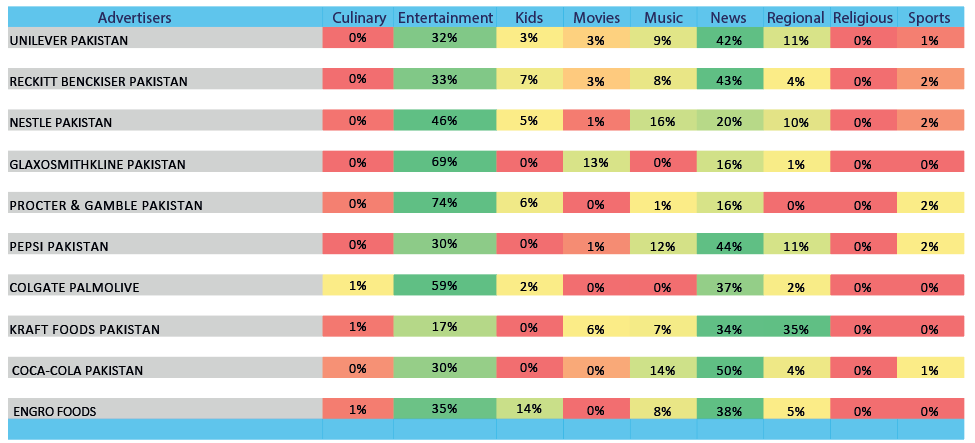 TOP ADVERTISING BRANDS
Brands related to health, hygiene, and cellular data topped the list.
There were 1,880 brands active on TV during FY 20-21.
Top 10 brands accounted for 15% of total ADEX, which implies that ADEX was more spread out.
Out of 4 telcos, 3 remained in the top 10 brands list whereas Telenor slipped down from the top 10 list.
Surprisingly, ADEX for over-the-counter medicines like Panadol and CaC-1000 Plus was respectively 25% and 38% lesser than the topmost advertising brand, which made them part of the top 10 advertising brands.

TOP TV CHANNELS
There are two major sets of TV channels. One, that get higher ADEX as compared to commercial air time (CAT); and two, TV Channels that comparatively lower ADEX but receive higher number of CAT.

TOP TV GENRES 
Most TV channel genres have higher airtime share as compared to the revenue they generate, except for Entertainment and Sports genre.
The Entertainment Genre got 55% ADEX share whereas its Share of Airtime minutes in 29%, which is almost half of ADEX. On the other hand the ADEX share and airtime difference for the News genre is comparatively lower.

TOP ADVERTISING AND MEDIA BUYING AGENCIES 
For media releasing agencies, the top 10 agencies accounted for 87% of total TV ADEX during FY 20-21 versus 92% the year before. This implies that agencies other than those in the top 10 gained share.
Group M topped the list with 43% share of total TV ADEX. IN FY 19-20 its share was around 45% followed by StarCom at 25%. Around 70% of total TV ADEX was routed through GroupM and StarCom Group media companies. The rest of the 75+ media planning and buying agencies shared the remaining 30% ADEX.
Certain agencies regained their position in the top 10 like Time and Space Media and Synergy Group, while others slipped further down the Top 10 ranking.
TV (FY 20-21)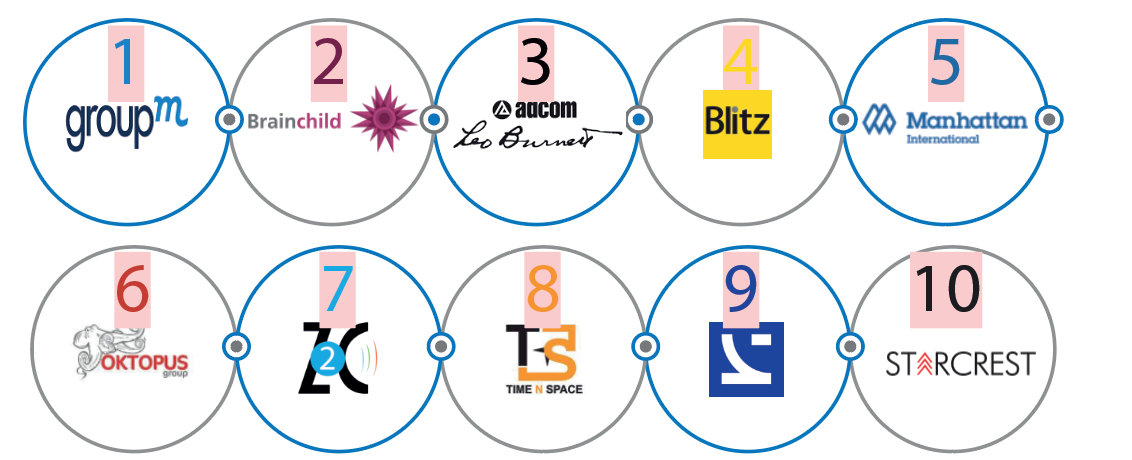 PRINT (FY 20-21)
Adcom Leo Burnett, Media Pulse, Commtech Advertising and Time  & Space Media made it into the top 10 list  during FY 20-21.
RADIO (FY 20-21)
Midas Communications and Media Pulse made it to the list in FY 20-21

Important to Note: 
To ensure that the study included statistics close to actual numbers, discounts are applied to advertiser data with higher spends according to their size and share.
All data is based on commercial airtime (CAT) figures.
Data used in this analysis was acquired from Media Monitors, unless indicated otherwise.
All numbers and percentages are calculated on industry average rates.