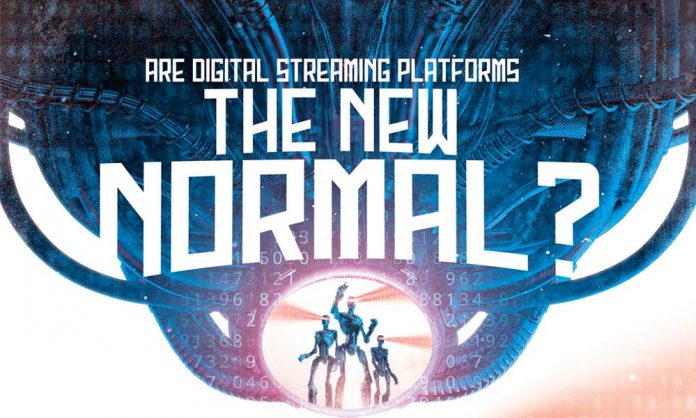 Media has always been an integral part of human life from pre-history when primitive humans told stories sitting around a fire. The basic storytelling model remains the same but with time, things have evolved. With digitization taking over our entire existence, our modes of entertainment have also used technology to their advantage. And rightfully so!
When it comes to creating interesting and engaging content as well as sharing it on different platforms, the internet has played a major role. So, it won't be wrong to say that the internet is considered a final frontier in inventions mainly because it has changed the way we humans live and socialise. Whether it is shopping, watching the news or having access to different entertainment portals, everything has been compressed and made available on devices as varied and portable as our cellular phones. This has given rise to many new normals that have assimilated into our lives, and there is no turning back.
One such normal is the emergence of OTT (over-the-top) digital streaming platforms that have come forth. While the younger generation has readily adapted to this new form of content dissemination, the interesting aspect is that even the older generation started using digital streaming platforms for information and entertainment. The demand was exacerbated during COVID-19, where these platforms gained popularity due to the abundance of fictional and non-fictional content available for streaming. What is unique about these next-generation platforms is that directors, writers and filmmakers have the liberty to experiment with different genres, bold, even taboo topics and bring their creative vision to life.
Pakistan is an interesting case study in this case especially if one wants to see the impact streaming platforms have created on the media landscape. Pakistani media has produced vibrant content, including dramas and satire shows that would compel audiences from across the globe to stay glued to their screens. While it will be interesting to see how Pakistani content and its audience will change as more time goes by, the current audience from Pakistan transcends media borders and consumes a variety of content available online from across the world. This is an interesting aspect as a large number of people; especially women in Pakistan still don't have access to the internet. According to a report issued by Economist's Intelligence Unit earlier this year, Pakistan ranked 90th on the list of 120 South Asian countries when it came to internet access.
In my opinion, this is probably one of the biggest reasons why Pakistan is lagging in terms of producing content for online platforms because people still rely majorly on traditional media. On the other hand, digital streaming platforms are the medium of choice for urbanite Pakistanis; hence there is a whole population tier that watches content available on YouTube, Netflix, Amazon Prime, Zee5, etc. Also, Pakistani digital streaming platforms like UrduFlix, and YouTube content producers like Nashpati Prime, SeePrime, Digestive Showtime etc. are producing engaging short films and web series. The audience for these does not follow fixed timings to watch something, as they would for TV channels; rather they can watch on-demand at any time on any device they want. While digital streaming platforms have changed audience behaviors and tastes, this freedom is an exceptional service that they have provided the audience, as well as bringing diversity to content production, acting, writing, and payments. There is no doubt digital streaming platforms are a lucrative avenue for the production business, which is evident from the tough fight these platforms are giving to television.
"Payments cannot be more than what the television offers. However, platforms from across-the border like Zee5 with their vast viewership do pay well owing to the established industry they are a part of and the viewership they have generated over the years, which off course wants to see Pakistani content."
According to Karachi-based director and TV artist Azfar Ali, internationally, digital streaming platforms definitely pay more and have higher budgets compared to the local digital industry, yet in Pakistan, the largest money-generator is still TV. "The budgets are much higher for TV productions. I guess the only upside to producing digital content in Pakistan is that due to smaller budgets, it get delivered on time."
Being a part of the media industry for over two decades, Azfar has been working and experimenting with different genres since the 1990s and wants to see how digital streaming platforms and productions for such platforms will change the landscape.
Commenting on payments for TV versus digital productions, actor and director Kashif Hussain says, "The process of payment for both is very much the same. While fortunately, I've worked in such productions where payments were not delayed, I've seen a large number of actors who are trying to get compensated with no luck. At times they do get paid after a year or two and at other times, never at all! I guess I have just been lucky." Kashif further adds, "If the digital platform or channel is renowned, the actors get paid on time, which is not the case for TV."
Karachi-based lifestyle and entertainment journalist, Buraq Shabbir is of the opinion that online platforms are yet to make a mark in Pakistan, hence according to him, "Payments cannot be more than what the television offers. However, platforms from across-the border like Zee5 with their vast viewership do pay well owing to the established industry they are a part of and the viewership they have generated over the years, which off course wants to see Pakistani content."
Azfar Ali is currently doing a project for a local streaming platform. His two decades of experience working with several TV channels, delivering projects like a music chart show and a sitcom in the 1990's; other satire shows, a popular radio show etc. gives him an interesting outlook on different media platforms. He says, "Compared to traditional media, digital platforms give the content creator and actors more freedom and provide the viewers the flexibility to choose what content they want to watch at their own convenience. I particularly like the fact that digital streaming and social media platforms like YouTube, Facebook, Netflix etc. are not time-bound. Unlike local TV channels, where airtime is purchased and time slots are jam-packed, web content doesn't need to be for a fixed time slot. Hence, content creators have the freedom of producing shorter videos, carrying out slicker edits and making content that is more workable."
Yet, there is a minimum show-length requirement put across by most streaming platforms. Asserts Azfar, "However unlike TV, the number of episodes can be designed according to the content. For instance, a Netflix series can be of six episodes in the first season and grow to ten episodes in the second. This way if something doesn't work you don't have to keep investing in an unsuccessful show."
Talking about his experience of working with Zee 5, Kashif shares, "What I've realised is that these streaming platforms are more specific in terms of their content, and they organize everything according to the theme of the specific project under production. The art direction, costume, hairstyle, and whatever else is there in the frame is according to what they want to project or the message they want to portray to the audience. On the other hand, TV projects follow a formula. For instance, in TV dramas, every male character has similar traits, also if you notice, the background set is more or less the same."
So is there more money for those involved in producing content for digital streaming platforms as compared to the traditional media?
According to Buraq Shabbir, "In terms of economic dynamics, digital platforms are looked at as more of a threat, which is why traditional media outlets prefer creating their own channels on these platforms, with the same content they are broadcasting over TV to collect the gains. However, this strategy may affect or even diminish the quality of productions broadcast over new media".
Though it is not all about the money, she adds. "The thing is, conventional outlets are adamant on continuing with old ways and techniques of entertaining audiences that may or may not have a wider reach. Digital platforms on the other hand, allow for a global reach usually without any physical or geographical limitations."
It is unfortunate that despite having great talent to produce good content, Pakistan still has a long way to go to establish a strong streaming platform. Yet, there are several digital platforms that might emerge as strong contenders in the international scene. "Pakistan doesn't have an established streaming platform as yet. UrduFlix, Starz Play, and Tapmad TV might become major contenders and maybe Nashpati Prime might eventually become a streaming platform in its own right from the YouTube channel that it is right now, but the revenues these platforms are generating are not high enough to produce big-budget shows like it happens in India or the West", comments Azfar.
"In my opinion, either advertisers back our streaming platforms or a monthly fee subscription model is put effectively in place. Otherwise it's going to be difficult for streaming platforms to grow locally. So far none of these platforms pose a threat to the traditional media industry in Pakistan."
Content is still king and there is no denying that whether it is TV or digital streaming platforms, the advertisers will only back content that is worthwhile. Yet content has evolved with the emergence of digital platforms, and some of it is completely different from what the audience is used to watching on conventional media. This milieu of diversity makes these new media platforms a blessing for people who want to experiment with creating content without fear of restrictions and constraints as seen in traditional mass media, while allowing more reach for the viewers.
According to Azfar Ali, "New ideas require minds that are driven by curiosity, and this creates a space for fresh writers, directors, and even actors. This has given way to genres including mysteries, crime, history, sports, and even docuseries being produced by digital platforms, which is a complete diversion from family drama or romance. Although this is a highly refreshing fact, it irks most conventional writers and producers, more so because of the restrictions posed and constraints that are a part of working with conventional media that does not allow creators and actors to enjoy the same kind of freedom and creative opportunities digital platforms provide. We need to keep in mind that conventional media has to follow certain state rules and censorship policies while creating content, whereas content creators for digital platforms have the liberty to create new concepts and remain true to the idea without any such restrictions.  This gives them the freedom to use a number of forms of expression like language, music, dance or even violence to communicate their stories. In my opinion, this is what allows digital content to stand out from TV content."
Digital streaming platforms have allowed the audience to become comfortable with the idea of watching content on-demand. The viewers relish the control they have on how much content they want to consume and when and where they want to watch it. More importantly, they have the power to access it anywhere: More and more people are consuming content on personal devices instead of sitting in a room in front of the same TV screen, watching the same content that their entire family is watching. Since almost everyone has their own personal screen, even if they are sitting in the same room as their family, they have the choice of consuming content different from the rest and according to their preferences.
Hence, the stakes are high for writers, directors, and producers to create crisp and engaging content to continue capturing the audiences' attention.  As a director and content creator, Azfar asserts that the advent of digital content has given the audience access to see what the world is doing, and now they are demanding a change within our Pakistani content too. At the same time, there is a huge viewership on YouTube that follows locally made dramas aired on television and then uploaded for the audience to watch at their convenience. This goes to show that our viewers still ardently watch local content as well as eagerly follow popular series on Netflix. "Viewers will watch what they find entertaining and maybe, different. Yet the Pakistani palate may still be defined by our local or not so local dramas like 'Kyunki Saas Bhi Kabhi Bahu Thi'."
Buraq also agrees with Azfar's comment. "The content we find online is very different because it doesn't have to comply with the norms of any particular society and therefore, has the potential to reach a wider audience. In order to cater to such a broad audience, the content has to be diverse and inclusive, which removes most restrictions as opposed to traditional mediums. With digital streaming platforms picking up, the content needs to be progressive, open-ended, and aligned with the current times. Also, viewers now have access to smartphones that have made online content easily accessible, which due to its broader appeal and topics, is of interest to the younger audience who are otherwise not too fond of conventional platforms."