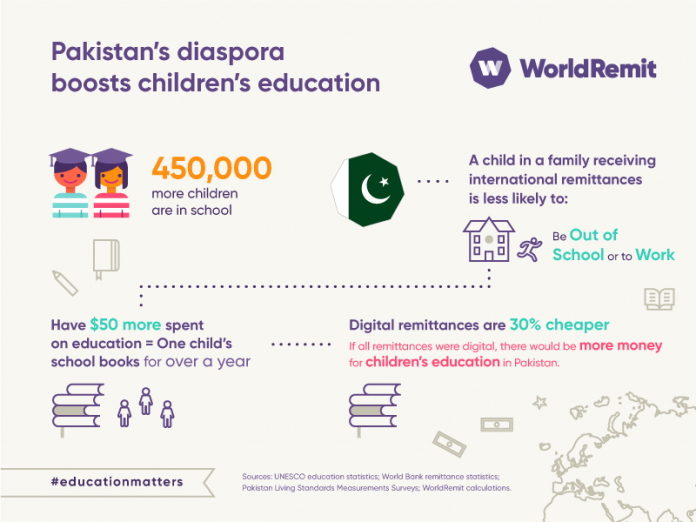 Islamabad and London, January 2019: According to UNESCO, the World Bank and Pakistan's latest National Household Survey, Pakistan becomes one of the top ten remittance recipients worldwide, receiving $21 billion in 2018.
Approximately, 220 million children in low and middle-income countries do not attend schools around the world. Of these 19 million live in Pakistan, one of the highest numbers of children not having access to education.
However, due to WorldRemit, 450,000 Pakistani children have access to books and educational supplies, and are, consequently, less likely to work. Result show that 60% of the school-age children receiving remittance in Pakistan are getting education and spending less time working on other activities. However, remaining 40% of the school-age children do not go to school even if their household receive remittances.
Backed by Accel Partners and TCV, WorldRemit is one of the leading digital money transfer companies for the Pakistani diaspora residing in UK, USA, Canada, South Africa, New Zealand, Australia, Singapore, Japan and Philippines. WorldRemit customers transfer $1.3 million every month from over 50 countries to over 145 destinations.
Globally, it also gauges that if traditional cash-based money transfers were replaced by lower-cost digital alternatives, an additional $825 million would be unlocked for families to spend on children's education, paying for approximately 20 million school uniforms, 30 million school books and 16 million sets of school supplies for children in low and middle income countries. It is changing the way people send money.
For further information, visit the website WorldRemit.com/en/Pakistan or to donate, visit EducationMatters.WorldRemit.com