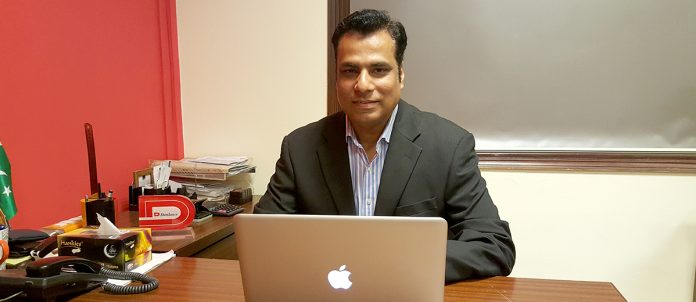 Hassan Jamil, General Manager Marketing, Dawlance, talks about the role of R&D in consumer appliances and how the brand has maintained its position as the market leader.
Synergyzer: Dawlance is one of the leading home appliance manufacturers in Pakistan. How was the brand able to acquire the market share to gain this edge?
Hassan Jamil: Dawlance has been the number one appliances brand in terms of market share and top of mind recall since the last 17 years consecutively. Our core strength is a profound understanding of consumer insights and converting those insights into real solutions through state of the art R&D – research and development. Being a Pakistani brand, we always take it as an opportunity to understand the home appliance needs of a typical Pakistani household, and provide them with relevant solutions for a healthy and sustainable lifestyle.
Synergyzer: What is Dawlance's marketing strategy?
Hassan: We call it the 'Blue Ocean Strategy', and according to it we keep all solutions and USP's – unique selling propositions – clearly 'differentiated' from competition and 'relevant' for Pakistani consumers. Hence, we were the first appliance manufacturer to introduce Pakistani recipes programmed in microwave ovens in 2007. Today, we have more than 100 microwave oven models, which have Pakistani dishes developed by renowned chefs like Mehboob and Gulzar programmed as part of the menu. Similarly, in our other product lines we have introduced innovations like chemical free mosquito repellant split air conditioners, low voltage series refrigerators and splits that can run on voltages as low as 135 volts, air fryer microwave ovens which fry food and ensure crispy perfection using just one drop of oil, full fruit juicers capable of extracting juice from sugar cane etc. These innovative features help Dawlance stand out from competition and maintaining a league of its own.
Synergyzer:  What role does R&D play at Dawlance before introducing a product into the market, especially in the case of air conditioners with insect repellant technology or microwave ovens with air fryer functions?
Hassan: Extensive focus on R&D is a pivotal part of generating strategies at Dawlance, it is through this that we have established ourselves as an innovative and reliable brand in the market. We conduct extensive research and technical testing on all products prior to launching them. Our R&D and marketing teams work very closely from the inception of the idea to the final launch of the product The strong market insights and real time data analyses that we gain enables us to identify the needs of local consumers and address them. Most of the innovative solutions thus introduced are tested for 12 to 18 months before being launched in the market.
Synergyzer: In the case of introducing such new technologies, is it more viable to be the first mover as you would need resources to create awareness about it? And what is your strategy for creating awareness?
Hassan: In order to sustain the title of being the No. 1 brand for home appliances in Pakistan, it is very important that the rapid changes in technology are met head on. Consumer awareness and expectations are on the rise with the increase in exposure to international media and access to product insights from across the globe. To overcome the challenging consumer demand, Dawlance not only takes into account insights from local R&D but it also includes in-depth studies on technologies being offered in first world countries. To create awareness amongst all stakeholders, we primarily provide necessary information to our sales channels including dealers and their salesmen through product demonstration and performance assurance which trickles down to the customers directly at the time of their purchase decision. For direct consumer awareness we use integrated marketing communication strategies through relevant communication vehicles at various touch points.
Synergyzer: Inverter technology is taking the market by storm right now. What is Dawlance's stance on that?
Hassan: Dawlance was the first brand in Pakistan which introduced inverter technology in refrigerators during the first quarter of 2015, while the same technology was launched in split air-conditioners back in 2013. Dawlance inverter products contribute to a sizable volume in overall sales. Due to the current shortfall and constant hike in price of electricity all over the country, inverter based products are the best possible solution for Pakistani consumers. As they considerably reduce the electricity bill and can function on low voltages and residential generators.
Synergyzer: To ensure maximum consumer satisfaction, what are the steps that Dawlance has undertaken as their guideline?
Hassan: In consumer durables, a brands existence and success is directly linked with consumer satisfaction which is achieved through an efficient after sales and warranty service. Dawlance service centers are spread pan Pakistan, in every town and village where appliances are available. Customer satisfaction is measured in real time through the ERP solutions which connect all service networks and call centers. One cannot claim 'reliability' without satisfying their customers.
Synergyzer:  Dawlance has been actively promoting themselves through their Facebook page and selling products through different websites. What has the brand achieved so far? What other digital avenues is Dawlance planning to explore?
Hassan: Traditionally, Pakistani consumers were more comfortable with buying appliances off-line, as various aspects of the buying decision requires physical interaction with the product. However, consumer habits are now changing and we see increasing trends in online buying. Consumers today are living a fast paced and busy life, having products available online and delivered to their homes and offices saves them massive time. E-commerce is the future, hence Dawlance products are being offered on various online portals.
Synergyzer: What are Dawlance's plans for five years down the road?
Hassan: Our plan is to continue dominating the appliances market as the No. 1 brand by anticipating and fulfilling our consumers changing habits and demands. For this, Dawlance is constantly exploring new technological ventures both in terms of product solutions and consumer engagement channels.