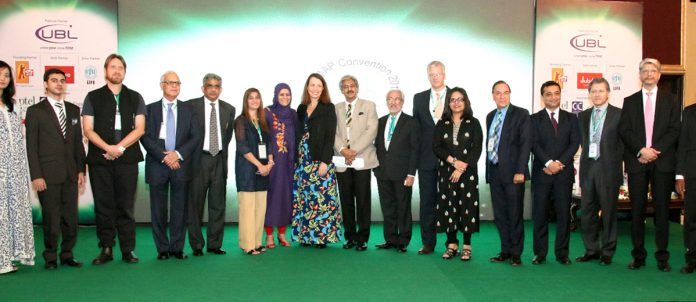 By Hiba Moeen
The 16th MAP Convention hosted a thought provoking session for managers and thought leaders representing various sectors. The theme of the convention was 'Re-think Management' that aimed at reinforcing management practices and leadership styles for the success of businesses in the long run.
Organizations carving their journey through evolutionary business patterns have always been at the forefront of business success stories as a result of which they eventually make it to the Fortune 500 companies, be it adapting to the rapidly changing business environment or nurturing employees through empowerment, inculcating the sense of ownership in every individual is what trickles down to accomplishments in the long run. Shedding light on such matters, the MAP convention contributed towards a positive day.
Management Association of Pakistan is a 50 year old body created to assist the business community as their think tank of ideas so that the best management practices could be implemented for generating higher productivity and growth. Each year this convention gathers businesspersons from across the country and executes an effective session with local as well as international speakers.
Following a welcome address by Saadia Naveed, President MAP and a thought provoking speech by Wajahat Hussain, President and CEO of UBL, the day commenced with an engaging presence of Tony Buzan, the inventor of Mind Maps. Not only did he make the audience realize about the dull norms of performing our tasks but also the need to innovate our thinking style. He emphasized upon the use of color in our daily lives irrespective of being adults and the need of daydreaming, the lack of which limits new business ideas and dulls creativity.
As people age, their creativity depletes which Buzan explained by giving an example of children who are 95% creative all the way to adults whose creativity reduces to just 10%, what's in between is the gradual decline in one's creative thinking. "This is why the world is getting depressed, the average creativity is going down and average life expectancy is going up", said he while explaining the concept of this decline being considered 'normal' because if this is normal then it's not natural and thus a depressing concept. In a nutshell, not day dreaming is not natural and oddly enough our brain's utility is less than 1%.
Discussing further, Tony Buzan explained the evolution of the mind, the journey of which started with the Agrarian era almost 10,000 years back and is now leading to the Age of Intelligence, a time period swamped with information. Stressing upon the need of organizing through mind mapping he said: "Mind mappers are taking democracy to the next stage. The former president of Mexico mind mapped everything and facilitated a positive change in the first time in 70 years."
Later Furqan Qureshi, CMO – PTCL, presented on the gradual advancement of technology and its impact on society. He talked about the need to be equipped with the right technology for communication to be able to compete and come up to global standards.
The panel discussion based on 'Leadership through Leading Minds' comprised of Nadeem Naqvi (MD, KSE), Dr. Zeelaf Munir (EBM), Sirajuddin Aziz (President and CEO, Habib Metropolitan Bank Limited), Kimilhide Ando (CEO, Pakistan Mitsubishi Corp), Ali Hasnain (Head – Retail Banking, UBL), and Asif Juma (CEO, ICI Pakistan). Each individual shared their opinions based on their experience and expertise. They concluded that a leader is someone who is able to discover the areas of strength in their employees and creates avenues of growth for them.
"Transformational leadership is about making employees think and believe they can do the inconceivable," voiced Ali Hasnain while Dr. Zeelaf supported the discussion by adding, "One should be mindful of rapid development and should be able to recognize the emerging patterns of change. We, therefore, need to identify as to who it is that we will be leading."
"There are no textbook solutions; a leader should be good at leveraging competencies of those working in his or her team and should be capable of leading those who are professionally better than him or her," elaborated Kimilhide Ando while detailing the role of a leader.
The day was further made interesting amidst the host's, Dr. S. A. Rab, enthralling poetic outbursts. Not only did he entertain everyone by reading out verses but also made the audience repeat after him.
Lucy Cornell, the Chief Inspirational Officer of Voice Coach, captured the audience with her excellent training capabilities and made the importance of two way communication quite evident. Discussing the historic speech by Martin Luther King at Stone Mountain, Georgia, she guided the audience about the inflection and charisma in order to create a visceral connection, "You need to have commitment, courage and energy. Your voice follows your intention; you are more inspiring without yelling and simply connect to the feeling of what you want to say and the impact that it should have," she elaborated, "If it's all emotional then it's noise."
The next panel discussion focused on HR management and concluded that those in the organization are not mere employees but people who need to be valued and publicly given credit for contributing towards the organization's goals. Sharing their expertise for this discussion were Sanjay Gupta, Etsko Schuitema (founder and leading partner, Schuitema Associates), Naila Kassim (Engro Corp.), Pouru Sidhwa (Director HR, GSK) and Lucy Cornell.
The productive day was later concluded with a session of physical exercises by Dr. Zsuzsanna Fajcsak, (Founder and Director, Alive International) and Naeem Zamindar (Chairperson and Founding Volunteer Teacher, Art of Living Foundation).
The MAP Convention was mainly sponsored by UBL, EBM, Jubilee Insurance and EFU Life. Other associated companies included PTCL, Central Depository Company, ORIX, TCS, NBP Fullerton Asset Management, Habib Metropolitan Bank and SICPA; the Swiss company that supplies inks and security solutions for most of banknotes globally and other confidential documents like passports, tickets and plastic cards etc. The Institute of Business Management (IoBM) were the academic partners and Jang Group acted as the Media Partners.