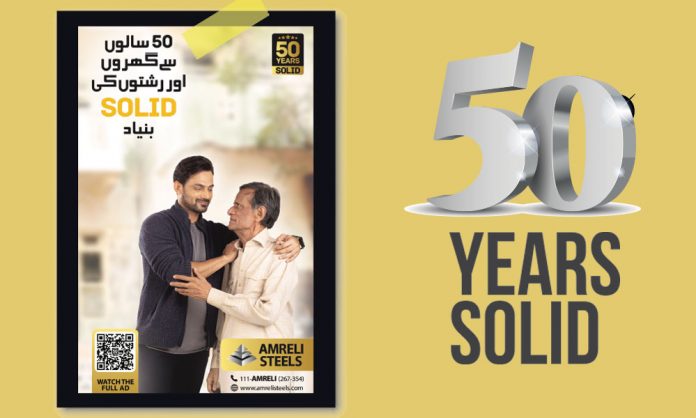 Amreli Steels, earlier this year, celebrated fifty years in business with their campaign 50-years-SOLID, to establish the fact that the brand has been a part of people's lives for the last 50 years and has strengthened the foundations of their most precious physical spaces: their homes.
They believe that since the modern audiences have evolved in today's digital age, it is a tall order for a communication to connect and resonate emotionally with customers;especially when it comes to technical products such as steel rebars, the challenge becomes ten-fold. "With this context in mind, I think we have achieved something spectacular with this recent campaign," says Hadi Akberali, COO, Amreli Steels.
According to him, the 50-year-SOLID campaign was conceived after six to seven months of hard work and has received an overwhelming response, not just from Pakistan, but also from around the world. The plan is to continue with this campaign for 2022.
Amreli Steels, today is the go-to brand for all construction projects of big scale and repute and the most well-known steel bar manufacturer in the country. However, the brand (like any other success story) started out very small. "Steel has always been in our blood. Our family has been into the steel business since before Independence," says Shayan Akberali, CEO, Amreli Steels.
The journey began with Akberali's great-grandfather's small hardware shop in India which sold nails, wires, files and a variety of building materials. The family migrated to Pakistan in 1947 from a village in Gujrat, India called Amreli. "As was the norm of the time, our family became intrinsically linked to Amreli and the family members were addressed as 'Amreli-walas," adds Shayan Akberali.
After moving to Pakistan, the family set up a similar retail setup in Karachi as they had previously in India. Although the ambition was to move into manufacturing, he says the conditions of the era were not conducive for steel-related industries in West Pakistan, hence the family moved to East Pakistan to set up a manufacturing unit. That was when Amreli family's industrial journey began.
In East Pakistan, the family setup 19 companies of steel-rolling and other allied products. After the fall of East Pakistan, the family moved back to Karachi and established Amreli Steels in 1972, with a focus on producing reinforcement bars. Shayan and Hadi Akberali's father, who is also the Chairman of Amreli Steels, led its modernization project in the 80s when he brought Pakistan's first automatic steel-rolling mill to Karachi from the United Kingdom.
"This ambitious project turned out to be a game-changer for our business and a cornerstone of our business philosophy. It gave us a competitive edge in the market in terms of volume and quantity. Since then, we have been continuously striving to invest in state-of-the-art technologies and have even made this notion a part of our mission statement," says Shayan Akberali.
The company takes pride in being a true 'brand of firsts' for the steel industry of Pakistan across all disciplines. "We were one of the first to introduce 'Grade 60' rebars based on American Standard ASTM 615 in 1989; the first to introduce G-500 rebar, based on British Standard BS 4449 in 2005 (that offers upto 15% cost-saving in construction); the first to introduce a fully-automatic rolling mill in Pakistan, as well as the first to introduce 5th generation Red-Ring Rolling technology in 2015, which is the latest technology available globally," explains Hadi Akberali.
The company has steadily built a comprehensive distribution network across the country to cater to all construction segments. While their head office is based in Karachi, the plant is located in Dhabeji, with offices in Hyderabad, Sukkur, Multan, Lahore and Islamabad along with their warehouses in Lahore and Islamabad, with a combined dispatching capacity of 20,000 tons of rebar per month that feed into the northern retail market. The company has over 400 retailers and channel partners across all provinces.
Some of the most iconic projects of Pakistan that have been strengthened with Amreli Steels include Jinnah International Airport Karachi, Dolmen Mall, Lucky One Mall, Allama Iqbal Airport and Serena Hotel Islamabad. "In recent years, we have managed to leverage our excellent business reputation and convert it into consumer relevant brand equity, which has paid dividends in the retail segment which primarily caters to commercial and residential builders and people independently building their homes," adds Shayan Akberali, and adds that the company is the volume leader in the retail market.
Talking about their target market, Hadi Akberali says that although the company caters to construction requirement of all scales and varieties through their channels, construction as an industry is a very complex machine. The onus of the final purchase decision falls on different stakeholders in line with the scale and scope of construction. "We always target the ultimate decision-makers for the purchase decisions and have enjoyed the reputation of being the brand-of-choice for all quality conscious architects, structural engineers, local and foreign contractors and project directors of mega projects," he says.
As for competitors, Shayan Akberali says that it might sound very unconventional but Amreli Steels' biggest competitor is the Amreli Steels of yesterday. "We have always pushed ourselves and operated out of our comfort zone and have been the first ones to take a leap in the pursuit of innovation; this is why, we have become the standard-bearer of Pakistan's steel industry and this is precisely why the prices set by our brand in the market becomes a benchmark for other players to peg their prices against."
Although happy about the fact that new players are entering the market and the older players are also upgrading their technologies ("such investments are positive developments for the category and the country and the national demand for steel rebars, which is about four million tons per annum and not being fully met by local manufacturers"), he says rebars made from obsolete technologies that do not comply to any standards are still being illegally produced in the country and this remain a challenge as it hurts the consumers as well as the documented economy.
The company has set a target in their mission statement of achieving a sale of 1.5 million tons of rebar per annum. As to how and when that happens, they believe is dependent upon macroeconomic conditions and government policies, because companies that are global leaders in steel have managed to achieve their positions by implementing long-term plans for supporting industries. "The steel sector of Pakistan has not had that level of support yet. We know that the need and demand both are there, but what steel companies need are long-term roadmaps from the government that do not change with the volatile political environment of our country. We need a minimum of 10-years stability in policies and regulations to realize our true potential," concludes Shayan Akberali.