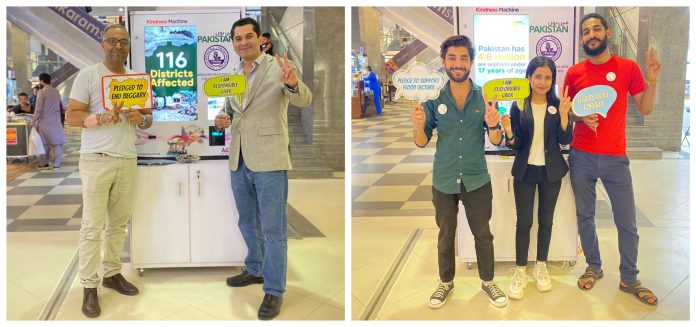 Pakistan is a country with a rich history of philanthropy and charitable giving. According to a recent survey by Gallup Pakistan, around 84% of people in the last year had participated in some kind of charitable giving. Participants living in rural areas (81%) recorded a slightly lower charity score than their urban counterparts (86%).
One of the main drivers of charitable giving in Pakistan is religion. In the same Gallup Pakistan survey, religion was the most common motivation for giving charity, as stated by 67% of respondents, and many Pakistanis donate a portion of their income to charities as a way to fulfil their religious obligations.
Another factor contributing to the high level of charitable giving in  Pakistan is the country's economic situation. Pakistan is a developing country with a large number of people living in poverty, and many Pakistanis feel a strong sense of social responsibility to help those in need. As a result, charitable giving is often seen as a way to make a positive impact on the lives of others and contribute to the well-being of the community.
There are many different organizations and causes that benefit from charitable giving in Pakistan, including education, health care, and social services. Overall, donating is an important part of Pakistani culture and society, and it plays a vital role in addressing some of the most pressing needs in the country. Whether through religious obligations or a sense of social responsibility, Pakistanis are generous and compassionate, and donations have a significant impact on the lives of others.
In recent years, there has been a significant increase in the number of Pakistanis who are using online platforms to donate to various causes. However, when it comes to cutting-edge approaches to charity and donations, a collaborative cause-marketing platform that promotes critical causes in Pakistan, known as "Art of Giving", has taken the cake with its 'Automated Kindness Machine' initiative.
Art of Giving has launched an Automated Kindness Machine (AKM) through which people can donate their time and money to different NGOs. You can think of AKM as a vending machine for donations. All you have to do is choose whether you want to donate cash or your time as a volunteer for the listed NGOs on the machine.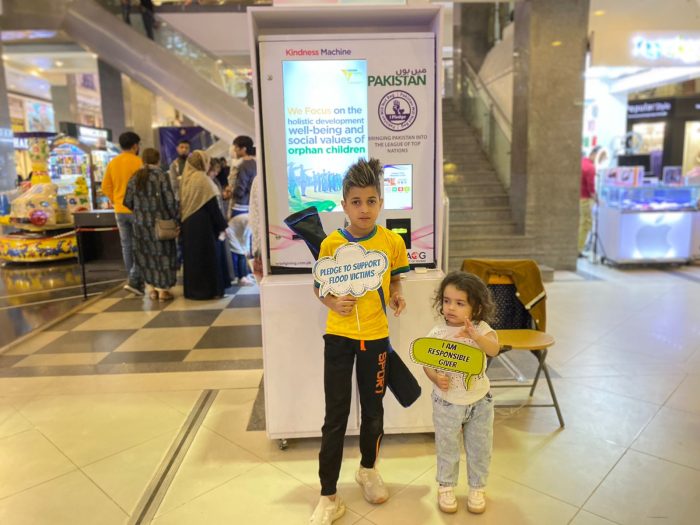 Talking about the initiative, Raheel Aslam, Lead, Art of Giving, says, the Art of Giving is aimed at providing holistic marketing services to NGOs in a more cost-effective way from awareness to donor management while, on the other hand, we also act as a CSR agency for brands, and assist them in deploying meaningful social development projects in Pakistan.
"At Art of Giving, we are on the journey of building the trust of Pakistanis in Pakistan by developing, implementing, and promoting social projects, showcasing how people, brands, and NGOs are working for the well-being and sustainability of the country."
According to Aslam, the mission of Art of Giving is to educate the public about the most pressing needs in the country and to increase public confidence in non-profits so that they will encourage more responsible giving. He adds, "We are here to promote critical causes to educate Pakistanis about the problems that Pakistan is facing and what NGOs are there that are doing amazing and transparent jobs in the country and are trying to build the social development so that we can bring Pakistan towards responsible giving."
The machine achieves to raising public awareness by making the complexities of Pakistan's issues immediately tangible to the user. "Health, poverty, climate change, etc., are only a few of Pakistan's over twenty critical causes."
Since the focal point of the Art of Giving is to educate people, Aslam says the kindness machine helps them go directly to different malls and cafes, corporate offices and universities to engage students and professionals directly with the causes and give the much-needed education.
Art of Giving first collaborated with software houses ITS, Core Media to develop the automated machine and then worked towards finding the right location partners. The company is currently in talks with PortGrand, Atrium Mall, Signways Communications, Alliancez Advertising and Eyeballs.
The first Automated Kindness Machine has been installed at Atrium Mall Karachi. Port Grand is also a year-long location partner. Additionally, they are in talks with 20+ corporate offices for AKM activations. Aslam spoke about the target audience by saying, "We are targeting students, professionals, and families at work, entertainment, and hang-out areas where we believe we can find a captive audience and can have an attention span of more than 2-3 minutes."
As of now, they have three NGOs on board for this initiative: the orphan-focused Roshni Homes Trust, the education-focused Help Pakistan, and the health-focused Transparent Hands. Also, Art of Giving has been in touch with more than 50 different NGOs and hopes to include 20 of them in the initial phase of their operation. "All NGOs have to be registered, PCP certified, having national coverage or ambition of going on the national level. None of them should have any international, religious or political agency," Aslam explains.
As to going with an unconventional approach, Aslam remarks, "if I take all of the problems of Pakistan and go to social media, I would need millions and millions of rupees to pay the advertising clutter, whereas the kindness machine just helps us to engage the public directly."
As for challenges, Aslam admits there's always risk attached in such cases. In this scenario, however, there is scepticism and distrust Pakistanis have towards donating to an NGO. "But as Pakistanis, we are sceptical about everything that is made in Pakistan and not only NGOs."
According to Aslam, on average, Pakistani citizens give away Rs.10,000 from their pockets every year in donations, and this turns out to be one trillion-rupee charity annually, but these donations are unfortunately not utilized properly. "Because of the low awareness and low trust in the NGOs (only 2% of Pakistanis trust NGOs), the money that should be going towards the NGOs in a proper manner is currently going towards beggars, and that's why we have 25 million beggars in Pakistan that mean every 10th Pakistani is choosing beggary as their main source of income," Aslam exclaimed.
He thinks poor marketing and promotion are to blame for the public's scepticism about NGOs in Pakistan and that the marketing sector should do more to highlight the positive developments taking place. "NGOs must communicate with us consistently, show what they are doing, be transparent in their process, show results more frequently, report their progress monthly, and most importantly, involve individuals with them."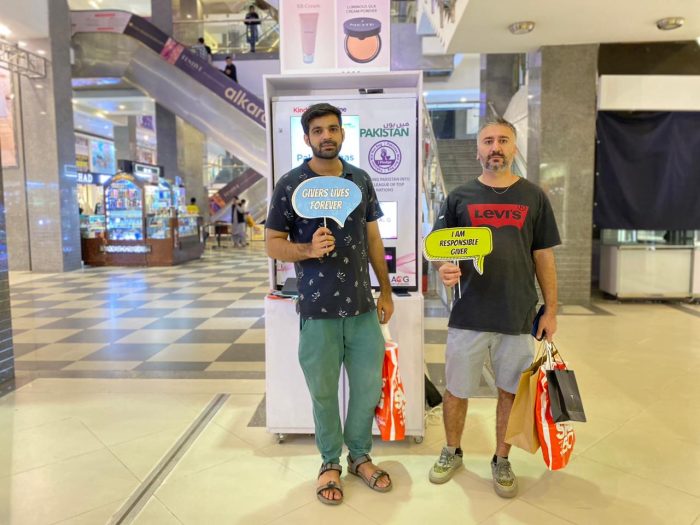 When it comes to promoting this initiative, Art of Giving is not investing a lot of money and is instead putting its faith in its target demographic and their responses. According to him, they want the public to decide the initiative's success or failure. "We have built one demo machine because we have our limits on spending; we have been doing test runs over the last two months in Port Grand and Atrium mall, and people are loving it," he says.
Art of Giving has also been recording testimonials of people who have donated through this machine and have uploaded them on their social handles for promotions. Aslam gladly mentions that through this machine, they actively engage around 1000 people every month, out of which almost 400 take part in responsible giving, which is about a 30%+ conversion rate.
Going forward, during the first half of 2023, they are planning to deploy ten Automated Kindness Machines that are expected to engage more than 120,000 people in Karachi, Lahore, and Islamabad. The platform is also working on introducing smaller self-operated machines to replace typical donation boxes. Aslam also discussed collaborating with over 30 media owners (Digital, TV, and OOH) to provide our NGOs with more effective and amplified cause-marketing campaigns. "We have a target of engaging 12,000 and bringing more than 5000+ towards Responsible Giving. Automated Kindness Machine is by far the most effective way of doing it," he says.
Giving his final word, Aslam says the ambition is to bring the Art of Giving community to 100+ brands that are knitted together through CSR initiatives in 2023. He says AKM is a novel method of donating and has high hopes for the project. "We are proud Pakistanis, and we have the knowledge, experience and will to make our nation great. We have a vision of Pakistan, where every adult Pakistani would pledge to support a cause rather than supporting a beggar on the street."