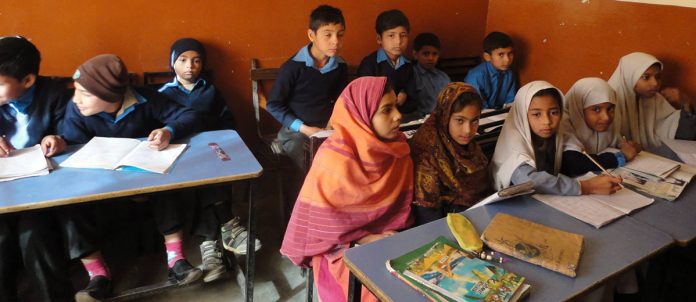 Behbud Association is a social welfare organization with quite a few umbrella projects under its aegis. These include facilities related to education, health, vocational, environment, rehabilitation, and income generation for women.
The Behbud Education System (BES) is thriving with student centric facilities that comprise of four literary centres, four community schools, three secondary schools and one primary school. All schools are registered with the Sindh Board of Secondary Education. Mostly located in slum areas for easy access to children residing nearby, the project's main objectives are to provide quality education to under privileged people and to empower women with the help of adult literacy programmes. In order to make it more interactive, BES has devised activities which include mother's club, parents & teachers meetings and facilitation of education without age limits through the parent education committees. This increases the child's as well as the parent's interest level and absenteeism is therefore minimal. The school fee is as affordable as Rs. 50 to Rs. 100 per month; however, if people are not able to afford it, a sponsor is linked to support them.
With the utmost need of libraries being essential for the progress of any nation in the world it is greatly stressed upon by Behbud Association as they have built fully equipped computer labs and libraries. With the students acing through school results, they are often provided further support in the form of fully sponsored further education.
Part of the Literacy Centres, The Jugnoo Program has been designed as a pioneering literary course with the sole purpose of empowering women and children by improving the quality of lives through literacy. It spans over a period of three to four months where basic Mathematics is taught alongside reading and writing in English and Urdu. The success of this course can be gauged from the fact that 150 students got admissions in regular schools after completing the program. Also, all Behbud industrial home workers are now literate.
Not only is the system focused on educating children, rather teachers are also trained frequently through workshops to enhance their teaching skills so that they can further build the students' cognitive and intellectual capabilities through innovative teaching methods. This is carried out by the Behbud Learning Resource Centre (LRC), established in 2002, which focuses on human resource training and development of teachers. Until now almost 10,000 teachers have been trained. Formed through capacity building initiatives of the Aga Khan University's Institute for Education Development (AKU-IED), it serves the very purpose it was initiated for.
The Computer Centre at Shireen Jinnah Colony is operating towards the eradication of illiteracy equipped with modern IT tools; the youngsters as well as adults of the slums are trained and taught various basic computer courses while advanced courses are in the pipeline which include 3D and 2D animation, Auto CAD and Computerised Accounting.
Behbud Association Karachi can be reached at:
Pakistan: Behbud Association Karachi
Street 9, Block 1, Scheme 5, Kehkashan, Clifton, Karachi-75600
Tel: 021-35820663; 35820665; 35824524
Fax: 35862093
Email: info@behbudkarachi.org 
USA: Ms. Nigaar Hussain
APWA Inc.
7004, Heatherhill Road Bethesda, MD 20817
Tel:+1-301-320 3973