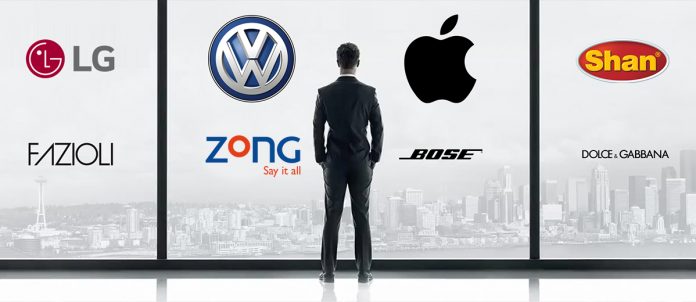 'Boring long ad break again! Let's switch to the sports channel for a few minutes till the break is over.'
A typical scenario that happens to millions of ad spend since consumers have a vast choice of TV channels available at their fingertips. This phenomenon not only triggered the significant shift of revenues from ATL – above the line – to BTL – below the line – but it also worked as a catalyst for finding new and creative touch-points for tapping into our target markets. Marketers' smart counterattack to this shifting behavior resulted in creative BTL and accelerated the growth of PRODUCT PLACEMENT in various ways through almost all key communication vehicles.
Product placement or embedded marketing is defined as "any form of audiovisual commercial communication consisting of the inclusion of or reference to a product, a service or the trade mark so that it is featured within a program". The three main types of placements are visual, verbal and signage.
Visual placement is recognizing the product and the brand's logo clearly while it's on-screen. For example Toyota Corolla, Samsung mobile, iPad shown commonly in almost every other drama.
Verbal placement is when a character mentions the brand by name or discusses the product's characteristics. For example characters discussing QMobile features in drama serial Bulbulay.
Signage placement is when the actual product is not on-screen, but an ad or branded item is clearly visible. For example paper cups on Pakistan Idol judges' table having the Pepsi logo.
Product placement dates back to the nineteenth century but it started to become a source of revenue for film and drama producers in the early '80s prior to which product placement was more of a barter against the product supplies in bulk quantity for the film/drama crew or for the scene requirement. According to PQ Media Reports – a leading provider of global media econometrics and pioneer in emerging media research – published in Dec 2012 the product placement industry today stands at US$ 7.4 billion where
USA is the world's largest market at US$ 4.3 Billion
• China is the fastest growing market with 27% expansion
• TV is the largest media category at US$ 4.8 Billion
• Internet and mobile phones are the fastest growing media with 28% surge
There could be several questions on the authenticity of the above mentioned estimates yet the probable size of investment in product placement can be highlighted through an example from Hollywood. The James Bond movie, 'The Man with the Golden Gun' (1974) got a historic investment of US$ 5 million by American Motors for their brand AMC to be exclusively used in the movie. Later on, "Tomorrow Never Dies" (1997) and "Die Another Day" (2002) both earned US$ 100 million against product placement. The latest movie in the Bond franchise, "Skyfall" (2012) tied up with Heineken at US$ 45 million, estimated to be approximately one-third of the total production cost of the movie. Coke Zero, Sony, Caterpillar, Omega, Macallan Whisky, Aston Martin, Jaguar, Tom Ford Suitings & Glasses, Walther Pistol and several other brands also placed themselves in the movie, adding to its revenue stream.
Product placement has also carved its niche into the small screen. I believe everyone recalls 'Knight Rider' starrer Pontiac Trans Am, KITT. General Motors gave the show's makers models of the then new 1982 Trans Am, which was decked out as KITT. With that one show, the Trans Am became one of the most desirable cars of the early 1980s. These days those following "Modern Family" may be able to recall the episode that revolved around the iPad; as the character, Phil Dunphy, wanted just it for his birthday. For 30 minutes the family was shown trying to get the hot product; standing in Apple Store lines, and singing praises for the iPad.
Now let's have a look at media that Pakistani consumers get exposed to. Starting from Bollywood, one of the early examples that we found is from the movie, 'Taal' (1999) in which a whole song, Ishq Bina revolves around Coca-Cola. Some other prominent placements included; Singapore Tourism in 'Krrish 3', Tag Heuer watches in Don and Don 2, Verve Magazine in Dostana and BMW bikes in Dhoom 3.
Along with visual placements, brands are also making in-roads through lyrics in Bollywood songs. The famous item song of Dabang 2, "Mere photo ko seene se yaar, chipka le saiyan Fevicol se" ruled the top charts in India and was also used as the launch ad for Fevicol in Pakistan, marketed by ICI. Though not validated, but it is reported that product placement in Bollywood measures up to US$ 0.6 million to US$ 45 million. Even if a fraction of this is true, one can estimate the revenue stream size of product placement in Bollywood.
The Indian small screen has caught the wave too. While soap operas are flooded with major jewelry and saree brands, the core focus is on reality shows including, Pepsi placed in Indian Idol, Vodafone being a part of Bigg Boss 4, and Axis Bank generating revenue for Kon Baneyga Crorepati.
While Lollywood may not be full of integration examples yet, Pakistani dramas have certainly showed strong potential for product placement; however the tool still needs to be taken more seriously by advertisers and their agencies as a potential investment for revenue stream. Bulbulay remains an exception here which exhibits QMobile and Qarshi Jam-e-Shirin very loudly and explicitly unlike the international norm which calls for brands to remain as non-intrusive as possible. Although considering the plot and treatment of this particular series, Bulbulay is unconventional in any case!
Like India, Pakistani marketers are also focusing more on reality shows like Inam Ghar, Bazm-e-Tariq Aziz, morning shows, and cooking shows for integrating their brand.
Measuring Impact
Unfortunately there is no standard measurement process for evaluating the impact of product placement. Brand Channel is the only organization that holds Brandcameo Product Placement Awards on a yearly basis but this award is limited to Hollywood films that spend a weekend at the top of the U.S. box-office. Also, Brandcameo Awards are given on the total number of appearances each brand makes in all the top box-office movies during a particular year. This highlights brand performance rather than measuring the impact of product placement directly. In 2013, Budweiser and Apple were the two most frequently appeared brands: They were in 23% of all box-office hits or top 10 films out of 34.
In 2012, Mercedes Benz had this honor with its different sub-brands placed, all over the map. 'Think Like a Man' and 'Taken 2' featured prominent placement of new models. 'Act of Valor' propped a Mercedes in the background. The 'Argo' Mercedes was a Tehran-dusty, age-appropriate placement. Then there was '21 Jump Street', in which the "greened" vintage Mercedes diesel ran on used cooking oil. 'Twilight's' Cullen patriarch Carlisle drove a black S55 AMG, while only James Bond would drive a Mercedes as an airport rental, as Daniel Craig did in 'Skyfall'. Mercedes made several other big-screen cameos in 2012, such as in 'Jack Reacher'. For more interesting brand placement facts on how Mercedes Benz preceded Apple in that year, you can visit www.brandchannel.com and read more details on Brandcameo Awards.
Moving further with our discussion, there are three possible ways to measure the impact of product placement:
Economic Impact
One way to measure product placement is to measure the economic effects it has on a certain product or in particular, how product placement affects the stock price of a company. It has been found that companies that place products in upcoming box office movies tend to have an increase in stock price starting 10 days before the movie's release and lasting three weeks after. However, for our case this method can't be adopted as brand appearance in reality shows or in a TV serial cannot impact the stock value of the respective company.
Implicit Memory
Product placement is also measured through implicit memory. One way to measure implicit memory is to see if participants chose a certain product over other products after seeing a product placement. This usually results in increased product sales. For example, Heineken's manufacturers claimed that their sales are up by 5.3% (Over US$ 1.3 billion) after Heineken placement in 'Skyfall' and London Olympics.
Explicit Memory
A third way to measure product placement is by measuring one's explicit memory. A common method of measuring explicit memory is product recall, where an experimenter asks a participant what brands he or she can remember from a film, drama or reality show.
I undertook an exhaustive search for any possible data source that can help us understand the current market situation prevalent in Pakistan on product placement but unfortunately there is no such data source or study that exists – to the best of my knowledge. Eventually I decided to conduct some primary research specifically designed for this purpose, one of the advantages I have of owning a research agency. The study was conducted on the following target audience who watch TV at least 3 to 4 days a week.
Both Male & Female – 50% each
• Aged between 18 to 45 years: 18 to 24 – 35%, 25 to 34 – 42%, 35 to 45 – 24%
• Living in Karachi – 36%, Lahore – 32%, and Islamabad/Rawalpindi – 32%
• Belonging to all SECs: A: 18%, B: 38%, C: 22%, D & E: 22%
Program Recall with Brand Placement
On an unprompted level, half of the consumers recalled one or more programs with brand placement. 'Bulbulay' was the only drama serial respondents could recall with a brand made a part of it as well as it being the most recalled program with branded content. Reality shows particularly game shows, morning shows and cooking shows gained consumer retention on that front. I believe that Bulbulay is so much more noticeable in terms of product placement versus other dramas because of QMobile's loud and explicit ways. Other drama serials with non-intrusive and implicit integrations didn't make it to the consumer active memory.
Unprompted Recall of Brands that Practice Content Integration
A total of 44 brands were mentioned out of which QMobile topped the list due to its appearance in Bulbulay, Inam Ghar and Utho Jago Pakistan. Dalda, Qarshi and Shan appeared as distant followers.
It is interesting to note that majority of those who recalled any brand have positive remarks for product placement. 69% consumers claimed that their impression of the brand improves after watching it integrated in any program.
Prompted Recall for Brand Placement
A total of 44 brands were mentioned out of which QMobile topped the list due to its appearance in Bulbulay, Inam Ghar and Utho Jago Pakistan. Dalda, Qarshi and Shan appeared as distant followers.
It is interesting to note that majority of those who recalled any brand have positive remarks for product placement. 69% consumers claimed that their impression of the brand improves after watching it integrated in any program.
More than half of the respondents – 53% – recalled QMobile. In contrast, only 4% respondents recalled Qarshi Jam-e-Shirin. There could be several reasons for this huge gap, i.e. number of placements, timeframe of a placement etc.
The impact of product placement on QMobile's brand image has turned out to be quite positive as 68% respondents are of the opinion that their perception of the brand has improved. 32% do say that it has not made any difference while 1% say that it is worse than before.
Why Does Brand Placement Improve Brand Image?
Underlying reasons indicate that whether we, as marketers, may not always agree with the way any brand is being integrated within any content, consumers do have reasons for appreciating and recalling the brand!
It is evident from this effort to measure the effectiveness and impact of product placement in Pakistan that it can be explored much more as a booming consumer touch-point. Marketers should start thinking about weaving the brand in the plot or script of drama serials in addition to the usual intrusive placements in reality shows.
Ahmer is the Founder and CEO of Markematics, and the first elected President of Marketing Research Society of Pakistan (MRSP). He is a leading marketing, research and strategy consultant in Pakistan and abroad with over 18 years of experience. He was instrumental in establishing Nielsen and MEMRB in Pakistan and has rich experience with GlaxoSmithKline and Eli Lilly.