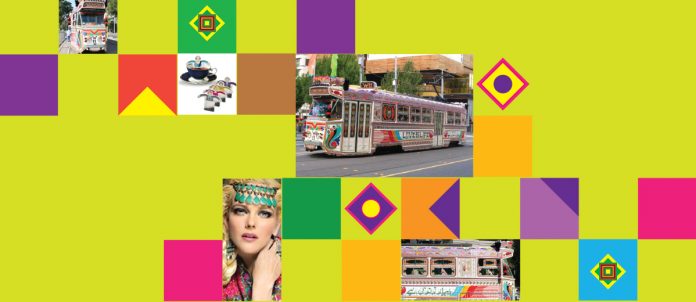 Brand image building is one of the most important aspects associated with marketing and crucial for the brand's survival as its true value is judged by the target audience it serves. Similarly, a mature brand would consider having integrated content for top of mind recall and repeat sales. When it's done to compliment 'nation branding', a lot can be done to include existing national and international brands operating within to reflect the very essence of the brand, that is, the country itself.
This could later translate into competitive advantage over other countries while a serious consideration must be given to the notion that a brand is more often known for what it does for its consumers than what it says. It's time to get Pakistan identified for its unique selling propositions and shun the negative branding away because of being maligned as an exporter of terrorism and eventually personified as a terrorist hoarding state. For us and at this point in time, it is important that our country's brand value is communicated to our brethren within the country as well as to an international audience to project what the country holds.
Having mentioned this, portraying a country as an integrated brand leads to personification, thus, attributing moods and personalities to it. For instance, MasterChef Australia reflects a humble image of the country thanks to the judges and their approach towards assessing a candidate, similarly, having contestants from various nationalities reveals a more open minded society that leverages a blend of cultures and provides them room for professional growth. On the other hand, there are brands that are valued so highly that they are considered a part of national identity and pride, one such perfect example is Kraft Food's Vegemite, a popular Australian spread made from yeast extract (originally launched in 1923 and owned by Fred Walker & Co. Pty. Ltd.) and named as a result of a crowdsourcing campaign.
As far as integration through tourism is concerned, the filming of 'Lord of the Rings' integrated New Zealand's image as a result of which the country developed complimented promotional material, aligning it with the movie's international releases. Tourism New Zealand (TNZ) made use of organic images from the movie for their advertising material on the tourist website, TourismNewZealand.com, running it as part of the campaign, '100% Pure New Zealand'. Ever since the movie, the country has witnessed a 50% increase in visitors contributing to NZ$33 million.
The campaign itself, '100% Pure New Zealand' was launched in 1999 with a focus on the 100% visitor experience. This includes, international PR, advertising, sponsorship activity, event, and online marketing. One year after the commencement of its activities, visitor numbers had increased to 10% and spending by 20%.
Considering the efforts put in for marketing and resulting perceived image, in the World Travel Awards of 2012, it was awarded the Best Destination Marketing Campaign.
Sherlock Holmes, a fictional detective created by Sir Arthur Conan Doyle is a character brought to life through local and now global stardom and hence a source of British national pride so much so that when his death was revealed in the novel it resulted in public uproar and the queen requesting the author to bring him back to life. It's actually the integration of culture and societal norms that are woven into its literature cherished as a reckoning force of their identity that brought the character so much fame that he became famous for his typical British ways. Talking in the local context, Anwar Maqsood's satirical shows and Haseena Moin's TV plays have projected a strong image of Pakistan in the past, be it a play shot within the country or abroad, in the form of 'The Castle Aik Umeed' or 'Des Pardes', they were always a source of image building.
During the time period when we rarely get to see the positive side of the country, we often find ourselves struck by nostalgia, a time frame characteristic of cultural resplendence aired inspite of a limited number of media channels. Among quite a few local programs and shows was one such adventure cum reality show directed by Shoaib Mansoor, 'Gulls & Guys: Voyage of Discovery' shot in various destinations of the world in 1999 sponsored by John Player Gold Leaf while traveling in a yacht. Pakistan was depicted in it while going to different countries and cities around the world, documenting their culture and comparing them with our own.
Morven Gold's TVC, 'Rhythm of Unity' shot in Lahore Fort, is a rare classic. Who can forget the melodious tune amidst Eid gatherings during those childhood days? Ending it initially with the brand name but later into words 'Pakistan Zindabad' created a sense of patriotism among all.
On the other hand, Shoaib Mansoor's directorial excellence and ISPR's production 'Alpha Bravo Charlie' after the much acclaimed 'Sunehrey Din' won the hearts of the audience by highlighting Pakistan Army's heroic image in Siachen and Bosnia.
The depiction of the British Royal Family through brands in the UK when it comes to celebrating their events is noteworthy. One of the brilliant creations was Tetley's Royal Family character tea bags. In a brand study published by Huffington Post, it is noted that the British monarchy's brand value is worth £ 44 billion.
In his article, 'Countries as Umbrella Brands', Tom Nightingale mentions that America is a unique umbrella brand and has words associated like 'entrepreneurial', 'meritocracy', 'innovative', and 'resilience' to it. He has also mentioned that when it comes to technology, their country has some of the most respected and widely used sub-brands in the world while 88% of all mobile phone operating systems are also of the American origin. Apple is an example with their proudly labeled products such as 'Designed by Apple in California', similarly, Switzerland can be associated with chocolates and watches while Germany with high end automobiles.
Brands in developed countries have become strong enough to help build their countries as brands through international recognition and increasing foreign exchange. Comparing this ideology to Khussa's, Ajrak, mirror embroidery, our mangoes, textiles, and Basmati rice; it can be realized that these are unique selling propositions of the country that need special recognition as being exclusively Pakistani. International consumers often confuse them with being Indian. For instance, there is the ironic reality of Pakistani Basmati rice being exported to Dubai and packaged as Indian produce, which may be because of the existing gap in terms of taking and vouching for ownership and consciously integrating the produce as our own.
In the recent campaign called 'Hur Dum Pakistani', Coca-Cola conveyed a positive image of Pakistanis as an optimistic nation, highlighting strong willed individuals across social and traditional platforms.
Furthermore, diversity could also be used as a statement in brands. For example, it has become a communication shift for brands like Cheerios and Coca-Cola airing their advertisements during the Super Bowl. Cheerios focused on a small mixed race family and their future endeavours while Coca-Cola went an extra mile to integrate a diverse image of the USA through 'America the Beautiful' sung in different languages.
Heather Schmid, an American pop singer was seen wearing a Khaadi top which means a subconscious endorsement for the brand and integration of our country's image. This is something that Khaadi itself has acknowledged on their Facebook page, striking a good conversation around it. While the brand can further utilize such a medium, it can further capitalize to plan endorsements on cooking channels and morning shows, especially with their Mughal prints and other SKU's that reflect loyalty towards the country.
A great source of pride for the nation are the Brazuca footballs manufactured in Sialkot for the FIFA Football Tournament 2014; a much needed recognition in these testing times and something for the entire nation to feel proud of despite not being part of the tournament. Not only does it contribute to foreign exchange but also towards brand building.
Integration should be reflective at such an angle that local brands find themselves being in demand around the globe; Shan Foods is one such example. However, what may come as a surprise is Karachi's public bus, W-11 (pronounced 'dublew gyara'), in Melbourne, Australia, being run as a tram decorated in signature Pakistani truck-art style. . Melbourne artist, Mick Douglas wanted to represent the goodwill existing between the two countries and Australian W-11 was the outcome during the Commonwealth Games 2006. Pakistani truck/bus art decorators thus got a chance to highlight their talent, not to mention the same caliber of poetry witnessed locally. Projects like these are the founding pillars of cultural leverage and friendship.
As far as small scale entrepreneurship is concerned, Veranda at Five and K for Karachi are a few of the amazing examples of Facebook based businesses that sell merchandise quite readily related to the country and flaunt of a touch of vintage imagery in everything.
Eventually, politicians are the brand team that needs to construct a strong brand architecture alongside acceptance and harmony within the organization which though difficult to achieve is not impossible.