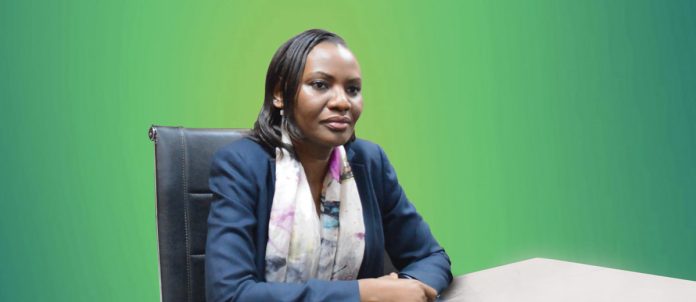 Olga Arara-Kimani talks to Synergyzer about her illustrious journey to being the Regional Head, Corporate Affairs and Brand & Marketing, Africa & Middle East, Standard Chartered Bank.
Synergyzer: How come you, being an Electrical and Electronics engineer, ventured towards banking?
Olga Arara-Kimani: During my higher studies, I was more interested in joining a structured industry, since it offered better job stability, but when I graduated, the whole internet boom was happening, which diverted my interest.  I ended up working for Microsoft in Kenya, where I was a channel and marketing manager.
At Microsoft Kenya, I was tasked with the sales and promotion of Windows 95, which was one of Microsoft's most successful products. Working for the software giant developed my interest towards the digital side of things, especially telecommunications. Incidentally, I was meant to join Standard Chartered to look after digital banking much earlier in my career, but the role required a move to Dubai and for family reasons, I was not ready at the time. But later on, I joined the bank to head Corporate Affairs and Brand & Marketing with a major focus on digital marketing. So that's how I got into banking.
Synergyzer: What gave you your big break, so to speak?
Olga: I joined Google in 2011 when the company had just opened offices in Kenya, and even Africa at large. Everybody used Yahoo! while Google wanted to make its products including Gmail, Google+ and YouTube household names.
We started out by offering the company's services to enterprises, where people have computers along with a stable internet connection. One day, I was invited to a seminar at one of the local universities where I saw one of them streaming videos on YouTube. And then it hit me: While the strategy of promoting digital products to business enterprises was the norm, it was the university partnerships which could offer Google a larger market in the form of students.
At first, I faced some backlash as the strategy globally was 'enterprise first', but I explained that since universities already offered free internet connections, students could become our ambassadors to then train their parents and loved ones to start using Gmail, Google+ and YouTube.
This idea and the resulting growth in numbers for Google transformed my career. When my idea was implemented, the user graph bars at Google Kenya were actually like hockey sticks; where one day you have 10,000 people using the service and the next time the number has reached 800,000.
I think the same elements are being used by Facebook for WhatsApp, with the biggest drivers of WhatsApp usage being youth. So this you can say was my big 'break'.
Synergyzer: Being a woman in a man's world, how challenging have your roles been in South Africa and currently, in the Middle East in a professional capacity?
Olga: I've never felt that I am a woman in a man's world mainly because a major part of my education involved taking technical courses, where men outnumbered women. Although times have changed and a majority of women are now enrolled in such courses, back then this prepared me to work and engage with male counterparts without any friction, which equipped me for the coming years.
Moreover, Standard Chartered, as an organization, is very particular about the importance of gender diversity and inclusion at the workplace, which has allowed me to add value to the bank's operations, and get rewarded for my accomplishments in similar fashion to my male counterparts.
Synergyzer: Taking that forward, what do you consider your achievements in your professional capacity till now?
Olga: I think of two of my achievements as anchor points. One is the 'No.1 Bank: Power Your Ambitions' brand campaign; I am very proud of how well audiences, especially businesses, have reacted to it. The campaign focuses on the recent achievements of Standard Chartered Bank and reinforces its commitment to Africa and Middle East (AME) region. My other achievement is the 'Here for Africa' campaign, which sends across a message that our bank is supporting economic development in Africa. Part of the campaign was Power Africa, in which the bank contributed USD 5 billion to help improve access to national grids. Apart from serving the greater good, this project favors our business as well, as electricity was the core problem impacting internet adoption.
Synergyzer: What is your vision for Standard Chartered Africa and Middle East?
Olga: Our vision for SCB is to be a cosmopolitan person's global bank, making sure our emerging and affluent clients have excess to our banking services anywhere and everywhere in the world. We want to be a digital bank to make transactions while travelling easier for those who are connected with us.
Synergyzer: A major part of your career has been spent in tech companies. How does your earlier experience compliment your role in the banking industry, specifically in SCB AME region?
Olga: I tell everyone SCB is a digital company posing as a bank (laughs) because our conversation usually revolves around digital technology and digitizing our services. For example, our relationship managers are actually acquiring clients only in the digital space without any manual forms.
We already deal with our corporate and institutional clients through the Straight2Bank model, which is a fully-integrated internet banking platform that allows clients to perform all their transactions as well as get information. The aim is to make services available for clients on the go and to reduce the need to visit a bank.
We have noted that clients often wish to leapfrog the paperwork and get to business directly; hence they prefer digital banking as it allows them to complete business transactions quickly. SCB is planning on creating an end-to-end digital space, which means digitizing both the frontline and the back-end operations by 2020.
Synergyzer: What are the transformations that you have to lead and set forth in these markets, especially Pakistan?
Olga: Markets like Pakistan were below 10% in terms of the budgets that we assigned to digital marketing, but now we are using 30% of our marketing budgets to buy digitized space.
Earlier, we didn't have Facebook or LinkedIn pages, or Twitter profiles, but we now have them for a number of our markets. This was important as our target market; the affluent and emerging consumers are engaging online using a number of digital tools and apps.
Our most successful change was the way we launched the SCB mobile app across six markets including Pakistan. We won a number of Global Finance Awards including the Best Digital Banking title across different markets, which is credence to the work that I've been doing together with my team.
In the coming months, the direction is to carry out targeted promotions digitally, without coming off as spam. For example, when you browse for new or used cars, I want SCB to be there offering car financing solutions. With exciting offers and strategic alliances, I believe we can really meet the needs of our customers in Pakistan also as we have been able to do in other regions.
Synergyzer: What is the 'No. 1 Bank: Power Your Ambitions' campaign all about?
Olga: For us, it's a very exciting campaign. The bank went through some reorganization in 2015, where one of the big changes was the merger of Africa and Middle East (AME) region, which includes Pakistan – previously called the MENA region.
I realized that the awards that we've been receiving were not being communicated to SCB's clients. Hence, me and my team decided that we need to talk about our accomplishments in Islamic banking, debt capital markets etc., as well as our digital capabilities in banking.
So we came tallied our awards to those of competition, and it became clear that SCB had a comfortable lead; we were number one. And this is how the 'No.1 Bank: Power Your Ambitions' campaign was born.
A lot of people took notice of the campaign wherever we have run it, and soon, we are going to run this campaign globally.
Synergyzer: You have won the Top 40 under 40 Women in Kenya and Forbes Top 20 Youngest Power Women in Africa awards. What made you stand out from the rest?
Olga: When I graduated, there were only two women in my class of thirty students studying Electrical and Electronics Engineering since back then, the idea of women working in technology driven fields wasn't so common. I was the first woman Systems Engineer for Microsoft and also the first woman Country Manager for Google Kenya. Since there weren't many women making this breakthrough in the industry at that time, I believe it made me stand out.
Synergyzer: Did these awards further aide your growth?
Olga: Well, I got more consultancy opportunities where I advised leading companies and clients in developing strategic direction. Also, I have been invited to various speaker sessions and conferences, as an emerging leader, through which I've tried to pass on my learning and experiences to future leaders.
Synergyzer: How are you instilling the same spirit of achieving excellence in those junior to you?
Olga: As a career woman, I have always noticed that when you do well, you can't say to yourself, "I've done something good, now I'll just rest on my laurels and I think this is it."
You have to keep improving as people start to build greater expectations from you, which may initially make you uncomfortable, and you might think, "I'm already doing a great job, what do you mean that I have to get on to the next stage?", since it means you have to leave behind the success you have already achieved and put in more hard work to get to the next stage.
Also, it is important that you learn how to adapt and become better at what you do by finding ways to keep stretching your capabilities. I try to inspire those working on my team to keep reinventing themselves, stay aware of the environment and keep a close watch on what is going on in the industry. I give them the example of Kodak, a market leader once but obsolete now. Hence it is necessary to keep challenging yourself.
Moreover, it is also necessary to find ways to surprise people and do something which makes them say, "Wow, how did you guys come up with this?"