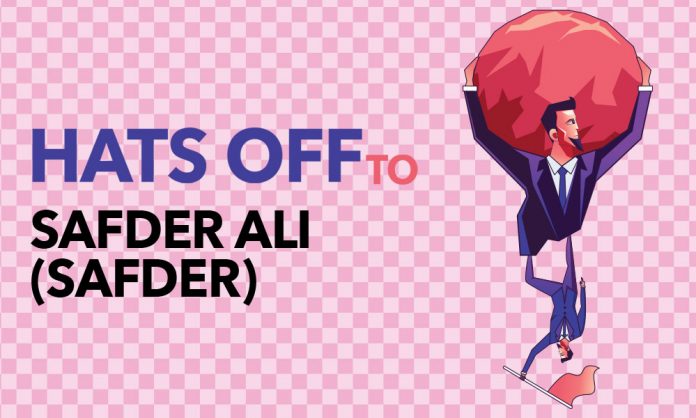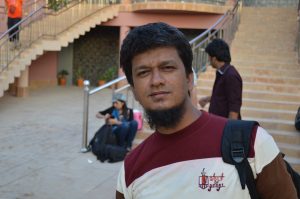 Safder Ali
-Creative Group Head, Synergy Dentsu  
Tell us about your early life.
My parents' wanted me to be a Haafiz-e-Quran, so I studied at a religious seminary in Malir. I continued with this till the early 1990's, but the strikes and shutter-downs in Karachi back then made my daily commute from Landhi to Malir difficult, and that's when I stopped.
I am the eldest child in my family and financial difficulties forced me to pause school for a while. To support my family, I first worked in a garment factory as a laundry worker, earning PKR 600 a month; then as a housepainter where the contractor paid me PKR 100 a day; and then after some time I went back to working in a garment factory again, this time as a helper and then as an operator.
My family finances did become somewhat stable meanwhile and I returned to complete school, and matriculated in 2000. I did my FA from Malir Cantonment College, and ironically, I started my career in advertising on the last day of my FA exams in 2002.
How did you come towards advertising?
My cousin Sajid Hussain, who is currently the Creative Director – Art at Prestige Communications, and quite well known in the advertising fraternity, was visiting and asked my parents about me. My parents mentioned my writing, and confided that they did not know what it was and hence they were worried by it.
Upon asking me, my cousin was surprised to see it was poetry. He exclaimed, "You should be in an advertising agency!"
Back then I had no idea about advertising so Sajid Bhai arranged for me to meet his friend, Aqeel Jaffery at Maxim Advertising. I became a junior Urdu Copywriter under the mentorship of the late Anis A. Siddiqui.
How and where did you acquire your professional training?
Maxim Advertising became my first training institute where I learned copywriting from Anis A. Siddiqui and Qaiser Alam, and graphic design from Syed Amjad Ali. Extremely talented and skilful, he taught me how to design and the use of designing software. I thus became both copywriter and graphic designer, and each time I would see a full-page ad in a national newspaper, it would be a moment of immense pride for me that the copy and layout were both mine.
Who supported you along the way?
Sajid Hussain, Anis A. Siddiqui (late), Amir Mallick (late), Qaisar Alam and Yasin Ansari, who is providing his guidance and support even today.
How did you find your voice as a creative?
Quite by accident. A schoolmate showed me a poem he had written on Allama Iqbal and asked me to tweak it. That ignited a spark in me  and I started writing poetry. I tried my hand at every genre of Urdu poetry — ghazal, nazm, free verse, inshaaiya — as well as short stories. And the passion continues, Alhamdulillah!
What has been one of your most difficult assignments?
Everything is difficult before it becomes easy. Even though I have spent 20 years in this business, I still feel the same way I felt when I got my very first brief. What do I do with it? How do I plot the concept? Will it work? But then the ultimate Creator shows the way and I start weaving a story. I have nothing to offer if He does not help.
What challenges have you faced during your career?
Synergy Dentsu is the fourth advertising agency that I am working for during my career.
Alhamdulillah, I found supportive colleagues I thoroughly enjoyed working with.
Throughout my career, my focus has been on how I can make things better for myself, as well as my employers; hence I am never stuck in problems. If I have a problem, I throw it to my Almighty for a better solution and enjoy a good sleep.
What makes it worth it?
The high after accomplishing a creative assignment. In fact it has kept alive my gratitude towards the Almighty.
What is your personal philosophy on advertising?
The positive aspect of advertising is that it gives a voice to silence.
At the same time, another very brutal aspect is that we allow society to create problems and then devise solutions for those problems. I don't know whether we should call it smart, or cunning, but we take something ordinary, turn it into a gigantic issue and then throw in the product as the answer to that issue. It is the same formula applied everywhere, from diapers to antibacterial soap.
What are your future aspirations?
One of my Urdu poems describe my view on aspirations:
"Khwaahishon ka hona bhi
Kia ajab museebat hai
Khwaahishen tawaatur se roz barhti jaati hain
Roag banti jaati hein
Unko maarne waale log marte jaate hain
Khwaahishen nahin marteen…"
[Having desires is a strange plight. Desires increase every day, become an illness. People striving for them die, but desires never die.]
Yet this does not mean that we stop desiring or dreaming, Rather we should strive towards making our desires a reality. As for me, I have never worried about things that are not in my control. I go with the flow and this makes life extremely peaceful.