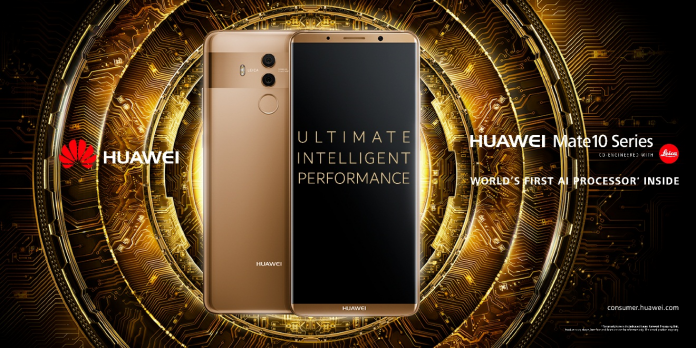 Smartphones are a breed of devices that boast of continuous developments: Bigger and more user-friendly screen sizes, infrared scanners for facial recognition which follows the fingerprint scanner technology, barely-there-bezel designs, even flexible touchscreens, faster processors that come equipped with artificial intelligence – AI,  and cameras that mirror the performance of DSLR's!
In sync with providing such innovatively designed smartphones, a new set of devices titled Mate 10 Pro and Mate 10 by HUAWEI have exactly what it takes to cater to the photography-inclined smartphone user. The following features make the phones a must buy.
Hardware and Software: It's all about AI!
The Mate 10 Pro and Mate 10 phones are the first ever to be equipped with Kirin AI processor. They are also the world's fastest smartphones at the moment supporting super-fast LTE connectivity and download speeds, combined with a 4,000 mAh battery and IP67 Water/Dust Resistance.
Combining sophisticated software and an unparalleled hardware, these HUAWEI phones are equipped with a camera that is the latest in imaging technology. The Kirin AI processor uses the most power-efficient computing architecture while integrating a standalone Neural Network Processing Unit (NPU), with image recognition that delivers up to 25 times the performance with 50 times greater efficiency.
Dual Camera featuring the World's Widest Aperture
A revolutionary camera in smartphone technology, its lenses are co-engineered with Leica having the widest aperture ever included in a smartphone at f/1.6, AI-powered Bokeh Effect and AI-powered Digital Zoom.
What is aperture? Aperture controls the brightness of the image that passes through the lens. It is expressed as an f-number. The lower the f-number, the wider the aperture and the more light that passes through the lens. A wide aperture results in an image that is sharper and clearer. In addition, a wider aperture can alter the depth of field, creating a small focal depth which creates background blur.
Wide aperture is easier to get in DSLR cameras, than on mobile phones. Till now, the maximum aperture mobile phones have had is of f/1.7. Although it may seem that lowering the f-number to f/1.6 is a small upgrade, but in terms of designing aperture technology, especially in the case of a mobile phone, it is a huge accomplishment, the R&D process for which is no easy feat.
Apart from being the pioneers of the dual lens f/1.6 cellphone with the world's widest aperture, the Mate 10 series' AI computing is another first by the company, which allows zero-lag photography thanks to the powerful AI-powered Digital Zoom system featuring laser focus, phase detection focus, depth focus, and contrast focus. This feature increases focus speed to 900 milliseconds to significantly improve snapshot quality.
Also, HUAWEI incorporates advanced ISP technology into these smartphones to cater to the high image processing requirements that a dual-lens f/1.6 aperture has, to decrease the amount of light which passes through such a wide aperture which may lead to reduced picture clarity.
A DSLR camera experience through AI Technology
Before the release of the HUAWEI Mate 10 Series, Kirin 970 was not known to most. Yet this particular processor enables real-time scene and object recognition, allowing the smartphone camera to intelligently identify 13 kinds of scenes. The camera automatically switches on to the appropriate mode for what is being framed, whether its blue skies, flowers, green plants, a meal, a stage performance, a beach scene, sunrise or sunset, night photography, or capturing text, snow, a cat, a dog, or a portrait.
The smartphones support an advanced AI-powered Digital Zoom function with AI motion detection for clearer portraits and sharper pictures. Night shots are no longer an issue and the HUAWEI Mate 10 Pro & Mate 10 can brighten up even the most dimly lit photographs. The large aperture is especially ideal for capturing images that do not require artificial lighting or long exposure during night photography. The aperture also captures detailed AI-powered Bokeh Effect, for a more natural and detailed transition between the subject and the background.
HUAWEI believes that the introduction of AI will be an important milestone for cellular phone photography due to its ability to offer DSLR picture quality.
From Mobile Phone Pictures to Mobile Phone Photography
The camera on the HUAWEI Mate 10 Series is a fruitful cooperation between HUAWEI and Leica. It combines 12-megapixel RGB plus 20-megapixel monochrome sensors, an Optical Image Stabilization (OIS), along with f/1.6 aperture, AI-powered Bokeh Effect, and AI-powered Digital Zoom, as mentioned above.
Building on the success of HUAWEI P10 and Mate 9 phones, HUAWEI and Leica co-engineered the new dual-lens camera that utilizes the world's most advanced photographic technology to create artistic photos in signature Leica-style imagery. The company applied its high-quality standards to HUAWEI's mobile camera lens design, producing a Leica-quality mobile phone lens, which brought together higher image standards and also helped image computing in mobile phones achieve revolutionary progress.
Here, it is important to note that HUAWEI is the only mobile phone whose image quality has been recognized and endorsed by Leica, which goes back to HUAWEI's P9. Yet, the HUAWEI Mate 10 Series supersedes the earlier smartphone, and can easily be called this year's 'King of Devices', revolutionizing smartphone photography as we know it.
HUAWEI Mate 10 Series intelligently senses 13 different kinds of subjects & scenes.