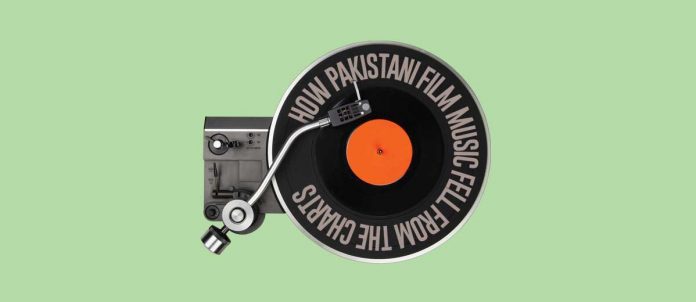 As originally published in Synergyzer Issue 5, 2017 – 'The Show Must Go On'
Before 1965, when Indian films were allowed to be screened in Pakistan, the songs from both sides of the border gave each other a tough competition, this was the time when Pakistani film songs were at par with those produced in India.
The very first film, Teri Yaad in 1948, set the benchmark high for filmmakers in Pakistan.
After that, hit songs were released back to back which went on to shape the careers of many people – be it playback singers, music composers and even the actors in films featuring these songs. Sadly, with the passage of time, Pakistani films have moved away from musicals to comedy and action, which appeals more to the current audience, according to new filmmakers.
Although what filmmakers today fail to understand is that music is a universal language and reaches out to more people. Hence the better the songs, the better the films!
Phase I: 1948 – 1965
Being a newly formed nation, Pakistan had scarce resources which led to most of the filmmakers migrating to India as the Indian film industry was in a much better condition. Despite this major emigration of talent, one of the biggest stars in the Indian subcontinent, Noor Jehan, decided to migrate to Pakistan and make it her new home.
She worked with the best music composers of the time such as Khawaja Khursheed Anwar (who went on to direct films as well), Feroze Nizami (who advised a young Sohail Rana to switch to accordion), Rasheed Attre (who attained the legendary status because of his songs) and Moslehuddin (who heralded the era of modern music in Pakistan).
All these music composers along with their contemporaries and playback singers of high caliber such as Zubeda Khanum, Saleem Raza, Naseem Begum and of course Noor Jehan, helped build Pakistan's film and music industry from scratch.
One could easily say that the 60's till the very early 80's were the best time to be a part of the Pakistani filmdom.
Phase II: 1966 – 1980
The 60's brought an inevitable change in film music: Music composers such as Nisar Bazmi, Naushad and many others who had by now spent some time in India started migrating back to Pakistan. We also became witness to a different side of film music in Pakistan through pop songs and although Ahmed Rushdi dominated the scene as the perfect pop star, during this phase; Master Inayat Hussain, A. Hameed, and Khalil Ahmed kept traditional film songs alive while Sohail Rana and Robin Ghosh changed the whole scene with their modern compositions.
One could easily say that it was the best time to be a part of the filmdom. The fact that Noor Jehan wasn't the only female voice in the business during that time just made it even better; Mala, Runa Laila, Nayyara Noor, and Naheed Akhtar all added to a different genre of songs. The male singers of the time were no less; besides Ahmed Rushdi, there was Mehdi Hasan, Mujeeb Alam, Masood Rana and a young Ikhlaq Ahmed who learned on the job and mastered the art as the decade changed.
Phase III: 1981 – 1994
It would not be incorrect to say that this was the decade when music composer M. Ashraf became the numero uno in the film industry. While maestros like Nisar Bazmi, A. Hameed and Robin Ghosh kept composing film songs when they were in the mood, it was M. Ashraf who kept the momentum going, without a break, along with Wajahat Attre (Rasheed Attre's son) and Kamal Ahmed. The three gave hit numbers when TV was boasting of pop stars such as Alamgir, Mohammad Ali Shayhki, Nazia Hassan, Zoheb Hassan as well as bands like Vital Signs and Strings to name a few. People who carried the weight of playback singing during the era included A. Nayyar, Ikhlaq Ahmed, Mehnaz, Ghulam Abbas and Naheed Akhtar (till she got married to filmmaker & journalist, Asif Ali Pota).
When I asked music composer Nisar Bazmi about using Indian singers in Pakistani films, he was furious in response, considering he migrated to Pakistan to make a name for himself. "When Pakistan has talent, why get singers from abroad?", he asked.
Phase IV: 1995 – 2005
A mini-revival of film music during the 1990's was witnessed, set forth by writer turned director Syed Noor, along with the help of some music composers including Amjad Bobby, Wajid Ali Nashad and M. Arshad.
People's faith in Pakistani film songs was restored by Adnan Sami Khan's Sargam. Lollywood Top 10 also contributed to building confidence and making the audience realize that good work is being done in films. From Jeeva to Sangam, Sargam to Chor Machaye Shor, Mushkil to Yeh Dil Aap Ka Huwa, all of these films had a wonderful soundtrack that people still listen to.
In fact, it was during this time only that Indian playback singers also sang in a few Pakistani films, but mostly under pseudonyms to avoid being banned. Udit Narayan and Sonu Nigam were Faisal Bobby in Ghar Kab Aao Gay and Tere Pyaar Main, respectively.
There were other incidents as well where Kavita Krishnamurthy, Sadhna Sargam, and Jaspinder Narula also lent their vocals using other names. The few times Indian singers sang as themselves was first in Sargam (Hadiqa Kiani replaced Asha Bhosle when the film was released) and later in Jawed Sheikh's game-changing Yeh Dil Aap Ka Huwa where Kumar Sanu, Krishnamurthy, and Sonu Nigam did playback for Moammer Rana, Saleem Sheikh and Sana. Alka Yagnik, Udit Narayan, Abhijeet, Shaan, and Shreya Ghoshal lent their voice for Reema Khan's Koi Tujh Sa Kahaan which proved to be Amjad Bobby's final film.
When I asked music composer Nisar Bazmi in one of his interviews before he passed away about using Indian singers in Pakistani films, he was furious in response, considering he migrated to Pakistan to make a name for himself. According to him, when Pakistan has talent, why not use that instead of importing singers from abroad – and he had a point.
This was the decade of Tehseen Javed, Humera Channa, Anwar Rafi, Ameer Ali Nashad, Shazia Manzoor, Waris Baig, and Tauseef Dar. All of these people were diversely talented when it came to singing and that could have been better exerted. So it didn't make any sense when Tauseef's voice was removed from two already recorded songs in Shehzad Rafique's Salakhain.
2006 – Onwards
In the last 10 years, a lot has changed as far as Pakistani films are concerned. There were those years when no Pakistani films were released in cinemas and then we also saw a time where two Pakistani movies became hits both at home and abroad – Shoaib Mansoor's Khuda Kay Liye and Bol. Both the films had an excellent soundtrack, which gave hope to new filmmakers to venture into the field and make Pakistan proud. These days it is mostly Sahir Ali Bagga, Shani Arshad or Shiraz Uppal who compose songs for films and while many rely on item numbers, these three have given more hits than trash. The success of Punjab Nahi Jaungi and Na Maloom Afraad 2 proves that the soundtrack can be entertaining if songs are composed in a 'composed' state. Otherwise, going down the hill is quite easy; we have been there and after a lot of hardships made a comeback to sanity.
About the Writer
Omair Alavi has been writing for different publications even before the internet became popular in Pakistan. His forte remains writing on sports, entertainment, and books. Cricket remains his first love, watching films in cinemas comes second. He can be contacted at Omair78@gmail.com.