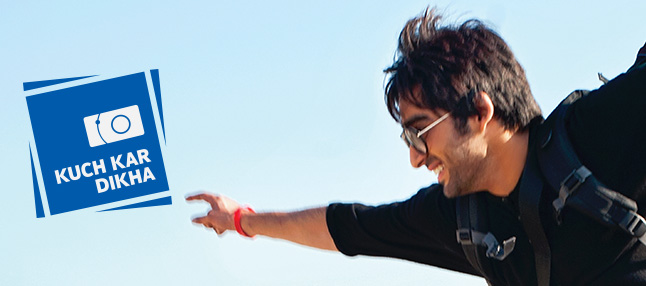 Synergyzer goes behind the scenes at the NOKIA travel game show to explore Pakistan's exotica
When conversing about an unpredictable country, such as Pakistan, one normally visualizes a lot of guns, blood and gore. To add fire to the fuel, the news channels go out of their way to showcase violence in a way almost parallel to that of Grand Theft Auto, completely neglecting the other side of the story.
With such channels up our alley and 70% of the content comprising of news, it is only natural to desire something much calmer, more relaxing and maybe a tad bit entertaining.
Nokia, a well-established brand in the smartphone market utilized this insight to achieve its objective for the year 2013 which was to increase the level of consideration of the phone itself as well as to translate this level into an exceeding level of preference, which is where Nokia faced its biggest challenge.
The Lumia consumer is mostly the high-end youth who is tech-savvy, stylish and socially active. These young people are willing to take new risks, indulge in thrilling adventures and are not afraid to exhibit their daring side. However, our youth seldom gets the opportunity to showcase their adventurous side, due to the obviously detrimental conditions of our country. Combining this insight with a huge gap in the entertainment sector to provide any mindful content for the youth, Nokia came to the conclusion that this void in the entertainment sector needs to be filled.
Capturing this longing for more amusing and engaging television standards, the strategy wizards for Nokia created an enthralling campaign which was further developed into an activation idea with a television show, "KuchKarDikha", based specifically on the youth of Pakistan.
Based on the lines of a travel game show with a hint of mystery and drama, this show is a voyage of 9 participants onboard a 38 day journey through exotic and striking locations of Pakistan and Azad Kashmir. In each episode these individuals compete in a series of challenges examining their skills, courage and determination. The Nokia Lumia 1520, was used as one of the primary gadgets throughout the show, leaving a lot of people spell bound by its six-inch HD display, a vibrant interface and a series of impressive features; the key being its 20MP Pure View camera, a must have accessory for spirited individuals who want to capture high-resolution photos of their escapades.
The show thrived to depict the other side of Pakistan that is rarely known to the world while also managing to exhibit Lumia devices and their camera capabilities.
Nokia's KuchKarDikha also became a trend-setter in the telecommunication category as for the first time ever, branded entertainment content was specifically developed to enhance the key features of a tech device.
This smart approach was the framework of the success of Nokia Lumia as it integrated a brilliant strategy of a youth based approach while associating the usage of a trendy phone to go along with it. It was then of course, not a wonder that this strategy was awarded with the Best Strategy Award, 2013 in Shanghai during the annual Nokia Strategy Meeting.
This creative brainpower, however needed an extensive amount of fuel which was engineered by the leading television channel, ARY NETWORK through which, the show and its teasers were promoted quite expansively. The identity of the show 'KuchKarDikha' translating to 'Show the world you can' was then created which managed to live up to its name.
The digital campaign was launched through social media websites like Facebook and Twitter. Nokia's Facebook community of 2.0 million helped in the initial promotion and recruitment drive which gave Aqeel Malik, an enthusiastic young fan, a chance to live a captivating journey through the KKD platform. Chosen through a Facebook competition, Aqeel represented millions of adventure loving youth throughout Pakistan.
The actual execution wasn't really a piece of cake and it took more than just layers to combat the harsh cold weather. But fighting against all odds, this committed team of 50 members captured some of the most spellbinding shots of Pakistan & Azad Kashmir, taken through the impressive high definition Lumia Camera and also created some valuable assets such as hyper lapse and panoramas.
With the most important task under the way, it was time to uphold the entire strategy and take it to the audience. 18th February 2014 was the day when the travel reality show was announced in a well-attended media launch event of Nokia Lumia 1520. 42 bloggers, 39 magazines/newspapers and as many as 11 news channels covered the launch event, providing up to 818 seconds of coverage. Leading marketing and entertainment portals like Brandsynario and Mediapoondi also covered the launch event. The travel fact book, created as part of the press kit received special mention and appreciation on these portals.
Music wasn't forgotten and an awe-inspiring song was designed as the original sound track of the show, which was sung by the renowned Bollywood singer, Shankar Madhevan. It was promoted expansively on Facebook and Twitter as well as on ARY Network and managed to acquire high acclaims and accolades. The song reached 59% of the audience, and attained 2.97 million impressions through television and 10.2 million impressions through Radio channels.
A digital hub was created on Facebook and Twitter page to interact with the audience and to keep them glued to the show. The hub included episodes from the show, promos, behind the scenes, production stills and images captured through the Lumia phones.
Although, a proper research will be required after the completion of the show to evaluate if the impact of this campaign is aligned with its objectives but in totality, Nokia Lumia has managed to build a vast amount of recognition and has been able to convey a better image of Pakistan. With an exceptional strategic management approach to its credit, Nokia has once again, managed to rise against the odds.