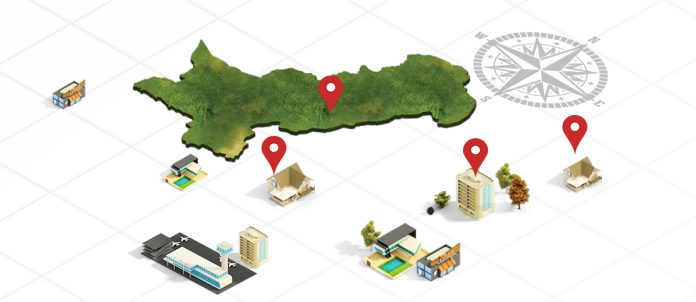 The Pakistani economy is evolving and not in a subtle way. The changes are evident; be it through the introduction of 4G, the popularity of car-hailing services such as Careem and Uber, the growth of the online food delivery market, as well as the boom in e-commerce and digital marketing.
Although these changes are positive, one cannot ignore the fact that they are being adopted from other, more technologically advanced cultures. History has shown that one of the most difficult things while going through the process of evolution is incorporating the positives of another culture while maintaining the significance of one's own. We, as a nation, are losing touch with our culture, history and values.
One trendsetting application which tackles this issue is TPL Maps, a one-of-a-kind geographical digital mapping solution, which promises to stay true to its roots. As the only licensed maps in Pakistan, TPL Maps has created the country's most comprehensive digital maps and enjoys a competitive advantage in terms of location data, when compared to any other mapping service. The app covers over 1 million housing addresses spread over a road network of 400,000 km. In addition to this, it also includes routes of 100+ cities and areas along with 3D structures of over 1000 landmarks in various cities of Pakistan.
Besides these, TPL Maps differentiates itself from other web mapping services by localizing its features. The company understands its target market, and hence centers on utilities and events important to its users.
CELEBRATING RAMADAN
In Pakistan, all are aware of the significance of Ramadan. As part of its strategy to localize the app, TPL Maps added customized features specifically for this holy month. This included notifications for prayer times, playing of the Azan at each prayer time, and  the provision of timely notifications for Sehr. In addition to these, other features, in the form of pop-ups, were added to help app users locate the nearest mosques in a new locality or while driving by stop overs for Iftar and charity centers across the city. Along with these features, the app also updated users about traffic conditions to help them avoid congestions.
To cater to the nation's passion for food, especially during this season, the company introduced TPLDirectory.com, a fresh and technology-infused directory, showing the location of popular restaurants along with contact details, making it easier to find them.  This directory featured various  Sehri and Iftar deals in all the major cities of Pakistan during the month of Ramadan.
PRESERVING THE NATIONAL LANGUAGE
As part of its latest app upgrade and development, TPL Maps has also recently introduced Urdu Maps and Urdu Navigation to cater to the masses. The company has collaborated with NUST – National University of Science & Technology – to launch a speech-based navigation software, enabling users to create routes via simple voice commands in various dialects of English and Urdu.
This feature in particular steals the show, as it is not available on any other app in Pakistan and caters to a vast majority of Pakistanis who have different speaking styles.
Adeel Hashmi, Head of TPL Maps, says "Providing an Urdu-language voice feature, in addition to the feature's ability to comprehend English-language commands in various local accents is our distinctive advantage. With this feature, we aim to serve Pakistanis who do not understand English, but want the benefits a mapping app provides."
STREET VISION
The feature lets users digitally walk through the streets and view their favorite places across the major cities of Pakistan. Currently this feature has been launched in Karachi, Lahore and Islamabad, but the company's mission is to keep expanding and enabling Street Vision in every corner of Pakistan. Street Vision includes over 60,000 images of famous areas such as restaurants or public places and covers a street network of approximately 3,000 km..
WHAT DOES TPL MAPS HAVE IN STORE FOR BUSINESSES?
LOCATION-BASED SERVICES
The app comprises of 2.3 million Points of Interest (POI's) including retail destinations and outlets. Using geo-fencing technology, TPL Maps facilitates brands by displaying their information to the app users. An example of this is in-app advertising where a brand's logo pops up within a defined perimeter, making it more visible and accessible to its target audience.
These features target individuals who are most likely to use a product or service based on their location at a given time. It can be used as an effective marketing tool to increase brand visibility and footfall at business outlets as well as promote short-term sales campaigns, via deals and coupons.
RETAIL AND SALES MAPPING
According to a survey by Pakistan Retail Landscape, there are around 850,000 FMCG outlets across Pakistan of which, TPL Maps has digitally mapped around 110,000 stores, dividing and filtering them into areas and categories.
Key business solutions include real-time data monitoring, sales-force tracking and management, market share breakdown, registered outlets' sales volumes, competition penetration, distributor performance and analyzing marketing and advertising opportunities for different regions and districts. Hence, the mapping system can facilitate in identifying and planning for expansion and effective distribution.
OTHER UPCOMING PRODUCTS
TPL TOURS
Meant for virtual tours, this feature will give users a 360 degree dimensional view of any destination with spherical images of the surroundings.
The user can experience what it would be like to visit a place simply by accessing the TPL Maps app from their phone, the TPL Maps Virtual Tour portal,  or any other digital platform including the company website where the business wants to display its immersive experience.
AGRI-BUSINESS PLANNING
Provides geo-tagged, mapped and demarcated land data up to 5 years old that users can cross-check, which can be beneficial for banks, insurance companies, telecommunication companies and the government.
INSURANCE & E-COMMERCE ON THE GO
While TPL Maps plans to branch into a number of insurance products, it also plans to provide integrated e-commerce solutions like e-wallet, where users can pay with their cellular credit.
COMMUNITY MAPS & COMPLAINT MANAGEMENT SYSTEM
Specifically meant for the Election Commission of Pakistan and political parties, the interactive portal that will be mapped with civic amenities and historical data for provincial and national constituencies, and will also serve news media outlets and the general public.
DISPATCH SOLUTIONS
Meant for courier companies, fleet management companies and ambulance networks, the solutions will enable companies to map, monitor and manage their mobile workforce through real-time communication as well as vehicle tracking.
MEDIA SOLUTIONS
An interactive data visualization tool that will enable news media outlets to collect, explore and visualize mapped data & display it on TV as well as digital interfaces. It also allows the outlets to track their field reporters in real-time.
AUTOMOBILE NAVIGATION SOLUTIONS
Also available with Urdu maps, this in-car navigation system managed by TPL Maps will provide Voice Guided Navigation, live traffic and weather updates, payment solutions, branded locations, fuel monitoring, real-time data transfer and live vehicle tracking.
DRIVER BEHAVIOR & ROAD CONDITIONS APP
The app will be meant for measuring road safety and awareness about road conditions as well as detecting the driver's home and work locations, the locations often visited and where he spends most of his time, mobility habits etc. This app is meant for insurance companies, fleet management companies, cab hailing services and courier companies.