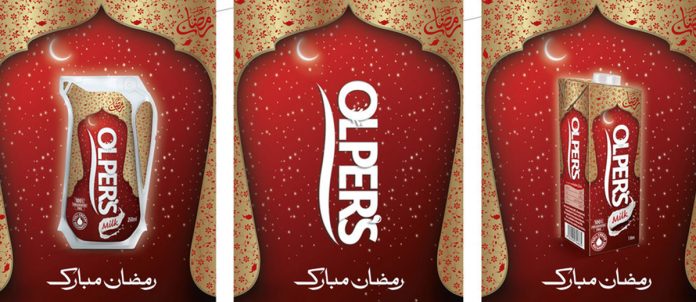 After its launch in 2006, Engro Foods quickly became one of the leading producers and marketers for dairy, beverage and frozen dessert brands in the country having Olper's, Omung, Tarang and Omore under its umbrella. The company has always been at the forefront of innovation in the UHT processed products industry through introducing targeted variants and flavors under its various brands like Olper's Lassi, innovative communication platforms, trendsetting packaging and co-branded offerings such as Olper's Rooh Afza.
The most recent such tactical offering was the launch of the limited edition Olper's Date Shake launched during this year's Ramadan. In the maturity stage of its product lifecycle, Olper's Milk capitalized on the holy occasion (month) of Ramadan to keep the UHT milk category fresh and consumers interested in the brand.
To gauge the acceptability of the idea, Olper's utilized its existing market intelligence. A significant innovation especially in the UHT industry, the Date Shake was addressing an unspoken want of the market. Says Ali Rashid, Senior Brand Manager Olpers, "Even though date shakes are available in select juice stores round the year, the consumption of dates is very closely tied with the month of Ramadan. Therefore, it seemed a natural fit to launch during the holy month."
Geared towards relatively affluent urban households, the product was meant for people who require energizing products in Suhoor to keep them active through the day or an indulgent product to complement their Iftar. Olper's Date Shake was kept limited to a select audience based on two major reasons. Firstly, the product is formulated from actual date puree which is an expensive ingredient compared to mere flavoring. Hence, it hikes up the production cost, which leads to a very premium price point.  Secondly, the Date Shake was a limited edition Ramadan product available only in Karachi, Lahore, and Islamabad which naturally limited the scope. Placed and distributed in selected high traffic stores and supermarkets, most of the stock was sold or consumed by mid-Ramadan. The advertising strategy for the product was very focused, concentrating on a five second TV spot that complements the Olper's commercial. Other than this, Point of Sales (POS) material was also developed for the retail level.
When asked about making the product a regular offering, Ali explained that there are no firm plans for that because of the expensive product formulation. However, due to the heartening response and the demand of the product in the market, it might be launched again next year the way the company launched the co-branded product Olper's Rooh Afza, but that is undecided yet. Hence, the target audience for the mother brand, Olper's continues to be the same as it was prior to the Date Shake's launch, rather it complements Olper's Milk's brand equity and serves to bolster further growth for the mother brand.