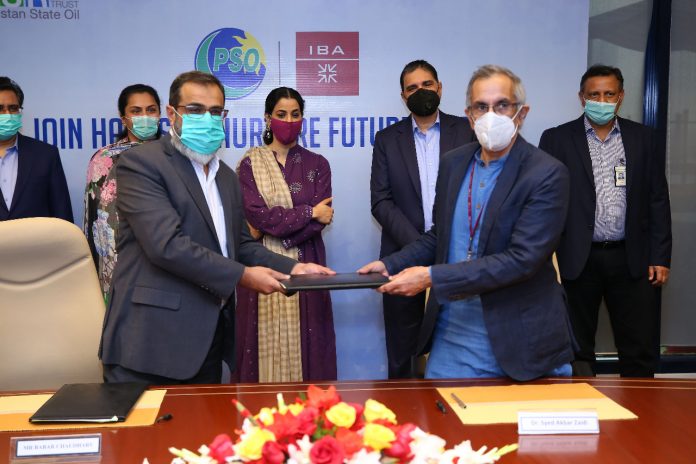 February 4, 2021: The Institute of Business Administration (IBA), Karachi and Pakistan State Oil (PSO) have joined hands through the PSO CSR Trust to help talented students from underprivileged backgrounds pursue their educational aspirations. The selected students were chosen by the IBA Karachi from across Pakistan through the National Talent Hunt Program (IBA-NTHP).
During a ceremony held at PSO's head office in Karachi, Managing Director and CEO, PSO, Syed Muhammad Taha, presented a cheque to the Executive Director, IBA, Dr. S Akbar Zaidi, to sponsor the higher education of five undergraduate students. An agreement was also signed by Chairperson, PSO CSR Trust, Mr. Babar H. Chaudhry and Dr. Zaidi.
Sharing his views at the occasion, Syed Muhammad Taha said, "We have integrated corporate philanthropy into our core business strategy and it is our constant endeavor to encourage and inspire young people while fueling their professional growth. By spending one third of our CSR budget to further quality education in our country, we aim to energize future generations, providing them the education and skills they need to transform Pakistan."
Dr. Zaidi echoed Mr. Taha's sentiments and remarked, "The IBA is grateful to PSO and its CSR Trust for their continued support in ensuring that deserving and meritorious students get a chance to study without any financial restraints. We hope that this relationship between two leading organizations will be fruitful and enduring for students, society and Pakistan."
PSO and IBA continue to play their respective roles to support the youth in pursuing education in business and allied fields based on merit irrespective of ethnicity, gender, religion or financial means.