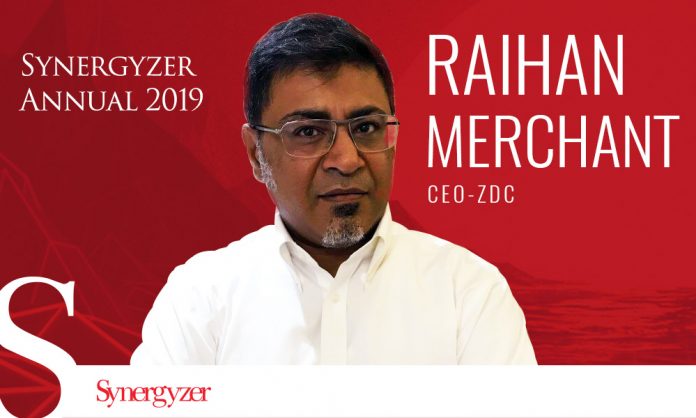 As originally published in Synergyzer Annual 2019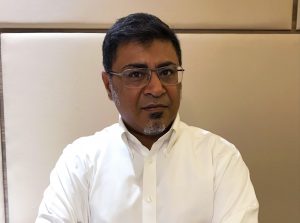 Raihan Merchant CEO – Z2C
Synergyzer: You are one of the leading media planning and buying agencies in Pakistan. What edge did you create for yourself that other agencies could not?
Raihan Merchant: Hire the best talent, train them, keep them happy and motivated. That is as simple a solution as it can get. When we started, we were the first media agency; hence we did not have the luxury to hire experienced, mid-career resources. We could hire at the entry level only and train our employees from scratch. But even more than twenty years later, we choose to hire ONLY at the entry level, from the best institutions.
Yes, we may not have been perfect on the record, but we have been quick to rectify any mistakes. When you hire top talent, you should also be prepared to pay them a competitive salary. Our talent cost is one of the highest in the industry and that is because we bring in the best, and add to their capability and knowledge. We have run a management trainee program since 2004 and continue to bring in people to the agency world. This allows us to feed the industry too. If you were to look at key decision makers on media whether it is in the agency space or on the client side, you will notice one common element: 65% of them started their careers with us. Top organizations like Unilever, Pepsi, Coca-Cola, P&G etc. hire people who seem to have somehow started their careers with our agency. This has been our edge over the industry – our competitive advantage.
Synergyzer: When you keep talent costs high, how do you mitigate the risk of growing overheads in times of uncertainty, when reducing the number of people becomes necessary?
Raihan: Look, if you have smart people, they will create good relationships with clients, which in turn will help the brand sales go up. These solutions, since they come from our agency, give more credibility to our business. This is where agency owners have to be proactive. Instead of cutting down on costs, focus on adding more value. This allows the team to generate more revenue, which the organization benefits from as a whole.
As an example we produce content, assist our clients with activations and public relations etc. These services generate incremental revenues for us, as an agency. The reason we are able to do this is because our talent is smart, motivated and driven. Had that not been the case, they would have simply come back with the cliché excuse that "Client Tou Maan He Nahi Raha". Folks who work with our agencies are trained to 'think' solutions. We make it more efficient for the client to pay a slightly incremental cost as opposed to hiring another agency. So, while our overhead and target costs remain the same, our revenues go up.
Synergyzer: Don't you think companies that specialize in areas such as activations, PR etc. will have issues with such conduct?
Raihan: The answer to your question is a simple yes. Yes, we are taking business from other agencies. So what? Take a look around and observe what is happening around the globe. Mergers, acquisitions, agency shutdowns etc. So, in this cut throat world of business, it is only fair to maximize your chunk of the cake. What do you think happens when a merger takes place? Two companies with different capabilities merge into one and a synergy of expertise happens. While we have not had the need to merge with any local company yet, we do have international affiliations and we are a full-service communications group. Again, it is easier to do an incremental service charge for an additional service because all the services are offered in-house.
Synergyzer: Starcom has a clout with its clients as well as media vendors that every other agency in the industry would love to have. How were you able to create it for your agency?
Raihan: The first element to building this relationship is to treat them like partners. Your question addresses them as 'media vendors', we call them 'Media Partners'. Together, we attract audiences that the advertisers want to show their advertising to. It can only be done together. No agency or media owner can do this singlehandedly.
The sooner other agencies realize this, the better: Build trust with the media owners. If you cannot solve their problems, at least give them a genuine, patient hearing. Understand their business. So, when we have conversations with media partners, our objective is to help build their business. How can we help them attract more audiences, what are their winning ingredients, how can they build on them, how can we help increase their revenues, show them areas where they can save on their costs – not just from our agency, but other agency networks also. We have more examples of how we have done this than we care to count. And the simplest one of them is that when we change our investment levels on a channel, other brands follow. This is the kind of win-win relationship that helps us win 'Starcom Clout'.
Yes, we are taking business from other agencies. So what? Take a look around and observe what is happening around the globe. Mergers, acquisitions, agency shutdowns etc. So, in this cut throat world of business, it is only fair to maximize your chunk  of the cake.
Synergyzer: You are said to have the best spot rates for TV in the market. What is your opinion on this?
Raihan: Who is buying spots? Why do we keep talking about spot rates? Are we buying a commodity? Your question sounds like we are in the business of trading cotton. Or do you think we are buying aik kilo gajar?
No, that is not what we buy. We buy eyeballs!
When you hear that we have the best rates in town, what it means is that we have the best rates for delivering those eyeballs even if it implies having a lower absolute rate. So the question actually is, 'Why would our media partners allow us a rate lower than the market?' Because they must have felt we helped them generate more eyeballs through identifying and monetizing time bands that had revenue potential. For example, we convinced our media partners to build the midnight time band which was making only, let's assume, PKR 2 million in revenue. We persuaded our clients to invest an additional PKR 2 million. Soon, other media planning and buying agencies and brands that are competing with the brands we are servicing, invested PKR 3 million more with the mindset that Starcom must have seen research about higher-than-expected eyeballs being present in those time bands. Therefore, they followed our lead. This is what has given us our current reputation in the market. Starcom leads, the rest of the agencies follow.
Synergyzer: So you think the industry follows Starcom without proper assessment?
Raihan: For you to ask me this question is telling me that other agencies do follow Starcom. People gauge us in the same way as they measure themselves. If they feel they are good at following our lead, good luck to them.
I am sure every agency has its own assessment criteria. They gauge our media placements, the GRP's we deliver and the choice of channels and programs we make. I am sure it makes sense and therefore, prudent to follow.
When we started working with P&G Pakistan over twenty years ago, their advertising budget was one-tenth of Unilever Pakistan. Unilever is in fifteen more brand categories than P&G yet the latter continues to funnel money in the five brand categories they are in, now spending about 40% of Unilever's advertising budget.
So why is P&G spending so much money in these five categories? Because this is how they have managed to grow their market share. Leading SOV (share of voice) brings market share gains. Their advertising was seen by the target audience hence, they see the value. Had we bought five minutes on PTV and ten minutes on ARY, this would not have been possible.
This is the reason other agencies choose to follow our lead only. As opposed to thinking through their own business strategy, and learning the business, we as an industry have chosen to buy at cheap cost or lowest rate.
Synergyzer: Some details on the focus on buying cheap, or the market becoming price centric.
Raihan: So, your question about our market being price-centric is a perception. It is a vicious cycle of insufficient knowledge on the part of media planning and buying agencies: 'I do not know how to deliver eyeballs, hence I cannot win a pitch' or 'I will lose a client because I do not have the best rates'. So, who has the best rates? How did he get them? Can I get them? I cannot, so will my business shut down?'
Every subsequent question that you are asking me is actually from that thought process. For me, this conversation is futile. Why? Because if I am running my business efficiently it will not matter if my revenue goes down. Every business makes a profit; likewise it also makes a loss. So, I might make less money but I will still be able to survive this downturn.
Unless we familiarize ourselves with what the media planning and buying agency business is all about, we will be dragging ourselves down the basement. Here, the organizations need to think through the business they are doing.
Synergyzer: Can you elaborate more on business efficiencies and the lack of them in our media industry?
Raihan: See, if in my business, I decide not to make a loss, then what will I do? I will pass on the responsibility to costs that I have to cut down, meaning I will fire people. However, if I start getting rid of my people then it implies that I have been running an inefficient business. Why did I choose to do that in the first place?
Due to the on-going economic downturn, Starcom's (corporate) clients have also cut down on advertising in the past six to eight months. We have seen such a situation that affected advertising revenues of the media industry as well as our company in 1999, in 2008-2009 and this is the third such cycle, so we know how to deal with it. But, did we fire people? No, rather we hired. Why? Because as I said earlier, we made up for the advertising revenue lost through offering additional services to the same set of clients. For us, talent is the biggest asset, which we cannot afford to lose, because it will have its own motivational costs.
Let me explain the situation in the TV industry. Globally, in-house productions by entertainment channels are 40%; rest of the 60% of what they broadcast is bought content. Yet, in Pakistan, it is the other way around. The entertainment channels here produce 60% of their content in-house. Why are most channels shutting down their morning shows? Because it is an additional 20% content that they have to produce.
Now let's talk about news channels. There was a competition among some of the top news channels in terms of who will have a larger number of reporters, offices, DSNG (Digital Satellite News Gathering) vehicles and so on. What did that lead to? They hired a greater number of people than required, leading to business inefficiencies. What did they do to justify it? They went to the government and asked them to pay Rs. 300,000 per minute regardless of the advertising rates that the channel was offering the corporate sector. When, in fact, the government being one of the biggest advertisers should have been offered lower rates. The new government stopped advertising, which resulted in exposing the inefficiencies of the system.
We have seen the situation that affected advertising revenues of the media industry as well as our company in 1999, in 2008-2009 and this is the third such cycle, so we know how to deal with it. But, did we fire people? No, rather we hired. Why? As i said earlier, we made up for the advertising revenue lost through offering additional services to the same set of clients.
Synergyzer: How can a business deal with a situation where the main source of revenue is at stake?
Raihan: Assume that the solution that a business offers gets taken over by AI (Artificial Intelligence). What will they do? Start whining about going bankrupt?
No, they should work at reinventing themselves. They need to recalibrate their capabilities.
Take the example of Deloitte, a global Big Four audit firm, who realized that in the near future the accounting and audit function will become automated. After careful deliberation, they created Deloitte Digital, a creative digital consultancy, which is now a major player in the digital advertising business. Hence, they recalibrated their capabilities and established themselves in a completely different space.
Let me give you a very local example. According to YouTube data, Coke Studio Pakistan is a big audience driver. That same young, hip, very urban audience characterizes a certain cellular handset brand's target market as well. Hence, I convinced the handset advertiser to place his ad on the Coke Studio website instead of any newspaper because that will have more impact. So what did I do here? I recalibrated my capabilities to increase sales for Coca-Cola Pakistan since they did not have a separate team for the function.
So evolve and be that person who solves problems; be it the clients' or your own. The ad agencies who have serviced the Government have also made huge profits in the process. The logical step for them will be to recalibrate their capabilities by using those earnings to create teams and processes that can win over the corporate sector.
Synergyzer: What is your opinion on the dilemma surrounding TV audience measurement system?
Raihan: TV audience measurement (TAM) services should be governed by a Joint Industry Committee. PAS, PBA, PAA and PEMRA should be stakeholders of the JIC. Till we get to that situation, we will continue to have problems. For example, our electronic media operates like a clique as opposed to an industry. When you create cliques, you create groups that only work for the benefit of its members, as opposed to collective benefits. The reason why we ended up with the TAM system issue was exactly this; ratings were managed to please the clique, which paid for a disproportionately large proportion of the cost of this service. The clique strongly recommended to the TAM system that certain channels will not get their ratings reported. TAM systems need to serve the industry. Since they didn't, we ended up with the Chief Justice picking up the case and passing a judgement that PEMRA should look after the service. All in all, this also led to advertisers becoming cautious, adding to the decreased ad spend situation on television. Taking everything into account, we did not need the CJP to intervene yet it happened because of the clique mentality.
Now the situation is that Starcom, as a company, has become cautious about the accuracy of the existing data and advise our clients to employ TAM at their own risk. You see when PAS evaluated TAM, they consulted C-Suite executives from the advertising and media industry who were the users of such data and understood it. It's long due PEMRA did that. The more time they take, the lesser confidence advertisers will have in any such system being devised for the future. With time, television ad spend will reduce further and the money will be shifted to avenues where audience can be measured.
Synergyzer: What measures does Starcom employ to avoid situations involving defaulting clients?
Raihan: Business is a risk and our business is no different. However, if you are not prudent and cannot spot a default happening, it is your own fault. Nobody can identify clients on day one who may default in the future, but you and your system need to be vigilant enough to be able to limit the risk.
Let me give you the example of a Korean electronics company. They defaulted through a distributor ten years ago with huge amounts owed to members of PBA i.e. our TV channels, but returned to advertise their cellular handsets a few years later. In 2018, they defaulted again with 3.5 times higher the original amount owed. My question is, why did the electronic media clique welcome them again when they still had unsettled debts? Why was there no credit policy to safeguard the industry from such clients?
Synergyzer: What would you say about the flight of capital happening within the industry?
Raihan: This flight of capital is a government policy issue across the world. Pakistan government will do well to learn from other countries. Our job, as an agency, is to deliver eyeballs whether it is through Facebook, Google, YouTube or any other platform. If the large platforms are registered outside Pakistan, then you will see flight of capital.
There is also a control issue that the Pakistan government needs to fix, and fix quickly. There are a number of agencies using personal credit cards, instead of company accounts, to pay for advertising on international digital platforms. They are bypassing the tax net and facilitating flight of capital from the industry. Between VAT and withholding tax, the government loses 23% on a volume that is doubling every year.
Thus, the government should create proper channels to bring in these unregistered businesses into the system and ensure payments are made through proper banking channels, so that the necessary taxes can be collected.
Our electronic media operates like a clique as opposed to an industry. When you create cliques, you create groups that only work for the benefit of its members, as opposed to collective benefits. The reason why we ended up with the TAM system issue was exactly this; ratings were managed to please the clique, which paid for a disproportionately large proportion of the cost of this service.
Synergyzer: Stepping into 2019, what should we be keeping an eye out for, as an industry?
Raihan: The agency and the objective is the same: Deliver eyeballs. 2019 and beyond, things will become increasingly complex, and the faster we recalibrate our capabilities, the faster we will be able to realize the opportunity. Let me give you a bit of a historical background.
When I entered this industry in 1991, 60% of the advertising spend happened on newspapers, followed by TV, radio and then outdoor. However, with the advent of TV channels in the country in 2004-2005, the marketplace became complex. Agencies were expected to deliver audiences across mediums and the choice went from 3 channels to 120 channels. In terms of resources, and departments within the agency, nothing changed. Today, however, in 2019, we have digital planners and digital buyers. As an industry, we need to stop being so specific about job descriptions, and limiting people to any one medium. Core departments and solution providers within the agency will need to become medium-agnostic. Ultimately, planner or buyer, they have to be able to add to their capabilities, and deliver the intended solutions whether it is through TV, digital or any other medium.
Businesses cannot be static, they must evolve to meet market needs, and gain returns in the process. For example, Starcom is working on a number of areas right now that involve digital and computing-related development and require heavy investment, which will give us results in 2030, but it's important for us as business owners to invest in such directions.
Also, content monetization is going to be key. For instance, Pakistan Super League (PSL) is Cricket content and it's no secret that people love cricket in this country. We identified this and are monetizing it. In the process, we are creating value for PCB, which got three and a half times more money, as well as the franchise owners because 80% of the earnings go to them. Plus we are delivering eyeballs to the advertisers who advertise on the PSL broadcast. So when nobody was willing to put money behind PSL, we picked it up and made a value proposition out of it. Besides Cricket, there are many platforms out there like music, food, fashion etc. Content is created on a daily basis; it's your job to find ways of monetizing it. That is going to be your life, should you choose to spend it in the agency world.
Most importantly, our industry needs to come out of the basement. And that can only happen if we evolve our mindset and stop pulling at other people's clothes. At least participate in the race; right now none of us are running, everybody is trying to hold people back who are actually trying to run. Please stop doing that.