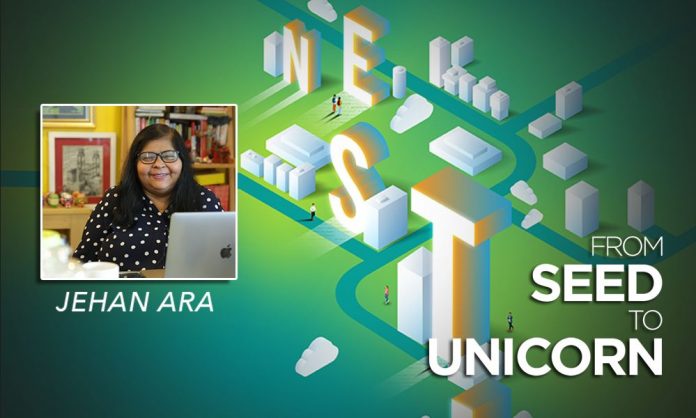 As originally published in Synergyzer Issue 3|2019
Jehan Ara, Founder Nest I/O
A number of investors and other international influencers have made inroads to play a role in enhancing Pakistan's tech startup ecosystem in Pakistan. How is that working out?
It is working out surprisingly well, which we did not expect to happen this quickly. Investors who came from UAE, Oman, South East Asia, USA etc., all expressed interest in the Pakistani startup ecosystem. Investment organizations from UAE have already started co-investing with one of the local funds; Oman Technology Funds has invested in three Pakistani startups; and East-Asian investors such as Gobi Ventures from China and Spark Labs based in South Korea, have also made multiple investments.
What role has the 021Disrupt conference played in these investments?
021Disrupt plays the role of connector – we ensure that through the networking, the sessions and Office Hours, we connect as many people together as possible. We enable them to start a conversation that months later could lead to an investment. And that is exactly what happened. We have also managed to bring investors together who have ended up co-investing. The whole idea is that when relevant people come together, something is bound to happen.
At the conference, Gobi Ventures announced Series A investments for Sastaticket.com. Series A investment is when a tech startup has proven potential through its business model and acknowledging that, external investors and venture capital funds are willing to invest in it for the first time. Spark Labs also announced their investment in Inov8.
The investors from USA and Canada were also there to experience the Pakistani tech startup ecosystem and interact with the startup founders. As a process, such introductions usually lead to a series of meetings and ongoing conversations that could eventually turn into investments.
Why are foreigners interested in startups from a developing country like Pakistan which does not yet provide opportunities for growth?
Actually, there are more opportunities for growth in Pakistan and other developing markets compared to the developed countries, where the markets are already saturated. Investors realize that the biggest chunk of consumers will be in Asia as just Pakistan accounts for 220 million potential customers. And since these tech startups will not only be limited to operating in Pakistan but will also go into the Middle East and African countries as well as the developed markets, they understand the opportunities the ecosystem will present in the future. So I think, at this point, what they are looking for is the possibility of growth and not missing out on greenfield markets.
Given the dollar to rupee ratio, the returns are small since the startups will be earning in rupees. How does the equation go in the favor of investors?
That is why investors from USA and Canada are going to invest when these tech startups are ready to scale to other countries. Having said that, I do believe investors are looking more at prospects than at money ratio at the moment since regional investors are already investing $1 million to $6 million on tech startups in Pakistan which is not an insignificant amount.
Regional investors understand this market which they find similar to their own or have worked with local organizations at some point. So they have a better understanding of the local customer base or the local startup ecosystem.
USA and Canada are on the other hand very mature markets, so naturally their understanding differs. Plus the distance plays an important part too as investors prefer to be located closer to startups they are investing in and be able to take account of their performance and offer support whenever needed.
What are the challenges that Pakistani tech startup founders are facing in terms of working with investors and utilizing the capital being made available to them? Vice versa what challenges do investors face with founders?
Because the market is so new, the angel investors as well as the tech startups are trying to figure out how they are going to work together. It will take some time because it is work in progress.
The first few investments were difficult where founders felt that the investors suppressed founders' control by securing unusually large share of equity in exchange for the investments made but with more mature investors entering the market the recent investments have worked out quite well. The investors now are also making sure that they help startups understand how to utilize the funds, assist them in building contacts, and connect them with potential customers and markets. This is basically the role of investors but understandably, not every investor will have the time for it, hence, they should get a person on board to carry out these responsibilities on their behalf. Incubators and accelerators can also play a role if brought on board.
Both investors and founders in this market are maturing and the difference is becoming apparent. This happens in developing markets and with time problems start to resolve themselves.
What policies and laws need to be created or implemented to take our tech startup ecosystem forward?
There are a number of measures that need to be taken at policy level.
Firstly, registering a company should be made faster and easier. A number of people complain it takes between 30 to 40 days, even though the Securities and Exchange Commission of Pakistan (SECP) denies this. On the other hand, in other markets, the time span is much shorter, probably a few hours. Secondly, startups complain that it takes forever to register a bank account when it should be a matter of hours or, at most, days. Thirdly, there is no data protection law for companies working in consumer data collection related industries like healthcare that require collecting user data. We need a data protection law and we need it to be a good one, which can only happen if the government actively seeks multi-stakeholder input from businesses and civil society as well as policy makers. Fourthly, IP protection is still a problem in this country even though we have a number of laws for it. I believe, execution of those laws is where more effort is required.
Another problem is that of patent registration which is still very difficult and expensive. Therefore, a lot of companies opt to have their patents registered in the USA or elsewhere.
There are, however, certain laws that have been implemented for other industries which have had a negative impact on the tech startup sector. Amongst those laws is the tax on mobile phones, as it has made them much more expensive. If it becomes difficult to own phones then most tech startups that are depending on digitization and adoption will not see the increase in customer base that they need in order to scale.
Does the lack of laws and policies also affect the attitude of investors?
Of course. Investors are not exactly overjoyed about bringing money here or registering their investment organizations locally because of the inconsistencies in policies. So most of them register their companies outside and then bring only the amount of money that is required because they know taking the excess investment back will be difficult. Hence, we need to have consistent and clear policies that would generate confidence among startups, investors and anybody else connected with the ecosystem.
As I said earlier, the government needs to take multi-stakeholder input and fortunately, the current government is holding talks with stakeholders. As long as the government is listening and attempting to understand what these issues are, I have a feeling that things will change for the better.
Since most Pakistani tech startups founders are registering their patents outside of Pakistan, how easy or difficult does it become for a Pakistani unicorn to come out of the system?
I think a unicorn is something that we probably should not expect for the next three to five years, and that is me being optimistic. Having said that, if the patent is in the USA it does not mean that a unicorn cannot be Pakistani and besides patent registration, there are more challenges that we know of in the process of generating a unicorn. One, scaling the company to a level where consumers pay for the product to use it. Two, having enough investments to take the startup to a point where they have millions of users in their customer base. Three, the mindset of people matters a lot as well. For instance, would people even be willing to use digital products? Despite the naysayers, have always believed that if they see value, they will. Look at Careem; it was assumed that it would be difficult for masses in Pakistan to use the service but that has not been the case. Four, will startups have enough money to be able to reach out to consumers and provide the solutions that they really need? Lastly, does the product have the ability to spread and be used in other parts of the world?
If these challenges are addressed, there is no reason why a unicorn cannot emerge from Pakistan. After all, look at the Indonesian market which is a country similar to our own. They have multiple unicorns already.
What is the reason that most startups are not able to scale or survive beyond a year even after investing a huge amount of time and effort?
This is a global problem; 90% of startups all around the world fail. Yet 80% of the 164 startups incubated at The Nest I/O are currently functioning, but I must point out that we have been here for less than five years, so there is a possibility that they may fail in the future.
From what I have seen, the reasons most startups do not survive beyond a few years are that most founders are fresh graduates or people who have worked for a few years and decided that they have a passion for entrepreneurship. Since their idea usually revolves around presenting a solution to the public for a problem which they feel can be addressed through their product, they initially need to invest their own money. Being fresh graduates, they do not have large amounts of funds required to start a business. However, even if they get lucky and secure angel investments, they might not be able to assemble the best team possible because the best people would rather join the corporate sector or start their own company versus working for a startup, unless the founder offer them good money or equity, which again in that phase is difficult to come by.
Having mentioned all of this, I do not think that the failure rate is something we need to worry about yet because for now it is very small.
Things have started to change though. We are seeing teams of maturer founders and even the younger ones have been smart enough to work on their products while still at university so that by the time they come to us, they have got validation for their products. As more startups succeed, attracting better human resources will become easier.
Do you screen ideas on the basis of whether it is scalable or not?
We have a panel of experts from the industry who select startups for incubation at The Nest I/O; The Nest I/O team does not play a role in screening startups. During the screening process, it becomes clear to the panel which one has the potential to work. For instance, a pitch where a single individual is working on the idea from its marketing to development and even securing connections will definitely not cut it.
Once the startups have begun their process of incubation with us, the industry experts from the screening panel also act as mentors along with other industry mentors. The Nest I/O team work with founders to understand early on in the process the pros and cons of their idea and if they need to pivot. And that is the tricky part, making entrepreneurs look at their ideas objectively minus the emotions. But if it is an idea that has the potential to scale, then we help them take the steps required to take it forward.
At the end of the incubation period, after all the mentorship and help, it is the founders who have to put in the work required to take their startup forward, to convince investors to invest, to grow, to make the right decisions at each stage and to deliver on the promise. It is after all their business and we are just facilitators, supporters and connectors.