The nostalgic memories of our mothers opening rustic family trunks and taking out hand-knitted khaees and dariyan made from indigenous cotton and proudly setting those up for guests have become a thing of the past. However, to try and revive this lost cultural heritage and tradition, Sarsabz Fertilizer recently released the second episode of its Sarsabz Kahani web series titled, 'Khaki Desan', which focused on the true story of Jugnu Mohsin, a renowned entrepreneur and public figure, who realized the dearth of good quality local cotton and the dying breed of Khaki Desan which nobody was striving to preserve.
Sarsabz Kahani' is a strategically-driven initiative which highlights inspirational true stories of farmers (men and women) passionately fond of their motherland and the cultural heritage it possesses. It is a tribute to their bravery and resilience of their hard-work and to the pivotal role they play in the national food security and the economic uplift of our country.
Khaki Desan – named after a local breed of cotton which was popularly grown in the past, especially in the subcontinent particularly in the rural communities to make hand-knitted khaees and dariyan – is a purpose-led initiative between Sarsabz Fertilizer (a brand of Fatima Fertilizer) and Jugnu Mohsin. The series focuses on the decline of cotton production in Pakistan which is detrimental to our economic stability.
According to Rabel Sadozai, Director Sales and Marketing, Fatima Fertilizer, "We believe in promoting marketing initiatives that are purpose-led and that help establish a better understanding of the broader issues faced by our society, which directly impact our economic and social fabric."
The Khaki Desan campaign, she says, has a multifaceted quality to it. Firstly, it helps bring attention to the important issue of cotton's recent decline in production. Secondly, it highlights the crucial significance of cotton for our country's economic revival as well as community support.
In the good old days, the cotton harvest season was celebrated with great festivity and fervour across the cotton belt, which is now mainly sugar cane and rice, dotted with abandoned cotton ginning mills and scattered housing societies. Sadozai believes, keeping in view the recent decline in cotton production and the preference of farmers for harvesting other crops to earn a better profit, the Khaki Desan campaign appeals to the relevant stakeholders in our government to consider formulating a clear policy that favours the revival of cotton production.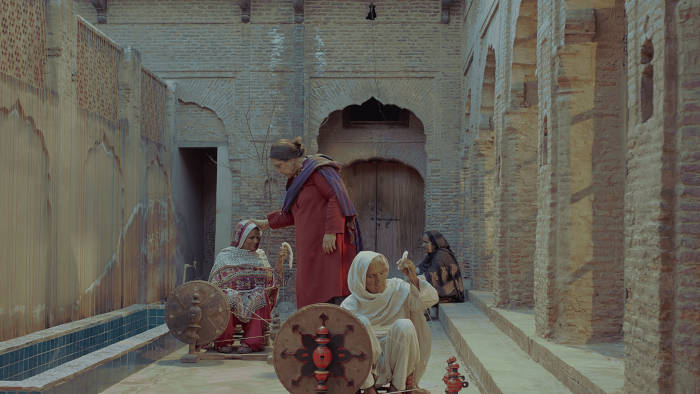 Jugnu Mohsin – a leading Pakistani woman enterepreneur, politician and journalist realized the scarcity of good quality local cotton in the country and the inevitable death of Khaki Desan and decided to intervene. Hence Fatima Fertilizer decided to collaborate with her to harvest the finest crop of Khaki Desan cotton with the purpose of creating an exceptional quality of khaddar, a hand-spun and woven cotton cloth.
Fatima Fetilizer also extended unravelling financial assistance to Jugnu Mohsin in setting up a training centre under the name of 'Haveli Crafts' in Sher Garh, Okara District, with an aim to re-engage and empower a community of thousands of rural women in the centuries-old craft of cotton spinning and weaving.
(Sarbsabz Kahani's first episode 'Nazo' also highlighted a similar brave woman from Sindh, who sacrificed a great deal to protect the piece of land she called home. She battled dacoits and personally fought off several attempts on her agricultural land – often armed with just a single Kalashnikov – while also managing to raise four children and ensuring that her land remains productive and profitable.
Fatima Fertilizer also holds the honor of proposing to celebrate Pakistan's first-ever official Kissan Day on December 18, 2019 which was officially recognized and endorsed by the Government as well.)
According to Fatima Fertilizer, such campaigns that have a purpose or a strong social message are highly celebrated nowadays since they resonate strongly with a large audience due to their cultural relevance and the social and economic insight they offer. They address broader issues faced by society and work towards bringing positive change through instilling realization and influencing its target audience positively.
The downfall in cotton production is currently a major issue, attributed to several factors including environmental changes, cotton crop's competitive loss in comparison to other major crops, particularly sugarcane as well as inconsistent policy support. As per the Pakistan Bureau of Statistics, in the past 10 years, cotton production has almost halved from 13.6 million bales in 2011/12 to about 7 million in 2020/21. Cotton crop yield is faced with many challenges including a significantly reduced crop area, inconsistent gas supply to fertilizer plants resulting in limited availability of locally produced urea, and increasing cost of farm inputs for an already burdened farmer due to high market inflation.
The State Bank of Pakistan (SBP) has reported that the crop area of cotton has significantly reduced to 2.2 million hectares, the lowest since FY82, which has also severely affected the crop's overall yield and production.
Furthermore, there are also issues of pesticide adulteration, which means the pesticides available are either adulterated or too expensive for farmers, increasing their cost of production and putting the cotton crop at a severe vulnerability against threatening pest attacks. Poor quality of seeds is an added challenge that hampers the revival of cotton production.
Lastly, Pakistan Kissan Ittehad (PKI), a representative body of Pakistani farmers, raised concerns in March 2022 over the issue of tractor shortage and other farm machinery in the market which negatively affected cotton sowing and wheat harvesting at that time.
Fatima Fertilizer has been actively engaged in promoting awareness about these challenges, and the company is actively working on the agenda of helping modernize the country's agricultural sector by forging international alliances, as well as promoting technologically driven solutions to help farmers overcome their current challenges, such as Sarsabz mobile app, to educate farmers on useful topics related to farming and how to access the market and financing; Sarsabz Assan, to facilitate all Sarsabz dealers with convenient online stock booking, monitoring, managing and giving quick payment gateway solutions to save time and effort; and Electronic Bank Guarantee for Sarsabz dealers, that supports green solutions to protect the environment and efficiently steps away from the traditional stamp paper-based bank guarantees to a completely digital Swift code based transaction.
However, the company believes that more should be done at the government level to increase the production of cotton, such as reducing the farm input costs to increase the cultivated area and offering more subsidies to make fertilizer accessible so that farmers can utilize it for better yield.
"There should be increased research spending on developing high-quality seed varieties to combat water scarcity and pest attacks, policies to support cotton farmers to allow them to earn a good return on their investment so that those who have converted to sugarcane or rice can revert back to cotton harvesting," says Sadozai.
She also stresses on the involvement of the textile sector in making this policy and they should be encouraged to not just be a sourcing hub for global brands but to market their own brands around the world, proudly claiming them to be made from the finest Pakistani cotton.
Sarsabz Kahani's both short films were promoted on traditional and digital media on Eidul Azha.
Earlier, in March 2022, Fatima Fertilizer also hosted a special panel discussion at the Pakistan Pavilion of Expo 2020 Dubai with the purpose of celebrating exceptionally inspiring Pakistani female farmers. The protagonist of Sarsabz Kahani's first short film, Nazo Darejo, was also invited as a guest panelist at this event whereby she narrated her inspirational story to an international audience.
Going forward, the company is producing a third episode of Sarsabz Kahani, which will highlight a story related to Kabadi, a cultural sport of Pakistan which is most popular in our rural areas, especially amongst the farmers community.
"Sarsabz Kahani is a perfect example of a marketing campaign which is based on the human values of empathy, care and long-term commitment to its adopted purpose, hence we, through this platform and its short films, will continue to speak to a wider audience in the country to amplify these tributes," concludes Sadozai.